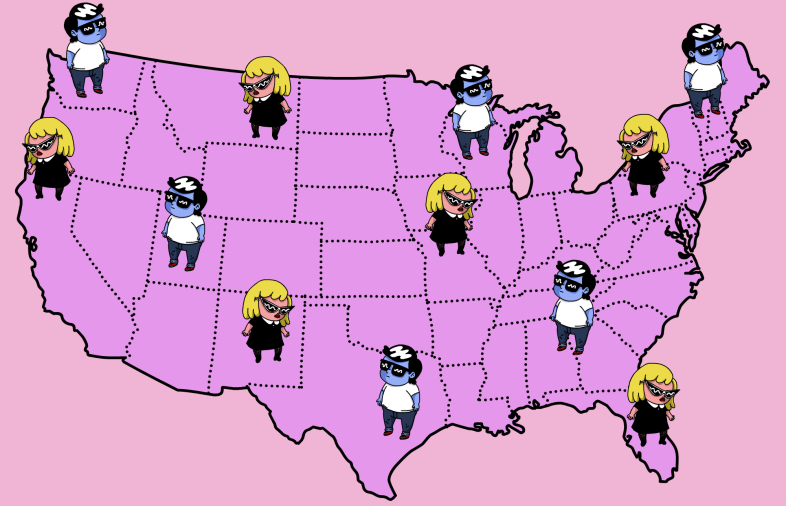 1. Alabama:
Enjoy the historic abundance of the state. Go for walks, go to space camp at the U.S. Space & Rocket Center. Listen to the soulful music and sing 'Sweet Home Alabama.'
2. Alaska:
Take your SO stargazing and see the northern lights. Alaska is one of the best places on earth to see the northern lights – while you're there, take advantage of other winter experiences like snowmobiling and skiing.
3. Arizona:
Pick your favorite outdoor adventures or try them all. top-notch golf courses, vibrant cultures and historic landmarks are just some of the things you can swing by every day in Arizona. Take it to the next level and go do some soul-searching in the Sonoran Desert.
4. Arkansas:
Go fishing on a sunny day in Greers, or just enjoy the beauty of the lakes and the streams and rivers.
5. California:
Stalk all your favorite celebrities by dining anywhere in Beverly Hills. Not to mention take your dog or your babies and spend a day in Malibu or Laguna Beach.
6. Colorado:
Coloradans have plenty of reasons to get out there and do stuff with all the hiking, skiing and outdoor activities. Even if you're not doing a strenuous Rocky Mountain hike, getting outside every day is a way to feed your soul. Spend time in active meditation, and remember to slow down and be grateful for the little things.
7. Connecticut:
One word: PIZZA. "Pepe's" is one of the oldest pizza joints in the country. Known for its deliciousness, you can never run out of excuses to take your friends and go there. Hug your neighbors, people in Connecticut know how to truly help each other and make each other feel like family.
8. Delaware:
Abuse your tax-free shopping. You can always take your friends and go shopping and pay exactly what was on the price tag. Or show off your golf skills at any of the Delaware state parks.
9. Florida:
The gorgeous weather is not for staying indoors. Go biking or take a run by the beach. Or drive down to Miami and enjoy the beautiful beaches and sneak in one of the yachts. Recreate your favorite childhood memories by taking a trip to Disney World!
10. Georgia:
Take the family and visit he aquarium or escape the busyness of the city by unwinding  at the beautiful pine mountains. Maybe take a day to explore The Historic Roswell, GA; this gem is home to a number of delectable eateries where families are always welcome y'all.

11. Hawaii:
Delicious seafood, pineapples, tropical drinks, lei and surfing are just some of the things you can do every day in Hawaii. Be grateful for this exotic life.

12. Idaho:
Take a walk on the wild side and experience nature close up in Idaho's zoos. Also the Cheapest groceries of all states, Idahoans pay nearly half the price for their groceries as bordering states Montana and Washington.
13. Illinois:
Unwind at the top of the Hancock Building after a long day at work. Or hang out with your buddies to talk about sports over and over again. Feeling heroic? Take your bae to The Super Museum in Metropolis.

14. Indiana:
Gather your friends and watch basketball! No one will judge you and the neighbors will never call the cops on you because they are probably screaming in front of the TV too.
15. Iowa:
Share your lovely stories with your friends by the bonfire in your backyard. It's a small town and everyone loves hearing and telling stories.
16. Kansas:
Invite your friends over for a Kansas City-style barbecue and talk about how you could change the world. Kansas has the most teenage volunteers trying to make the world a better place.
17. Kentucky:
It's Friday night every night, just go to the Bourbon Trail Passport and try the best of the best all over the state and drink and laugh the night away.
18. Louisiana:
Celebrate life and music at all these festivals going on in your neighborhood. Enjoy the music and some very generous food portions that will fill you up all day.
19. Maine:
Be grateful for the little things, like watching the sunrise and sunset in the beautiful Acadia National Park, or stuff your face with lobster. Both are things to be deeply thankful for.
20. Maryland:
Take a soulful walk in the National Harbor or just sit there and eat lots of crabs with an overdose of old bay seasoning. Later on, indulge in some fancy shopping in Chevy Chase.
21. Massachusetts:
If you are not busy worrying about the Red Sox, you should relax and wine and dine at The Massachusetts Wine and Cheese Trail with more than 29 wineries and 18 cheese sellers. Sports & wine make life so much better.
22. Michigan:
Enjoy the simpler things in life, like hot dogs, pizzas and pop tarts while talking about hockey.

23. Minnesota:
With over a thousand individual lakes, it's easy to make plans. So take a canoe out, or go skating when the water freezes. And say things 'nicely' to all the extremely 'nice' people in Minnesota.
24. Mississippi:
Learn the art of patience by going fishing and catching some amazing catfish for dinner.

25. Missouri:
Take your bike through the best trails in the country or run away from the chaos of life in one of the thousands of Missouri caves.

26. Montana:
If you want to see paradise on earth, take your friends and go the West side of the Absaroka Range in Paradise Valley, or just reflect on the amazing scenery you have all seasons long.
27. Nebraska:
Football and popcorn – all day, every day.
28. Nevada:
Go rock climbing or zip lining in the desert if you are feeling adventurous, or just camp out under a sea of stars. On the flip side, feed your sinful soul by taking a trip to Sin City.
29. New Hampshire:
Take some time to think on top of the gorgeous mountains, or listen to the sound of the waves at the Hampton Beach State Park. Either way, you win!
30. New Jersey:
Go 'down the shore' or go to the diner at 2 am to get some pancakes. Enjoy the perks of being a Jersey resident to the fullest.
31. New Mexico:
Light and breezy is a way of life. Embrace the romantic and friendly atmosphere permeating every corner of this magnetic state.
32. New York:
Get inspired by the city lights and dream big. The big apple is the perfect place to live if you plan on taking over the world someday. Go out and meet people from all over the world and learn about all the different cultures and hear all sorts of different accents.

33. North Carolina:
If you're not rooting for your favorite college basketball team, you should check the ever-growing underground music scene, or reenact your favorite scenes from One Tree Hill.
34. North Dakota:
Bike your way through the gorgeous landscapes and make sure to look good because you know you will definitely bump into someone you know at one point.
35. Ohio:
Please don't vote for trump.
36. Oklahoma:
Catch the beautiful sunset or gaze at the stars, play your favorite country jam and sing along.
37. Oregon:
You will never run of things to do. From water sports, to biking to drinking freshly brewed beer or getting lost in literature. You can find many things to do for your every mood.
38. Pennsylvania:
Take a weekend getaway at one of the plenty of wineries and don't forget to bring some home for the rest of the family.
39. Rhode Island:
Drive by the gigantic beautiful mansions without envy because nobody actually lives in them.
40. South Carolina:
Bless the lord for the awesome food and the southern hospitality, you will never starve or feel lonely.
41. South Dakota:
Live your best life with minimal cost. Everything is so affordable and everyone is so friendly – happiness is in the air.
42. Tennessee:
When in doubt, go to a karaoke bar! Everyone sounds exceptionally good, it's like having front row tickets to the Country Music Awards.
43. Texas:
Drift down the river on a hot summer day with all your best friends for some unforgettable memories and amazing pictures.
44. Utah:
Take advantage of the "Greatest Snow on Earth" and go skiing. Scientifically proven to have the perfect blend of powder and salt for the best skiing conditions. Also perfect for having snowball fights.
45. Vermont:
Breathe some fresh air and eat some fresh food. Hit up one of the 100 vendors in each town's market for a variety of farm fresh, totally organic options. Bringing health and deliciousness to your doorstep.

46. Virginia:
Explore Mother Nature and take a drive to see the breathtaking greenery, the waterfalls and the beautiful sunsets. Beautiful in all four seasons.
47. Washington:
Take advantage of the flexible pet laws and buy a cat or a dog if you don't already have one. They will change your life.
48. Washington D.C.:
Dress to impress. You will always run into very important people (like Joe Biden) and other prominent political figures. Sight-seeing never gets old in the nation's capital, with all those monuments and museums just a few blocks away.
49. West Virginia:
Be daring and go Mountain biking or just enjoy the incomparable pepperoni rolls.
50. Wisconsin:
Rejoice because you live in a world of cheese and you can get any kind of cheese you crave. This is the life.
51. Wyoming:
Be silent. Be still. Every day is so peaceful, you'll never have to deal with honking cars and noisy people. Just you, your thoughts and ultimate serenity.