Spring is officially upon us. Time to kiss that freezing abyss we like to call winter goodbye, and welcome warmer days and blooming flowers. But with every new season comes new responsibility: what to wear. Thought Catalog and UGG are bringing you the six freshest trends to fully embrace this spring—and the gear you're going to need.
Stripes

When springtime finally rolls around, it's hard not to sartorially celebrate the end of perpetual colds and dry hands with light, giddy colors. Particularly in solid iterations, white and pastels are a springtime no-brainer. To give your solid, light-colored getups some more character, try incorporating one of spring's most prevalent trends: stripes. For their spring collection, UGG has perfected striped accents —particularly with their pink, green, and yellow striped Libbi Serape espadrilles, with pink lace that ties up the leg.
However, until the ice on your windshield begins to melt, you might want to snag a warmer option. Their Classic Short Serape embraces the traditional UGG boot style, but with a patch of subtle, pixelated stripes on the back.

Blue Denim

Blue denim is the ultimate wardrobe staple because it transcends trends and ages spectacularly. But just in case you had any doubts about denim's favorability, a quick gander at UGG's spring '16 Lookbook should be enough to convince you that blue denim is very much alive and well. A denim jumpsuit, or a nicely tailored denim dress, would pair well with UGG's new Kari sandal in warmer weather—simple slide-ons with a punch of metallic for some added zest. Here the trend is paired with the UGG Classic Mini Prix for a pop of bright color to contrast the monochrome denim.
Studs
Studs are seeing a revival too—and in far better iterations than the studded jeans you made with your '90s BeDazzler. It was Alexander Wang who paved the way for this stud revival with his goth-drenched and neatly studded fall 2015 collection. Yet it was UGG who followed up with a collection of subtly studded clogs. Look out for UGG's selection of killer sandal clogs for their spring '16 collection, with a block heel and studded accents.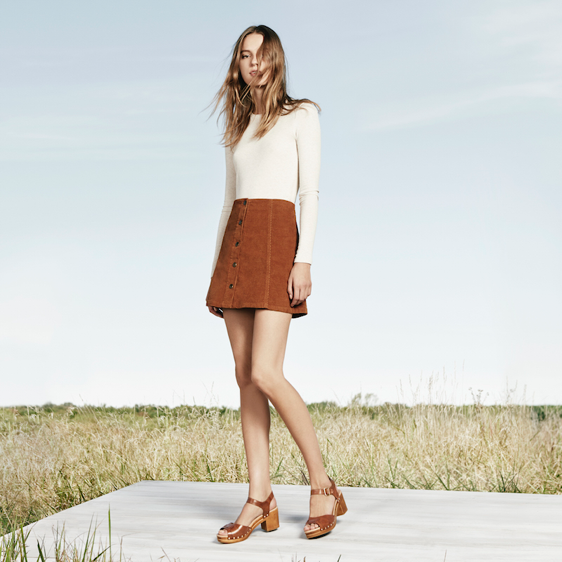 Trainers
Trends are fleeting, yes, but bunions and neuroma in the feet are not. Which is why, I imagine, the trainers-in-place-of-heels trend has taken on a life of its own. No longer is it a trend, but rather a way of life that has made being a working woman remarkably easier (and less painful). There are the Nikes, the Adidas, and the Reeboks, but what you may not know is that UGG has a slew of sneaker options that range from snazzy running shoes to simple suede slip-ons. For spring, it's all about the Deaven, a statement-making sneaker with metallic gold accents. Using rich leather and water-resistant suede, these kicks are equal parts chic, athletic, and versatile.


Frilly frocks
If you thought the trainer fad meant a dearth in girly-looking styles, you'd be wrong. Tiered, frilly numbers are in full force—in dresses, skirts, and even flared pants. You could amp up the girliness and pair these feminine pieces with a heel, or you could inject your look with a street edge and pair it with a robust boot. Something like UGG's Rella boot from their spring collection—a tour de force of rich, water-resistant leather and the Treadlite by UGG outsole for lightweight cushioning and durability. Of course you can never go wrong with a staple either, throwing on a lacey frock with UGG's Classic Tall boot for an effortlessly cool look.
Bermuda Shorts
There have been a whole slew of Bermuda shorts on the runway recently. Dior, Hermes, Ralph Lauren all showcased this trend for Spring / Summer. They're an easy go-to item and the perfect announcement that winter is a thing of the past. As one of the more versatile pieces for your spring wardrobe, Bermuda shorts can be dressed up for the office when paired with stilettos or stylish boots. For a more casual look, try them on with flat sandals or slippers, like the ultra feminine UGG Dakota Flora Perf that features a delicate metallic lace bow.

This Post Brought To You By UGG.