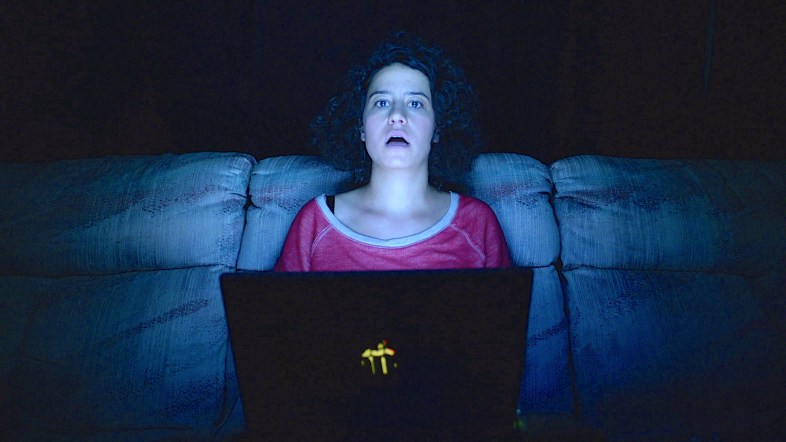 I try not to think about eBay – or rather, my proficiency in it – for too long. Thoughts like these tend to subsume me and trip me up. It sort of reminds me of the years I spent playing the piano. I was so good, but only because I let myself get lost in it. My best piano recitals were the ones that left me engrossed, tongue fully hanging out of mouth, not the slightest bit aware of the 50-person crowd watching me. And it's the same with eBay – my current, and equally reputable pursuit. My most triumphant moments on eBay transpired when I was barely conscious, paying zero heed to soul-crushing product descriptions like "So Earthy-Luxe," "Amaaaaziballs Score," "Coachella Calling," "Hipster Hottness," and "Fearless Fashionista." But transpire they did – and now, I pass my well-earned knowledge onto you.
1. Steer clear of broad searches.
I'm talkin' "black leather boots," "kimonos," "jeans," etc, all of which will only result in an overwhelming and intimidating display of products. Avoid these types of searches, however, and your first foray into eBay will be an infinitely more pleasant experience. Think about it this way: you wouldn't visit NYC and spend your entire trip camped out by the Gowanus Canal, would you? Of course you wouldn't. So narrow your search, and let eBay work to its fullest potential.
2. Try searching by designer.
This will narrow your search substantially and make your life a whole lot easier. Another option is searching by retailers – for instance, "Shopbop," "Maryam Nassir Zadeh," or "Totokaelo."
3. Try different iterations of the same designer.
And this includes iterations that are technically wrong. It's important to be mindful of the eBay demographic you're dealing with here, particularly the sellers who are most likely not fashion experts nor fact-checking their listings. You'd be surprised how many more J.W. Anderson clothes a "JW Anderson search" will yield. Likewise, try to keep the names of brands and designers as simple as possible. This means searching for "Celine" instead of "Celine Paris," "Acne" instead of "Acne Studios," and so on and so forth.
4. Try the same search on eBay's UK site (ebay.co.uk).
Another trick you might want to make use of, and one that took years of practice to learn. If you're lucky, this will offer up even more options than the same search on eBay's US site.
5. Utilize search filters.
Particularly when you're scouring eBay for a brand that's either been around for awhile or is known to mass produce. A "Prada" or "Coach" search, for example, would most certainly benefit from a filter or two. But again: remember to take into account the eBay demographic you're dealing with – one that's extremely prone to human error. There are countless ways for a seller to categorize his or her listing and no way of making sure that all robes, for instance, are officially categorized under "Intimates & Sleep," or even that all Prada items are officially marked as "Prada." Which is why, when looking for a pair of Prada shoes, you'll want to filter the search by your size in addition to the "not specified" option.
6. Don't neglect the option to "sort" your results.
Located at the top of your search page, the "sort" option can make your search even easier. For example, sorting by price (from high to low) will allow you to weed out all of the listings that are too expensive; once you reach your "I can't afford this" mark, you stop looking. That way, those $600 Rodarte boots won't even have the option of tempting you.
7. Designer-inspired does not a designer make.
Once you've narrowed your search until you can narrow no longer, it's time to survey your search results, and then take further precautions. Namely, the designer-inspired listings. eBay sellers love nothing more than likening second-hand, unbranded clothes to vaguely similar-looking garments made by big-shot designers. As such, someone's grandfather's very dusty and poorly maintained shearling jacket is suddenly an "Acne-inspired" one, and ready to dupe the first heedless person who stumbles on it. Your job is to channel your inner 1996 PC desktop and Minesweep the shit out of these designer-inspired ruses.
8. Watch it.
Find something you like, but that you're not quite sure you're ready to buy? Great – that's what your "Watch List" is for. Simply click on the item and then hit "Add to watch list." (Apparently the "Wish List" serves a very similar purpose, however I have yet to use it.)
9. Look into the sellers.
But don't abandon your findings to the Watch List babysitter just yet – at least not before surveying the rest of the items the seller of this product has listed. For, just as the apple does not fall far from the tree, so too are those dope Prada clogs probably listed by someone with good taste. To the right of the listing is a box that says "Seller Info," within which is the hyperlink to the seller's store. Sometimes you'll find that the seller's eBay store is no store at all – that this listing is their only one. But other times you will hit an eBay goldmine and realize just how useful this long-winded article is.
10. Read the entire listing.
Now that you've accumulated a Watch List with your favorite findings, it's time to start bidding. But before offering up your money to a 200 x 225 pixel JPEG of Dries Van Noten platforms, make sure you've done thorough damage control. What I mean is: don't be lazy – read the descriptions. Don't just assume that a size 6 means a US size 6, because this could very well denote a UK size 6 and – well, then you're in a pickle. Take note of the product's material, and don't just assume the item is silk because the item is listed as "Silky Lanvin button-down." Titles of listings are riddled with enticing terms that are deliberately chosen to deceive. Put differently: On multiple occasion, I've witnessed "silky satin" being used to describe a robe that is unequivocally and irreversibly polyester.
Before bidding on a pair of shoes, be sure that it is indeed a pair of shoes that you're bidding on and not a single left shoe that eBay sellers seem to think will be of interest to anyone. Check the shipping cost too, which can be priced absurdly high. But most importantly, always check the seller's feedback and reviews (below 98% and you've reached perilous territory). It doesn't mater if the item is a pair of Swarovski-encrusted Miu Miu mules with a starting bid of $10 and a shipping cost of $2; if the seller's reviews are negative, you're most likely going to get scammed.
11. If you're going to bid, make it a maximum bid.
Now you've entered the bidding phase. It's always smart to enter a maximum bid as opposed to a regular, straightforward one. Doing this will ensure that your bid is raised in increments based on others' bids, and only goes as high as necessary.
12. You're not crazy; it was just Auction Sniper.
Auction Sniper is a website that helps you bid on eBay items. If you entered a bid through Auction Sniper, and it's the highest bid on the item, it will only go into effect during the last couple seconds before the bid ends. That's why it seemed like Edward Snowden had been tracking your eBay activity when the Simone Rocha headband you had been "winning" for a week straight was seemingly snatched right under your nose.
13. Have faith.
If an item is simply out of your price range, have faith that it is out of the price range for most other eBay users too. On eBay, patience truly is a virtue; wait long enough, and an item could very well be relisted at a lower price.
Oh, and one last thing: Namaste.