I have a slight bone to pick with the "boyfriend jean" and its connotations. The veracity of the term, for starters, is dubious at best. I have a pair of "boyfriend jeans" in my closet that can't make it past my left butt cheek (or is this just what they call the ex-boyfriend jean?). Also, why are they indelibly linked to a chill demeanor and a BA from an art school? Must our appeal really be measured by our boyfriends and their knack (or lack of knack) for finding well-tailored jeans? And where's their counterpart? Where are all the guys wearing "girlfriend jeans"???
Frankly I'm not even sure how they managed to become so coveted. At one point, perhaps, they were unique. But now they're nothing but a one-way ticket to looking like everyone else. Cuff them and pair them with cute loafers and a statement sock and — where did you go? I literally cannot see you; that's how much you don't stand out.
Which is why it's important that we explore the new types of jeans fashion week has bestowed upon us, and then collectively toss our boyfriend jeans in the trash.
1. The embroidered baggy jean.
I imagine this is what would happen if you asked the Queen to put on her best pair of "boyfriend jeans." At the snap of her fingers, a gaggle of men would run out into the wild, slaying boyfriends everywhere for the perfect jean. And the Queen would make certain that the jeans aren't even in eyesight until they're embroidered with all of the jewels she chose to be buried with.
2. The I-don't-have-a-boyfriend jean.
And what if you've never had a boyfriend before? What of that? How does one procure a pair of "boyfriend jeans" then, hmmm? Thankfully Gucci planned for this; this year they chose comfort over form fitting with their low-rise, roomy jeans. Some came in a sailor style with big gold buttons, while others were much more simple. And if the cuffing did feel a tad trite, the clean, indigo shade and the crease down the middle made up for that.
3. High waisted riding jean.
It's difficult for just about everyone to find a pair of high waisted jeans that fit perfectly – everyone, that is, except Rodarte evidently. For them, it was simple; all they did was fashion riding pants out of denim for their Spring/Summer 2015 collection. The result was high-waisted, comfortably snug, pocket-less jeans. Then tuck them into your thigh high Rodarte boots if you're a real G!
4. Jeans with patches sewn onto them.
House of Holland took a low-rise jean, fitted it a bit, smothered it in colorful patches, and then gave it to a dog and said, "Have fun!"
The distressed, unfinished look to them is what makes them House of Holland jeans and not, say, Dolce and Gabbana jeans. And it's what makes them extra charming too.
Anna Sui sewed patches onto some of her denim too – galactic-themed patches onto dark, denim shorts.
5. The cuffed-looking (but not really) jean.
The unofficial rule is that cuffed jeans are basically basic, but a loophole does exist for the cuff crazies out there, and that's the fake cuff. How do I mean? Well, with zero experience designing denim, I'm actually not quite sure, but here's my guess: the jeans are either sewed cuffed, or the bottom part of the jeans are made inside out, so that the inside of the jeans (the exposed hem and frays) are on the outside.
MM6 made a baggy pair that would've normally looked a bit sloppy if not for the fine, exposed stitching.
And Marques'Almeida made them in baggy silhouettes too, with their signature frayed hems and in a range of colors.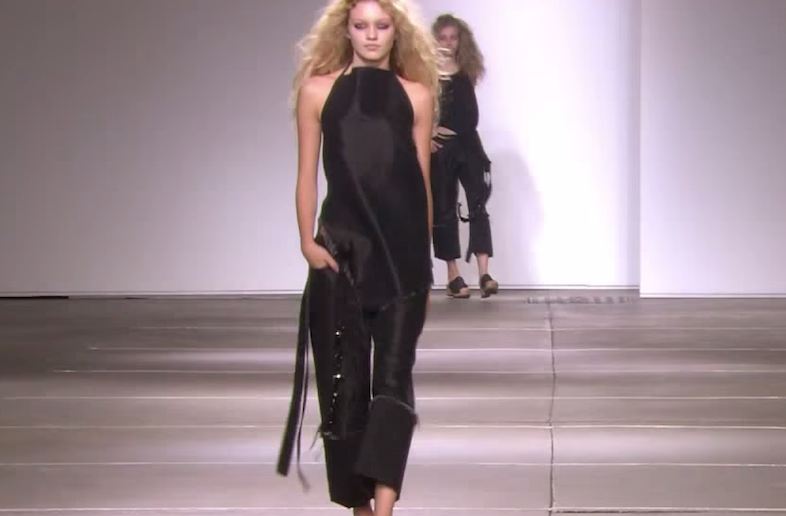 6. Jeans worn under chaps.
I'm simply overjoyed by this development. I used to wear chaps when I was little; only difference is, I wore them to the barn, where I rode horses but mainly just scooped up their poop. And something tells me I didn't look like this when I wore them.
I always wanted to have another stab at the chaps, and now is finally my chance…albeit with chaps that will probably cost me my right boob.
7. Patchwork denim.
It seems no type of jeans were left unturned for the Spring 2015 shows. Bell bottoms have been attempted in countless iterations, and the most prominent version of late has been knit. Tommy Hilfiger, on the other hand, took the bell bottom motif and really ran with it, channeling Woodstock hippies and the drug addicted Keith Richards of 1969 with his crazy patchwork denim.
8. Sequined jeans.
Ashish just had to go and make his signature ripped and baggy sequined jeans again. If I sound bitter, it's because I am; I want them, you see, but would have to sell my liver on the black market to get my hands on them. Good news is: by the time these guys are out in stores, the ones from his Fall/Winter 2014 collection will probably be on sale.
9. Jeans made by Salvador Dali.
Because if there's one thing I'm sure of it's that the surrealist painter wasn't known for wearing your average Levi's. That's not to say that I know what kind of pants he wore, just that if he got his hands on a pair of jeans they would probably end up looking something like Ashish's latest Spring/Summer 2015 collection. This season, jeans were given the backwards treatment, made as if to look like they're being worn backwards. And XXL jeans were worn the only way models know how: pulled up to their armpits and then given suspenders for a capsized denim overall look.
10. Dark, high waisted bell bottoms.
Anna Sui revived the bell bottom too, giving them a shape reminiscent of a be-jeaned Birkin or Fawcett. Except she did so with a dark, soft-looking and flowy denim.
11. Shiny black denim.
And a final lesson in denim, taught by none other than Marques'Almeida: denim comes in a shiny, black lurex too. Bet your boyfriend couldn't tell you that one.