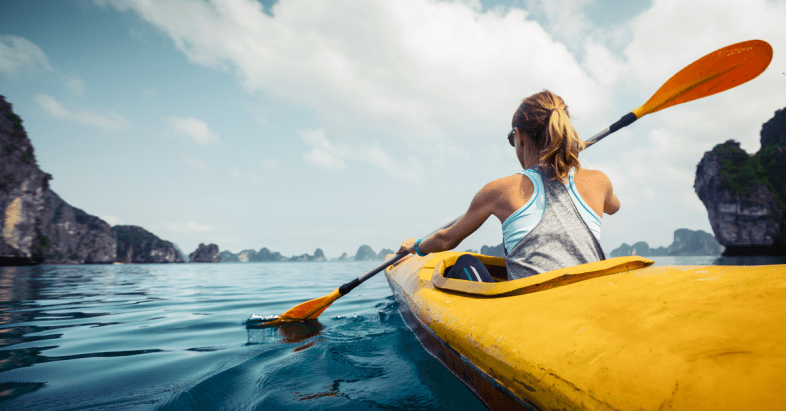 Sometimes fitness feels like a chore, but when we make healthy choices our bodies and minds thank us. Maintaining our health on a day-to-day basis doesn't have to be difficult, and these 10 healthful fitness goodies make living a healthy lifestyle, simple.
1. Chic Kitchen Tool Set For All Of Your Fruits And Veggies
Sometimes getting those 5 servings of fruits and vegetables every day seems impossible, but with this little savvy tool, you'll be eating fruits and vegetables you've never even heard of. This multi-faceted kitchen tool set comes with everything from an avocado scoop (for some delicious and nutritious guacamole or avocado toast) to a citrus cutter and grapefruit squeezer, for juice that comes from fruit rather than a bottle. You'll be consuming all types of vitamins, antioxidants and fiber that will most certainly help keep your health on track!
Sometimes your giant filtered pitcher is just too much, when you don't have the time for a glass, and wish you could drink filtered water straight from the sink a filtered water bottle is your solution. There's no excuses for not drinking 8 glasses a day when you have a bottle you can fill with just seconds straight from the tap! Bring it to work, to the gym, anywhere your active life takes you, and be hydrated with tasty, clean water while doing so!
3. Tupperware Made Perfectly For Individual Salads
Make lunch at home with ease and take a refreshing healthy salad with you. These tupperware containers are designed with your salad in mind. They have compartments for any and every condiment, topping, and dressing you could imagine. Mixed greens with dried cranberries, goat cheese, and a raspberry vinaigrette sounds like an order from a 5-star restaurant, but you can enjoy all of that healthful delicious luxury without the pricey bill. Bring your health with you, anywhere you go!
Click Here To See The Full List Of Our Favorite Personalized Items From eBay