Spring is upon us, and now that the snow has cleared and our hats and scarves are stowed away, our to-do lists are getting longer and longer! Embrace the season's change and make this to-do list more than something you simply talk about. In partnership with UGG's spring collection we're letting you in on the top activities to finally take advantage of this season.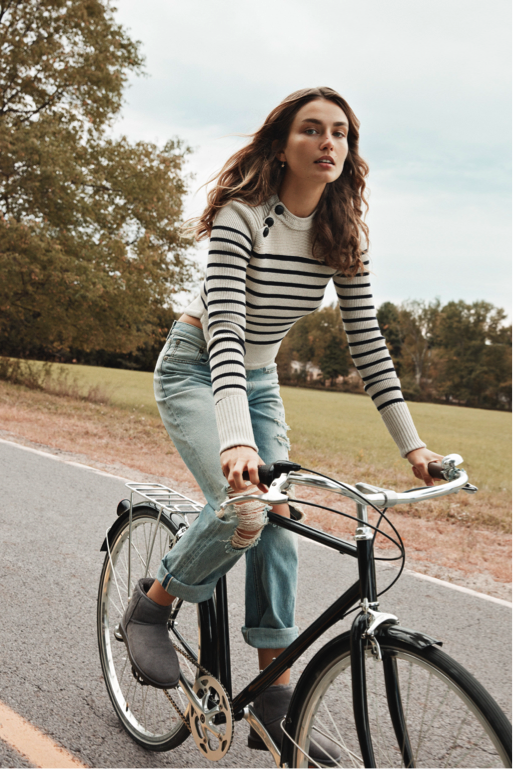 1. Get around to planting that garden!
Springtime is the season when everything's in bloom! Whether you're planting vegetables or flowers put on some gardening gloves and freshen up your life. Even if you don't have a yard, embrace the beauty of spring and grow a potted plant inside. It will brighten up your living space and smell absolutely wonderful.
2. Take a jog outside.
You've been thinking your workout routine needs a spring cleaning, so take advantage of the warmer weather, and give that treadmill a break. Let your feet hit the concrete, grass and whatever other surfaces you can get your sneakers on. The fresh air will make your run feel even more invigorating.
3. Have more picnics (outside)!
Make some sandwiches and bring a blanket. You're always looking for new date ideas that are more exciting than simply dinner and a movie, so bring a bottle of wine, grab your sweetie and make it a romantic date. Nothing says springtime like a good outdoor picnic.
4. Dance in the rain…often.
You know how it goes, April showers bring May flowers. While springtime may bring the occasional drizzle, don't let that put a damper on your day. Leave your UGG slippers at the door, put on some rain boots and go splash in the puddles like you're a kid again. No need for an umbrella!
5. Finally try that new hairstyle.
Your hair is probably tired of its winter style and static. Have you always told your friends you've wanted to try a bob, but the fear of change is holding you back? Well the seasons don't have to be the only thing that embrace change, go for it! Freshen up your look with a new do and try something original. Don't just talk about it this time; get your locks between a pair of scissors. New season, new look!
6. Go for a bike ride.
Bike riding is not only a perfect way to exercise and get where you need to be, but it makes you feel young again! Don't have a bike? Rent one! Just be sure to wear a helmet!
7. Embrace pastels.
You see the light, cheerful colors decorating store windows, and yet your wardrobe still consists of black and grey. There's no better time but Spring to sport your lavender and baby blues, so if you're going to dip your feet into a new trend the time is now. Get in the spring spirit and lighten up your wardrobe. While you're at it grab a pair of versatile UGG Sandals to go with your new look.
8. Don't forget about peeps!
Peeps are sold all year long, but spring is the season when they are most themselves. These classic yellow marshmallow chicks will surely sweeten up a sour day. They're best when they stay true to who they are, yellow, round, and marshmallowy.
9. Open your windows.
Let the fresh spring air in and let that stale apartment air out. It is the perfect time of year to finally turn off the heat, and feel the breeze.
10. Cook a recipe with fresh spring vegetables.
All winter long you've been ordering take out and delivery because you've been caged in by the cold, but the frost is melting and the sun is out, and the produce is abundant. It's no longer too cold to take a trip to the grocery store, so find out what vegetables are in season for your area and cook up a delicious meal. In season veggies taste incredible, and usually they're on sale!
11. Learn to fly a kite.
Unleash your inner Mary Poppins and embrace the springtime breeze. Flying a kite is a great way to lift your spirits.
12. Actually update your living space decorations with the spirit of spring.
You've taken down your trees, wreaths, and mistletoes so spruce up your living space with some tulips, pastels, and fresh spring scents. If you're feeling uninspired just search the Internet and endeavor in some crafty DIY projects. Spring flowers are in bloom for only so long, so take advantage of the opportunity while it lasts!

This Post Brought To You By UGG.