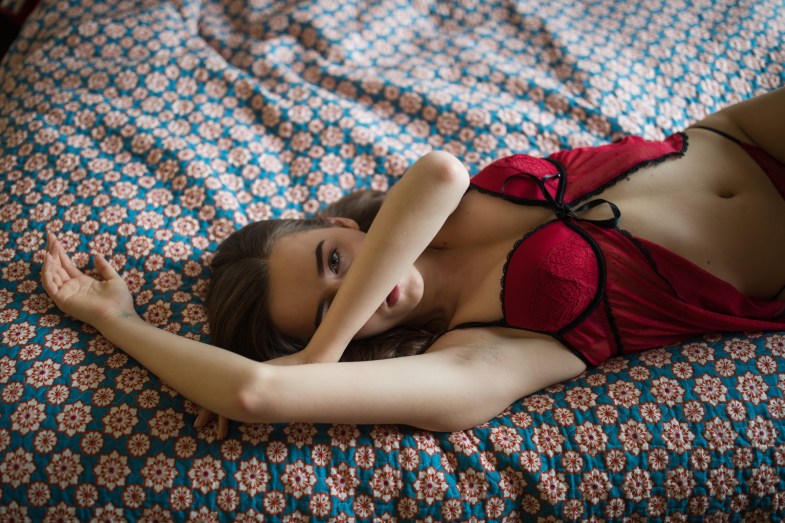 Aries
(March 21 – April 19)
Single: If you've been laying low throughout the winter, this is a good time to revamp your dating agenda. You're in for a whimsical spring fling, Aries, so fasten your seatbelt and get ready to be swiped off your dancing shoes! Your hot date/potential significant other might be waiting for you anywhere in the offline world, so consider boosting up your adventurous spirit by taking a dance class, attending karaoke nights in your super trendy neighbourhood bar, or insert a plentiful of gallery openings, experimental movie screenings and designer parties in your schedule. This March, you'll find romance if you hit the city!
Coupled: This is a great time to make some sexy, playful investments in your relationship. Take your bae out for a hot erotic theatre play, put on your red shoes and dance the blues together in a hip new venue in your city or enrol together in a Tantra class. Your adventurous nature takes a deep plunge into the great pleasures of life this March, and it's written in the stars that you'll have a magical time together if you continue to play together.
Taurus
(April 20 – May 20)
Single: Taurus, you're not a fan of almost relationships. In fact, whatever lies in a grey area is a strange, tiring concept to you, so this is a good time to think about the qualities you'd like in a potential partner. Take some time to pen down a strengths and weaknesses chart for your past liaisons and focus on the things you'd feel content about, rather than those that have hurt you in the past. Remember, love is work and love takes planning. This March, your potential significant other may pop out from the least expected scenery, be it a business dinner with your co-workers, a team building, a solo trip to a cool new resort, or a Ladies, Wine & Design meet-up.
Coupled: Code red for bedroom heat! Spring awakens all your senses, Taurus, and this is a perfect time to get frisky with your loved one. You like the lavish side of romance, and your soft spot for sensuality peaks this March. If winter seemed like a problematic dead end for you and your partner, get ready for some top notch sexual healing! Add rose water, amber mist and organic scented oils to your beauty routine and seduce your lover with a symphony of scents, tastes and caresses. This March, you're going va-va-voom!
Gemini
(May 21 – June 20)
Single: Your inner dreamer gets a free pass to indulge in life's ultimate pleasures this month. If you've been having second thoughts about your body image and spiritual strength, this is a fantastic time to channel your inner beauty and your ravishing sexuality in the world. Take plenty of time to look after your body, nourish your skin, balance your diet with fresh vegetables and slow cooked meals, take a yogilates class with the instructor you've always wanted to meet and make some thorough erotic toys shopping with your best friend. This March, you're rediscovering your inner sexual god(dess).
Coupled: Three's a crowd, Gemini. If your past knocks on the door way too often or if you've been secretly wishing for an affair with a new romantic prospect, take some time to cut off the debris that's stopping you to see your partner as a loving person, or get in touch with a therapist and work through your attachment issues carefully. On the other hand, if you've been musing about a threesome, openly address this to your partner. Pay attention to their feelings and learn to compromise small scale for the benefit of your union. This March sheds a new light over relationships.
Cancer
(June 21 – July 22)
Single: If you've been craving for some one-on-one action, this spring brings you the marvellous opportunities to connect with great individuals, both in the bedroom and on the intellectual plan. Get ready for soul conversations in artsy restaurants, corny night-outs at jazz festivals and seriously sparkly kisses in the back of taxis. You may fall in love with someone from a different culture, or get the hots for someone from a completely different environment than yours. Pay attention to what triggers your heart to open up this month, Cancer, you're one of the spoiled signs of the Zodiac in March!
Coupled: A heated situation may burn out to its demise right now, or a stale relationship may find its fuel once again. This is a time for regeneration, be it on the personal or relationship front, and while some couples may decide to finally part, others will proceed to reconcile. Beware of addictive behaviours, unhealthy patterns and old flames that may narrow your vision this month, Cancer. While you may think you've pin pointed all the reasons you want out, take some time to analyze for the final time what works and what doesn't in your relationship. This March, the crossroad you've been stuck at may ultimately show the fortunate direction.
Leo
(July 23 – August 22)
Single: If you've been feeling like you've got burnt one too many times, March brings consolation to your sensitive, yet fiery heart, Leo. Past is past, and no matter what struggles you've been through over the past six months or so, spring makes you more in touch with your own needs. Get back in the dating arena and have no fear: what's yours will be always yours to keep!
Coupled: Do you practice what you preach, Leo? You demand great attention and love from your partner, but you're often more invested in your own affairs on the long run. This March, you'll get the feeling you can't make yourself seen or understood by your partner, and they may lash out at you for no apparent reason. When things get feisty, take some time to go through the wants and needs of you both, preferably over a romantic, delicious dinner or while playing an expansive sport together.
Virgo
(August 23 – September 22)
Single: If you've been dying to experiment with new age philosophies, orgasmic exercise classes or Tantric sexuality, this March calls for your prudish side to lay low and for your brimming sensuality to expand. Take a deep plunge into erotica this month, and you'll perhaps find a significant other to practice together what Jason Silva, School of Life or Holly Riordan preach. Don't be shy to awaken your inner kinkster!
Coupled: March is a time of renewal and romantic upheaval for coupled Virgos. It brings a great moment to work on any relationship issues left under the rug back in winter. Honest talk therapy sessions, romantic getaways, sexual experimentation and practising kindness are the four keys to unlock all your relationship's potential this month. Remember: sincerity brings people back together, and reignites the long forgotten spark of romance.
Libra
(September 23 – October 22)
Single: March makes you fall in love with yourself, all over again. You'll be more intuitive, empathetic, more willing to rejoice with old friends over picnics, outdoor sports and glitz parties in fantastic venues. You're getting back to your charming way of conquering love, and you'll make a couple victims in the bedroom this month for sure too. Stay away from emotional vampires, old flames and unfinished business this month, as this is a time of reconnecting with yourself and letting go of any heavy baggage you've accumulated from past relationships. This March, you're in for a big bloom.
Coupled: The essence of love lies in the mutual respect, consideration and comprehension two people offer each other, Libra, and while you're aware of the effort a relationship requires, you're always cautious of not letting a significant other suffocate your desire for freedom and space. This is a great time to look at the areas in your relationship that have grown stale, and inject some welcomed sexual energy and lust in your bond. You'll might consider joining your spouse to a Vippassana retreat, engage in slow love making weekdays before going to work or hitting the spa together for an ultimate erotic massage experience.
Scorpio
(October 23 – November 21)
Single: Is this real life, is this fantasy? Bet you've been wondering this a lot over the past months, and who's to blame you, Scorpio, when your romantic life seems to have been totally missing in action? Worry not, for this March, your retrograde dating life gets a surge of energy, adrenaline and sensuality like you've never experienced before! Get ready to blow off some sexy steam (and not in the Gym!), let yourself be seduced completely and revamp your social life. This March is your green lantern for life altering love affairs, unplanned adventures and untamed sensual experiences.
Coupled: What was the last time you sexted with your partner for a whole afternoon, Scorpio? Better yet, what was the last time you masturbated in front of your significant other, just to indulge in explosive foreplay? Getting comfortable is okay, while getting so comfortable that you find it natural to fart next to your SO during movie night is a completely bummer, even for a long time married couple. Luckily, spring comes around with a boost of romantic energy and makes room for more playful, fun and engaging sexual excitement. Take a leap of faith and woo your partner just like you did when you first met. People never forget how you've made them feel.
Sagittarius
(November 22 – December 21)
Single: If you've been feeling stuck in a rut, March brings you back at your sexiest. You don't shy away from speaking your feelings out loud, Sag, but this month you may find that the heart moves in mysterious ways. You might develop a crush towards someone in your past, that you've never dated before, or fly long distance for a steamy fling with someone in a different culture. Either way, this month you're all about being honest and listening to your heart, and the odds are you'll get what you need, sooner rather than later.
Coupled: Oh, those mighty growing pains. You're full of surprises in relationships, Sagittarius, but more often than not, you find it hard to accept the differences lying between you and your partner. This March you may have to decide whether your relationship is preventing you or both of you from growing, and work towards building a more safe space for you and your beloved. Likewise, you will need to open up and lay all your cards on the table. Other coupled Sags may finally decide to take things higher level and finally commit to their significant other officially. Wedding bells anyone?
Capricorn
(December 22 – January 19)
Single: Oy! Can you hear providential choirs, Capri? March brings a feast of romance and feisty dating games to your love life, and it won't take long before you hit the road together with your new bae to an exotic newfound land (check out this list of the coolest 30 Airbnb's around the world). This month puts you in a frisky, sensual mood, and the best part – you'll find someone while travelling.
Coupled: Are you ready for the time of your life? March can bring unexpected events, such as pregnancies, marriage proposals or even relocations. On the other side, it can dissolve marriages that stopped working, relationships that grew out of tune or long distance partnerships that are difficult to sustain. This is a time for liberation on all fronts, so don't be afraid to embrace change as it comes, Capri.
Aquarius
(January 20 – February 18)
Single: Hello mighty Water Bearer! Have you been carrying too much heavy weight over the past months, this is a time of consolation and reinstatement of your deepest, most powerful strengths and energies. Since February, the beginning of your Zodiac New Year, you've been starting to reassess the importance of people in your life, and you've been letting go of some toxic debris from your past. Have no fear: this process is coming to an end this March, and while you have a tendency to reconnect with old flames in your life, you may decide to leave the past where it belongs and look eagerly towards people who can fulfil both your intellectual, humanitarian goals, and your bedroom lusts for highly engaging experimentation.
Coupled:  If you've been struggling to reconnect or make ends meet with a significant other, this month brings solace and playful conciliation in your love life. You're now more eager to experience things together, and to make more room for your partner in your busy social life. Plan some weekend getaways together, spice up your weekdays with enticing sexcapades, take horse riding lessons together or freshen up your wardrobe with some delightful lingerie shopping. This March sheds some light on fertility issues, so for those coupled Aquarians trying hard to conceive, a pregnancy may be in the stars.
Pisces
(February 19 – March 20)
Single: This is a celebration for you Pisces, as your new year that commenced mid February is starting to rise at its peak. Your sign now gets a boost of self awareness, confidence and wit, and the mist lying on top of your romantic life is finally starting to dissipate. Power up in the subconscious plan! Many underlying secrets of your psyche will start coming into light this month. You may discover something about your past that has dictated a series of unfortunate choices in love, or you may finally realize that what you've been searching for so long is right under your nose. Err, tail.
Coupled: The high road is calling, Pisces! You and your significant other may be in for some serious talks around subjects such as travel, relocation, immigration or going long distance. Similarly, March may shed light on underlying issues that lead to separation or that harvest troubles in all aspects of a relationship. If you're travelling with your partner this month, keep careful about potential accidents or refrain to engage in activities that may harm you or both of you.