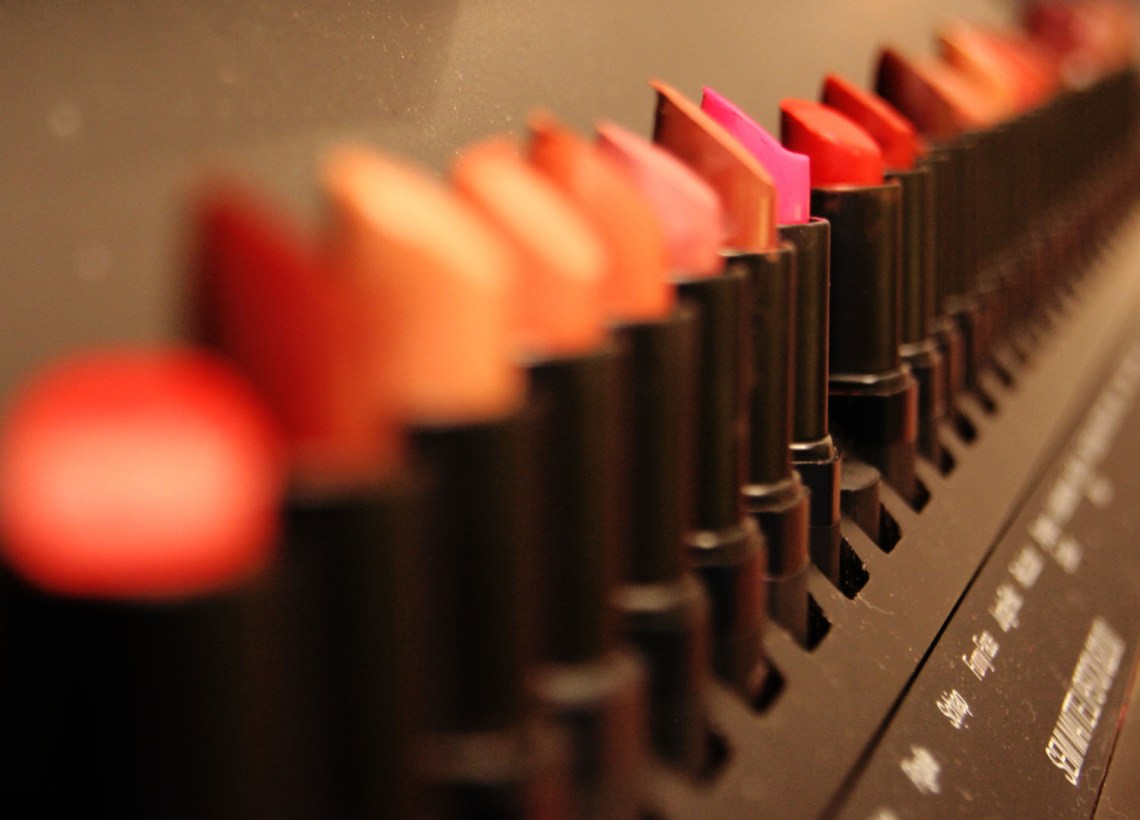 Ah, Sephora. My church, my safe haven, and my first job! I worked at Sephora during college (what up, Sephora Twelve Oaks!) and it was honestly the best first job I could have ever asked for. I got to wear fun makeup all day, be surrounded by fun makeup all day, and work with some insanely talented, hardworking, and creative people.
Besides getting a discount and learning fun makeup tricks and getting gratis, as an employee I learned a whole bunch of hacks that make navigating the store a whole lot easier. Whether you're a seasoned Sephora lover or new to the fam, you'll definitely wanna pay attention:
1. Sign up for the Beauty Rewards program.
No, it's not a credit card. It's literally just a point-based system that tracks every dollar you spend. Your points never expire and only go away when you spend them.
And what do you spend them on, you ask? FREE SHIT! As soon as you get to 100+ points, you can choose from various deluxe samples that are at the front register. (Here is a list for some examples of what you can spend your points on.)
It's tiered, too. There are three levels of Beauty Insider status, based on your spending. These are:
Beauty Insider – Default status when you sign up for the program
Very Important Beauty Insider (VIB) – When you spend $350 or more in a calendar year
VIB Rouge – When you spend $1000 or more in a calendar year
Besides raking in the rewards, the Beauty Insider program has other perks including a gift during your birthday month and coupons every now and again. As well, VIB and VIB Rouge members get extra perks such as free Beauty Studio services, events invites, and more. You literally cannot go wrong by signing up.
2. Ask for samples!!!
Sephora is all about try before you buy. Ask employees for samples of foundation, cleanser, toner…you name it! They have little sample jars and can make them for you on the spot.
3. Take advantage of the mini makeovers at The Beauty Studio.
Sephora's Beauty Studio (that futuristic looking hub that's usually in the middle of the store) has so many cool things to offer, including free mini makeovers! You can get smokey eyes, contour, flawless foundation; you name it! It takes all of 15-minutes for whatever service you choose and you'll leave the store looking fly AF.
What's awesome about their mini makeovers, too, is that whatever artist is helping you out will also explain the method behind their makeup sorcery, so you can almost replicate the look at home.
4. You can pretty much literally return anything.
Sephora has a bomb return policy. Within reason, you can pretty much return anything and everything. That goes for used products, too! Foundation broke you out? Bring it back. Cleanser didn't do what you wanted it to? Bring it back! You just don't need $75 mascara? BRING IT BACK!
5. Always check for beauty deals on their website.
They offer Weekly Wow deals you won't want to miss, among other awesome promotions. Plus, you can get free stuff!
6. They'll honor a price adjustment within two weeks of your purchase.
Did you get a coupon just a little too late? Did you buy something before it went on sale? If you go back within two weeks of purchasing, they'll do a price adjustment.
You can chat with fellow Sephora addicts to trade tips, find product recommendations, and get all the inspiration you need to achieve all your ~lewks. You can also talk with members in real time to help you through any of your shopping woes and get exclusive invites to Beauty Insider events.
8. If you have a big event coming up, book a Beauty Studio appointment!
Sephora's makeup artists are fucking pros and know what they're doing. If you have a big event coming up and knew you were planning on spending $50 at Sephora at some point anyway, call up your local store and schedule a Beauty Studio appointment! The service is complimentary, so as long as you buy $50 worth of product (which, let's be real, you could do in like two lipsticks) or a gift card.
And even if you don't have a special event, per se, and just want to spend all your money on NARS so you can go to the bar after to drink your sorrows away while looking #flawless doing so, that's also an option. Do you.