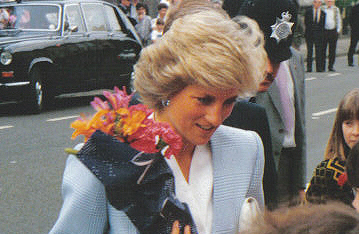 Today marks the 19th anniversary of the devastating car crash that killed Princess Diana in Paris in 1997. If she were alive, she would be 55 today. Here are 9 things you probably did not know about the Princess:
1. Her grandmother worked for the royal family
In 1956, five years before Diana was born, her grandmother Baroness Ruth Fermoy became one of the Queen Mother's ladies-in-waiting. She served the royal family for nearly 40 years.
2. Diana's sister, Lady Sarah, dated Princes Charles first
Sarah and Charles began to date in the late 70s and Diana met Prince Charles at a family gathering when Lady Sarah and Prince Charles were seeing each other. She was 16 at the time. The romance between Sarah and Charles is rumoured to have ended because she leaked private info about royal business to media outlets and was more interested in the fame.
3. She was engaged at 19
She became engaged to Prince Charles at 19 and married him when she was 20. Prince Charles was 12 years older than her and was under pressure to find a bride.
4. She decided to abandon the royal wedding vow tradition of saying that she would "obey" her husband
Instead of saying that she would "obey her husband" she decided to say "to love, comfort, honour, and keep." In 2011, Kate Middleton followed in her footsteps and also abandoned the old language.
5. She wanted to be a ballerina
From a young age, Diana dreamed of being a ballerina. However, she was unable to pursue her dream because she did not have the body for ballet. She continued to take ballet classes for fun even after she was married.
6. Her wedding dress had the longest train in royal history
The train was 25 feet long. She had to practice walking in the dress before the wedding. Her dress was also known as the dress of the century and was covered in sequins, embroidery and 10,000 pearls. The dress overall took 5 months to make and another 5 months for fitting.
7. She battled with bulimia and depression
It is reported that Diana said her worries about her weight began because of her husband. She said, "My husband put his hand on my waist and said, 'Oh, a bit chubby here, aren't we?' That triggered something off in me." This reportedly led to her becoming bulimic and depressed. The news of her bulimia became public in the 1990s and had a huge impact across the globe. In sharing her problems, she was able to help many other confront their eating disorders and seek treatment.
8. She chose her engagement ring from a catalog
Unlike most, or all royals, Diana opted out of having her engagement ring custom made. She chose her rings from a catalog of the Garrad company and chose a shiny blue sapphire ring that is now one of the most recognizable rings in history and has been replicated many times. Her ring now belongs to Duchess Kate Middleton.
9. She was, and will always be, the people's princess
"She was the people's princess and that is how she will stay, how she will remain in our hearts and our memories forever." – Tony Blair, former British Prime Minister