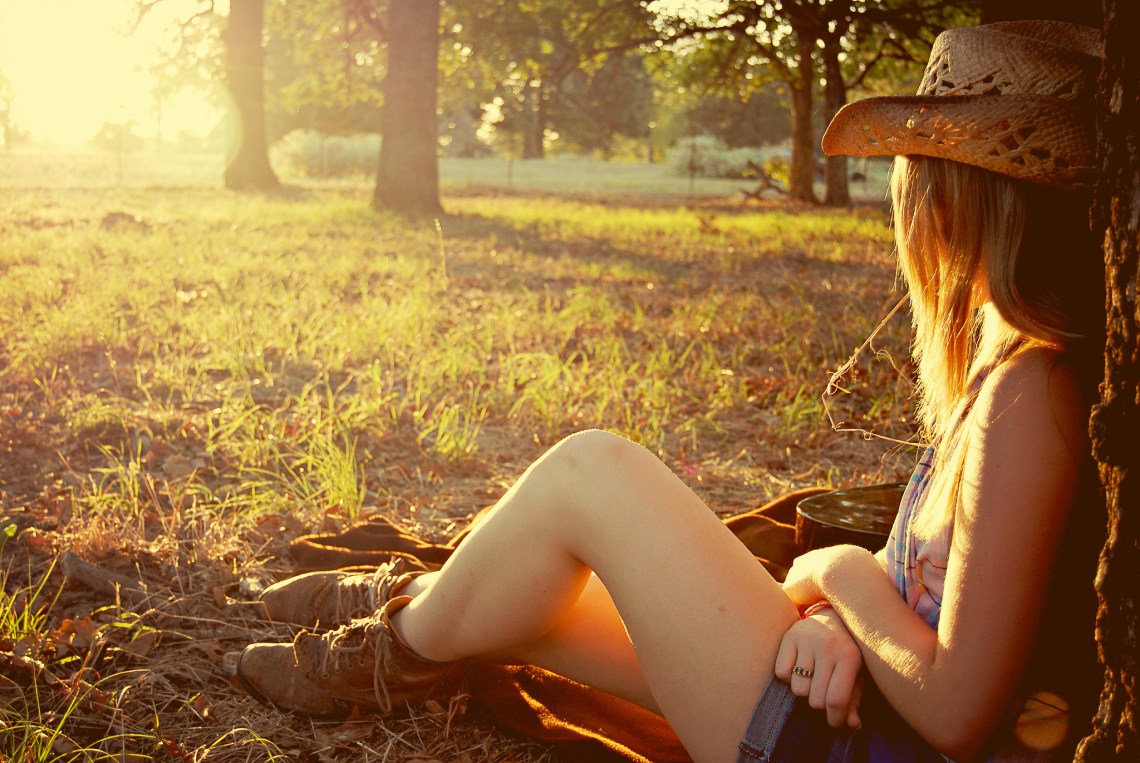 1.
I'll keep on turning the pages
Oh what a story to tell
You'll still be my sweetheart when everything ages,
You'll be the last book on the shelf

I hope you're the end of my story
I hope you're as far as it goes
I hope you're the last word I ever utter
It's never your time to go.

— "I Hope You're The End Of My Story," Pistol Annies
---
2.
And we'll build this love from the ground up
Now 'til forever it's all of me, all of you
Just take my hand
And I'll be the man your dad hoped that I'd be.

— "From The Ground Up," Dan & Shay
---
3.
There's more here than what were seeing
A divine conspiracy
That you, an angel lovely
Could somehow fall for me
You'll always be love's great martyr
And I'll be the flattered fool
And I need you, yeah.

— "God Gave Me You," Blake Shelton
---
4.
You will always be the miracle that makes my life complete,
And as long as there's a breath in me, I'll make yours just as sweet.
As we look into the future, it's as far as we can see,
So let's make each tomorrow be the best that it can be.

— "I Cross My Heart, George Strait
---
5.
You're the healing hands where it used to hurt
You're my saving grace, you're my kind of church
You're holy.

— "H.O.L.Y." Florida Georgia Line
---
6.
Lost in this moment with you
I am completely consumed
My feelings so absolute
there's no doubt
Sealing our love with a kiss
Waiting my whole life for this
Watching all my dreams come true
Lost in this moment with you

— – "Lost In This Moment With You," Big & Rich
---
7.
Every time you kiss me
it's like sunshine and whiskey.

— "Sunshine & Whiskey," Frankie Ballard
---
8.
Every long lost dream led me to where you are
Others who broke my heart they were like Northern stars
Pointing me on my way into your loving arms
This much I know is true
That God blessed the broken road
That led me straight to you.

— "God Bless The Broken Road," Rascal Flatts
---
9.
If I never get to see the Northern lights
Or if I never get to see the Eiffel Tower at night
Oh if all I got is your hand in my hand
Baby I could die a happy man
A happy man, baby.

— "Die A Happy Man," Thomas Rhett
---
10.
Better than I was
More than I am
And all of this happened
By takin' your hand

And who I am now
Is who I wanted to be
And now that we're together
I'm stronger than ever
I'm happy and free.

— "It's Your Love," Tim McGraw
---
11.
They say behind every man is a good woman
But I think that's a lie
'Cause when it comes to you
I'd rather have you by my side.

— "You're My Better Half," Keith Urban
---
12.
Gimme the girl that's beautiful,
Without a trace of makeup of on,
Barefoot in the kitchen,
Singing her favorite song.
Dancing around like a fool,
Starring in her own little show,
Gimme the girl the rest of the world,
Ain't lucky enough to know.

— "Gimme That Girl," Joe Nichols
---
13.
If you're callin' 'bout my heart
It's still yours
I should've listened to it a little more
Then it wouldn't have taken me so long to know where I belong.

— "Austin," Blake Shelton
---
14.
Remember when the sound of little feet
Was the music we danced to week to week
Brought back the love, we found trust
Vowed we'd never give it up
Remember when.

— "Remember When," Alan Jackson
---
15.
If you get there before I do, don't give up on me
Ill meet you when my chores are through
I dont know how long Ill be but Im not gonna let you down
Darling, wait and see.

And between now and then til I see you again
Ill be loving you, love me.

— "If You Get There Before I Do," Collin Raye
---
16.
She's in love with the boy,
and even if she has to run away,
she's gonna marry that boy someday.

— "In Love With The Boy," Trisha Yearwood
---
17.
I am a short fuse, I am a wrecking ball
Crashing into your heart like I do
You're like a Sunday morning full of grace and full of Jesus
And I wish that I could be more like you.

— "Hard To Love," Lee Brice
---
18.
She made me thirst for a woman's love
I kept drinking, couldn't get enough
Yeah, there was magic in her velvet touch.

— "Drive Me Crazy," Kip Moore
---
19.
Alone at a corner table,
She was watching me watching her.
I was singin' about an old flame burning,
She was hanging on to every word.

I was pouring out my feelings,
She was pouring out the wine.
Through the smoke and the beer,
It was perfectly clear,
That we were touching each others minds.

— "Ten Feet Away," Keith Whitley
---
20.
If I made you feel second best,
girl I'm sorry I was blind.
You were always on my mind.

— "Always On My Mind," Willie Nelson
---
21.
Take the very breath you gave me
Take the heart from my chest
I'll gladly take her place if you'll let me
Make this my last request
Take me out of this world
God, please don't take the girl.

— "Don't Take The Girl," Tim McGraw
---
22.
In spite of ourselves we'll end up a-sittin' on a rainbow
Against all odds, honey we're the big door-prize
We're gonna spite our noses right off of our faces
There won't be nothin' but big ol' hearts dancin' in our eyes.

— " In Spite Of Ourselves," Iris Dement
---
23.
We're gonna do what lovers do
We're gonna have a fight or two
But I ain't ever changin' my mind
Crazy girl, don't you know that I love you?
And I wouldn't dream of goin' nowhere
Silly woman, come here, let me hold you
Have I told you lately?
I love you like crazy, girl.

— "Crazy Girl," Eli Young Band
---
24.
She's a warm conversation
That I wouldn't miss for nothing
She's a fighter when she's mad
And she's a lover when she's loving

And she's everything I ever wanted
And everything I need
I talk about her, I go on and on and on
'Cause she's everything to me.

— "She's Everything," Brad Paisley
---
25.
If mine could be the name that changes yours,
The wine in your glass,
The swing on your porch,
The dollar in your pocket,
And the peaceful in your sleep,
Then I'd be what you mean to me.

— "Mean To Me," Brett Eldredge
---
26.
When you're weak, I'll be strong
When you let go, I'll hold on
When you need to cry, I swear that I'll be there to dry your eyes
When you feel lost and scared to death,
Like you can't take one more step
Just take my hand, together we can do it
I'm gonna love you through it.

— "I'm Gonna Love You Through It," Martina McBride
---
27.
I start walkin your way you start walkin mine
we meet in the middle 'neath that old Georgia pine.
We gain a lot of ground cause we both give a little
aint no road to long when we meet in the middle.

— "Meet In The Middle," Diamond Rio
---
28.
When I'm lying wrapped up in your arms,
the whole world just fades away.
The only thing I hear is the beating of your heart.

— "Breathe," Faith Hill
---
29.
If you wonder how long I'll be faithful
I'll be happy to tell you again.
I'm gonna love you forever & ever,
forever & ever amen.

— "Forever And Ever, Amen," Randy Travis
---
30.
Don't know how you do it.
I love the way I lose it, every time.
What's even better is knowing that forever you're all mine.

— "I Melt," Rascal Flatts
---
31.
You're crazy
There ain't a girl in this whole wide world that could ever make me
feel the way I do about you, baby
Yeah, you're crazy
But you can be as crazy as you wanna be
As long as you're crazy over me.

— "Crazy Over Me," Dan Scott
---
32.
You and me go fishin' in the dark
Lyin' on our backs and countin' the stars
Where the cool grass grows
Down by the river in the full moon light
We'll be fallin' in love in the middle of the night
Just movin' slow
Stayin' the whole night through
Feels so good to be with you

— "Feels So Good To Be With You," Nitty Gritty Dirt Band
---
33.
I wanna open my eyes,
When the sun breaks through,
And see you there, beside me.

I wanna reach out at night,
And pull you close.
I wanna know your arms around me.

I wanna dream your dreams,
Wanna make em all come true.
Dance every dance that you want to.
Every breath I breathe will be for you.

— "Change Your Name," Chase Bryant
---
34.
When I said I do, I meant that I will 'til the end of all time
Be faithful and true, devoted to you
That's what I had in mind when I said I do.

— "When I Said I Do," Clint Black
---
35.
She said, I bet you don't remember me.
I said, only every other memory.

— "Something Like That," Tim McGraw
---
36.
She's a picture in my wallet
Of my unborn children's mother
She's the hand that I'm holding
When I'm on my knees and praying
She's the answer to my prayer
And she's the song that I'm playing
And she's everything I ever wanted.

— "She's Everything," Brad Paisley
---
37.
Every time our eyes meet
This feeling inside me
Is almost more than I can take
Baby when you touch me
I can feel how much you love me
And it just blows me away
I've never been this close to anyone or anything
I can hear your thoughts
I can see your dreams

I don't know how you do what you do
I'm so in love with you
It just keeps getting better
I wanna spend the rest of my life
With you by my side
Forever and ever.

— "Amazed," Lonestar
---
38.
It's not in the whiskey, tequila or the wine
It's all about the touch and the fire in your eyes
It gets me fumbling always stumbling through a haze
I got plenty to do just laying here with you all day

I woke up, still drunk, on your love.

— "Drunk On Your Love," Brett Eldredge
---
39.
I'll never settle down,
That's what I always thought
Yeah, I was that kind of man,
Just ask anyone

I don't dance, But here I am
Spinning you round and round in circles
It Ain't my style, but I don't care
I'd do anything with you anywhere
Guess you got me in the palm of your hand
Cause, I don't dance.

— "I Don't Dance," Lee Brice
---
40.
I met a girl
She made me smile, she made me wait
She crossed the street, she crossed my heart
She fixed her dress, she bit her lip, she let me up
I met a girl with crazy shoes and baby blues
The way she moves is changing my whole world
I met a girl.

— "I Met A Girl," William Michael Morgan
---
41.
Just to see you smile
I'd do anything that you wanted me to
When all is said and done
I'd never count the cost
It's worth all that's lost
Just to see you smile.

— "Just To See You Smile," Tim McGraw
---
42.
You can't undo a fall like this
'Cause love don't know what distance is
Yeah, I know it's crazy

But I don't want "good" and I don't want "good enough"
I want "can't sleep, can't breathe without your love"
Front porch and one more kiss, it doesn't make sense to anybody else
Who cares if you're all I think about,
I've searched the world and I know now,
It ain't right if you ain't lost your mind.

— "I Want Crazy," Hunter Hayes
---
43.
When I think about you
I think about 17
I think about my old Jeep
I think about the stars in the sky.

— "Springsteen," Eric Church
---
44.
Cause honestly I don't know what I'd do
If I'd never met a woman like you.

— "A Woman Like You," Lee Brice
---
45.
I wanna put you in my car and drive
And turn you up loud, roll down all the windows and shout it out
I love this girl oh
If I could press play, repeat how happy I'd be
Wherever I'd go I'd have you there with me
You'd be right where you belong
I wanna put you in a song.

— "Put You In A Song," Keith Urban