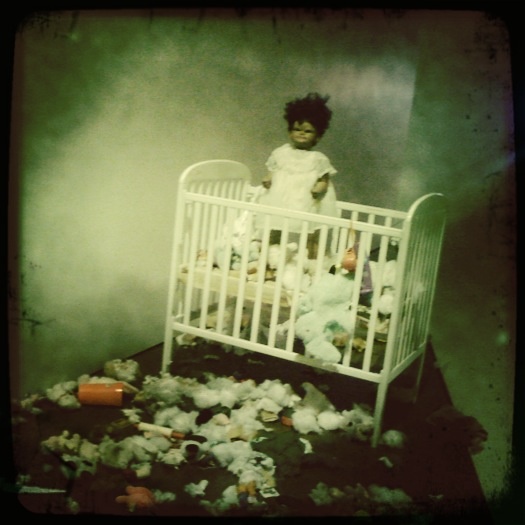 I peeked outside. The pizza delivery guy is at the door, but I didn't order a pizza — and definitely not from someone wearing a pig mask.

My mother has been screaming at the front door for hours now. She's not happy that I killed her with my bare hands.

I have a friend named Charlie. I'm playing at his house but it's cold down here in the basement, I wonder when Charlie will let me go home.

If you get scared at night, don't keep your eyes closed for too long. There's a reason you're scared, and now you can't see it approach.

I used a Ouija board yesterday, but I only asked one question and put it away. I got my answer today — written in blood on my ceiling.

The wailing from the baby monitor just won't stop. Problem is, my daughter is with her mother this weekend… over 200 miles away.

Grandpa died smoking a cigar in his favorite chair. We got a new one but from the ash marks he leaves behind he has a new favorite chair.

My husband woke me up by kissing my cheek when he got home late. This morning I checked my phone — he stayed with a friend last night.

I like to sing in the shower sometimes. When I got out of the last one, the fogged-up mirror read "YOU HAVE A LOVELY VOICE" — I live alone.

My wife just ran in to ask me if I was okay because she could hear my terrible coughing fit from across the house. I wasn't coughing.

The upstairs neighbors are awfully noisy. I told my landlord… it's been vacant for months.

For sale: like-new engagement ring, barely worn, came right off her finger. Finger also for sale for the right offer.

I had a dream that a man was watching me sleep from outside my bedroom window. When I woke up, I found footprints… inside, next to my bed.

My TV keeps turning on by itself. It's annoying, but what's more worrisome is how it only shows footage of me standing in my living room.

My girlfriend is scared of horror movies. They make her paranoid, which can be tricky when I'm watching her through her living room window.

I found a new bottle of my best friend's favorite scotch on the kitchen counter today. He died in a drunk driving accident six years ago.

It's nice that my grandmother calls to check on me, but if she wants to communicate from the other side I wish she wouldn't scream so much.

My boyfriend has a collection he's very proud of. He never told me that he's been collecting souvenirs from the girlfriends he murdered.

I have a recurring dream I'm murdered by a man I'd never met. I thought it was stupid until I went on a blind date and saw him at the table.

My mom told me she had the best time playing with my little sister today. My sister went missing in 2002 — they found her body in 2006.