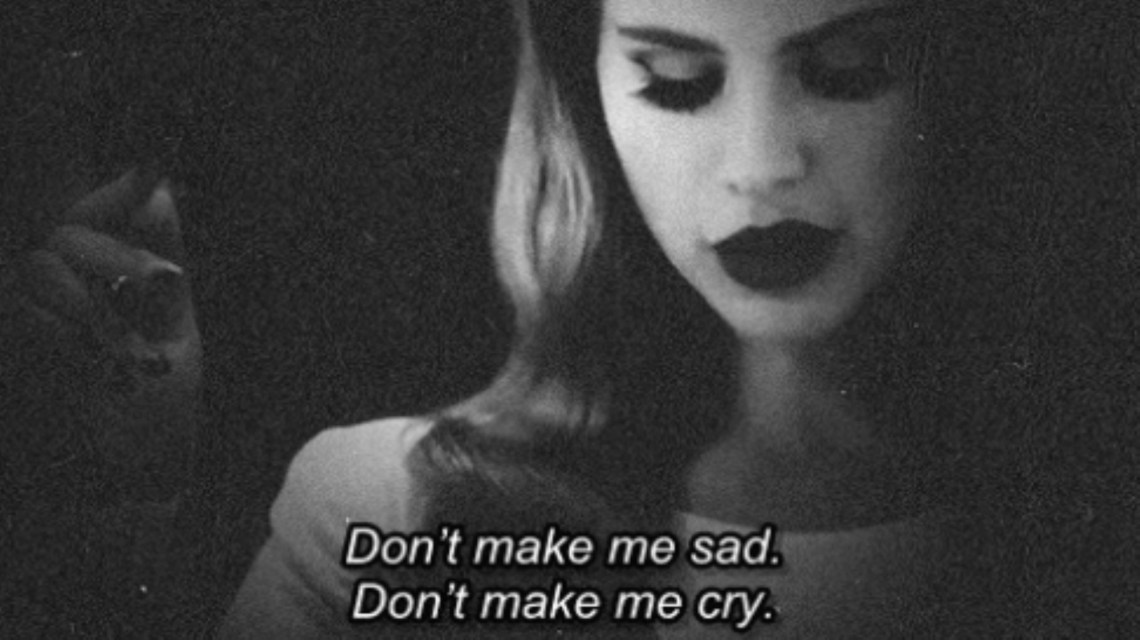 It's 7:30 p.m. on a Sunday night in Clarkson, Michigan. I'm stuck on I-94 waiting to take the exit to DTE Music Energy. In front and behind me are cars decorated in pink streamers with back windshields that say things like "Honk 4 Lana", "We <3 U LANA", "SUMMERTIME SADNESS." We've been sitting here for 30 minutes but none of the lanes are moving.
In the car Patrick and I are listening to Placebo, and he lights a cigarette, saying he can't believe the traffic jam. "I guess I underestimated how much of a crowd Lana Del Rey could actually pull in."
Half an hour later, we make our way to the concert and upon walking around the grounds of the amphitheater we quickly make friends with various groups of girls dressed in the typical Lana Del Rey attire based on their favorite music videos from the singer. Some girls are in pastel colored dresses with long, flowing hair, reminiscent of "National Anthem," while others are in black leather jackets and heavy eye liner ala "West Coast," and a few are remaking "Ride" in cut-off t-shirts emblazoned with the American flag and Native American headdresses they probably bought at Urban Outfitters.
Although everyone's style seems to be based on their favorite Lana look, one thing remains consistent: nearly everyone has a flower crown. Although flower crowns are nothing new or original in festival culture, they became a staple of Lana fans showing their camaraderie when Lana began wearing them regularly in videos or promotional photos when her sad girl anthems like "Video Games" and "Born To Die" became popular in 2011 with the release of her first album as Lana Del Rey.
Previously, the singer went by her real name, Lizzie Grant, releasing songs meant for more mainstream consumption. When that failed to take off she disappeared and reemerged as Lana Del Rey – an identity crafted out of noir and nostalgia; a persona pulled from the depths of Lizzie Grant's mind laced with images of David Lynch videos and seedy showbiz glamour of the 1960s. Instead of Lizzie Grant, the aspiring pop star, we now had Lana Del Rey – a sultry singer with an identity bathed in mystery, singing Hollywood sadcore ballads. Although her authenticity was questioned in the beginning (and still is, on occasion) those character defining bumps along the way are now merely a memory.
When I ask a group of fans drinking $10 Bud Lights on the grass what it is about LDR they love so much their answers vary but revolve around the same central ideas: she's real, original, and unlike anything else out there.
"She isn't afraid to be who the FUCK she is!!"
"Yeah! She's just the most real celebrity or singer out there right now. She talks about the things we all do – like drinking and fucking and falling in love with people who aren't right for us. But the difference between her and like, Katy Perry, is she has this really cool image built from art and music from the past. She's real. Unlike anyone else singing right now."
But is her image really her? I ask. Or is she (and the team of professionals around her) just great at marketing and creating powerful imagery of an other-era persona?
In her music and videos she portrays different, albeit similar characters – complex, complicated, and often co-dependent women in love with the sugar daddy who pays for the drinks or the bad boy biker with lips that taste like whiskey. These kinds of men always seem to leave though, and that's when Lana finds herself alone, in a state of melancholia, drinking, and singing about love and abandonment.
With lyrics like, "My pussy tastes like Pepsi-Cola," and "He hit me and it felt like a kiss," the singer easily pushes critic's buttons that believe she's either putting women's rights back 50 years or promoting domestic violence and abusive, unhealthy relationships.
None of this matters to her fans though. Not really. A late-20 something in black leather tells me, "Fuck the critics. She is real. She is authentic. Even if I can't relate to the opulent, old Hollywood lifestyle she sings about, I understand her pain and passion when it comes to the men she's loved and lost. Lana is free and beautiful. That's what a real woman is."
Patrick asks the group what songs they're most excited to hear and most of them shout "Video Games!" in unison. Others want to hear her most recent singles like "Shades of Cool" or "Brooklyn Baby," while a few say they're hoping she'll sing a more obscure song that's never been released. The group agrees the truest LDR fan knows the singer's best work can't be found on any album, but instead within the hundreds of unreleased songs and demos only discovered in the depths of the dark web.
On stage at DTE, Lana wears a green, 60s style baby doll dress and sings most of her hits off of "Ultraviolence." During her performance of "The Chelsea Hotel" she lights a cigarette on stage, while black and white images of the singer flicker on the screens, bringing her retro image to life. 5 girls in flower crowns in front of me ask if I'll take their pic while Lana sings, saying how impossibly cool this all is. "I've been waiting my whole life for this!"
At Governors Ball in NYC, a week after I've seen Lana perform in Michigan, I find the flower crown cult have arrived in masses on the last night of the 3-day music festival. They're positioning their place in the audience 3 hours before she's set to perform, even if that means they have to see Big Gigantic play.
"I fucking hate these guys but if being surrounded by a bunch of E-tards for 2 hours means I get a better shot of Lana, then I guess it's worth it," says the friend of a late-teen girl with cat eye glasses.
The friend nods and admits she doesn't care that much about any of the other performers at the festival today. "I tried seeing Lana last year but tickets sold out immediately. The only way I could see her is if I suffered through a 3 day music festival." She scratches at her flower crown and tells me she made the crown out of red roses from her mother's garden – an act of desperation when she couldn't find any last minute store made flower crowns in her hometown of New Haven, CT.
"I'll probably be grounded but…whatever. It's worth it. My mom can plant more roses," she says, laughing.
A couple hours later and we're body to body as the crowd pushes to gain better viewing of the stage. A mix of college students and 14-year-old girls with their parents looking miserable and bewildered make up the crowd around me. The girl next to me begins crying; afraid she's not close enough to see Lana.
"Lana Del Rey is literally my mom," she says. "She's my religion. I would fucking kill myself for her." When she sees people staring at her, she looks at me and says, "Don't worry. I'm not drunk."
To make her feel better, her group of friends pull out their iPhones, each one tasked with finding the perfect Lana song to listen to while they wait. A girl with frizzy black hair and a jean jacket settles on "Video Games" and the two of them sing the song's lyrics together: "I heard that you like the bad girls honey // is that true // it's better than I ever even knew." Loud and off-key they repeat the song's chorus over and over, with tears streaming down, and their arms around each other.
When Lana finally takes the stage in a retro NY Yankees dress and flowing chestnut hair, the crying girl abandons her tears immediately for unbridled screaming.
"Finger fuck me, Lana!" she yells. "Fuck me hard!"
Then, looking at her friend she says, "God, I hope I get to see her panties tonight. I really hope they're pink."
Something is off with the sound of her set and except for the occasional swelling of guitar riffs or vocals, the crowd can barely hear a word Lana's singing. Somehow, it all seems to add to the singer's dreamy aesthetic.
"I don't care if I can't hear her. The black and white images, the way they're filming her like it's a music video from the 70s – I fucking love it," someone tells me.
"No one gets me like Lana does. That's why I'll keep going to her concerts and buying her albums. I'd do anything for her. She's a goddess. A fucking goddess. And seeing her live – it's better than I ever even knew."