SPONSORED
When people think about Texas they often think of cowboys, football, and Tex-Mex. While some of that is definitely true, Texas is a bold, complex place with a rich and vibrant culture that changes depending on which side of the state you're in. The sheer size of Texas alone makes it a place that encompasses a wide variety of people and backgrounds.
Often people think they know a lot about the Lone Star State but it's a place with a long-standing rebellious history of independent people who would rather make a name for themselves than follow in another's footsteps. I've lived in different parts of Texas on and off for the past 10 years and it remains one of my favorite places in the country.
We got with Wolf Brand Chili, Texas' #1 chili, to bring you a list of some cool things you probably didn't know were from Texas, including their bold and flavorful chili which dates back to 1895. In celebration of all things Texas, Wolf partnered with photographer Lauren Marek, a specialist in capturing Texas lifestyle, to document the unique relationships Texans have with the Lone Star State and their chili.
Frozen Margarita Machine
I love Texas because it seems like the people just get what we're all about. Some people might not think a frozen margarita machine is crucial for happily existing in life, but then I'd have to say those people haven't experienced the oppressive Texas summer heat, in which a frozen margarita machine is basically necessary to offset some of the misery.
Mariano Martinez, a Mexican-American inventor and entrepreneur of all things amazing and deliciously frozen, invented the machine in 1971 in Dallas by simply adapting a soft serve ice-cream machine to make frozen margaritas. You can check out his original invention at the National Museum of American History.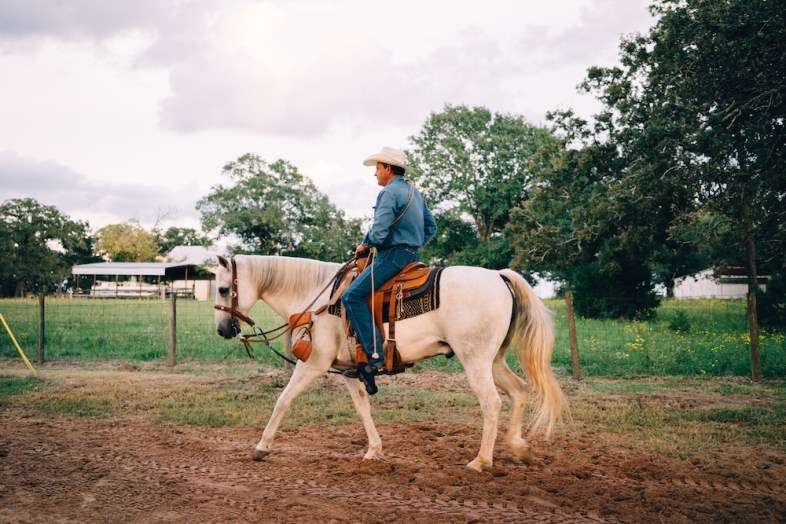 Chili Con Carne
As the national dish of Texas, it only makes sense the spicy stew came from the Lone Star state itself. Chili Con Carne was originally served at the San Antonio Chili Stand in the late 1800s. Around the same time Lyman Davis began selling chili by the bowl in Corsicana, the original location of Wolf Brand Chili, for only 5 cents per bowl.
I think one of the best ways to get an authentic taste of Texan culture is to stop at a Texas chili parlour. Although my personal favorite is in Austin, they can be found all over the state, and they always serve up the best variations of Tex-Mex food. If you're not anywhere near Texas you can still experiment with making chili at home, mixing up your own unique combinations of hearty flavors. My mom's favorite recipe is a classic Chili Mac and Cheese, but when I'm hosting friends I like to have a little bit more fun and make Cowboy Nachos (If you haven't had them you should totally make them sometime).
To chili lovers, Wolf Brand Chili is an easy one-dish meal that delivers authentic Texas-style chili because of its unique blend of seasoning and rich, thick, meaty flavor – not to mention its status as the #1 brand in Texas.
Corn Dogs
One of the best things about spending a summer in Texas is visiting the State Fair of Texas, if for no other reason than the food. I was at a county fair in Lubbock, Texas the first time I ever had a corn dog and I was immediately in awe that I had gone my whole life up until then without them. The fact that the hot dog on a stick originally came from Texas doesn't really surprise me, as we all know Texas is king of coming up with delicious but probably bad for you foods – something that is totally okay with me!
The story goes that a couple of dudes, Carl and Neil Fletcher, introduced their version of the corn dog at the Texas State Fair between 1938 – 1942. Others dispute this story, but I don't blame multiple people for wanting to take credit for one of America's best street foods. Either way – there's no need to fight about it, guys, let's just eat a couple of corn dogs, drink some Dr. Pepper (which also originated in Texas in the 1880s) and enjoy the hazy Texas heat.
Robin Wright
There are some actors we just know are from Texas – Matthew McConaughey, Tommy Lee Jones, etc. Then there are those we might not have been so aware of. Robin Wright plays a convincing enough character on House of Cards it seems like she could have easily come from the East Coast but the searing star was actually born in Dallas, Texas.
Whataburger
No one knows the best fast food burger until they've been treated to a Whataburger. Seriously, y'all are missing out. The southern fast food joint originally came out of Corpus Christi in the 1950s and was founded by Harmon Dobson and Paul Burton.
Dobson wanted to "make a better burger that took two hands to hold and tasted so good that when you took a bite you would say, 'What a burger!' I like this guy's style. The burgers are awesome but I always have to get a milkshake when I go there too.
Beyoncé
They say everything's bigger in Texas and I'd have to completely agree when it comes to Beyoncé and her insanely awesome career. The superstar was born and raised in Houston and regularly talks about her roots growing up in Texas. One of my favorite on-screen Beyoncé moments is when she did MTV's Diary in 2003 and hung out at the Texas State Fair, going on rollercoasters and eating corn dogs. She was a star back then but nothing quite like the powerhouse she is today.
Liquid Paper
Bless the woman who helped me whiteout all my many mistakes on my papers in high school. Bette Nesmith Graham created whiteout, or liquid paper, in the 1950s when she worked as a typist in Dallas. She used a basis of tempera paint mixed with a common kitchen blender to create the correction fluid. After getting fired from her typing job, Graham founded Mistake Out Company then later sold her creation to the Gillette Corporation.
Friday Night Lights
Football is one of the most important parts of Texas culture and there's no better show to get into than Friday Night Lights to experience a taste of the passion ignited during football season in Texas. All 5 seasons of the TV show (based on the non-fiction book about a real high school football team in Odessa, TX) were filmed right in Austin and give viewers a sneak peak into the lives of your typical Texas football family.
Six Flags
Six Flags might be the largest amusement park in America but most aren't aware that the Texas based park's name is a reference to the six flags of the different nations that have governed the state – France, Spain, Mexico, the Republic of Texas, the Confederate States of America, and the USA, of course. Six Flags is all over the U.S., Mexico, and Spain but keeps their headquarters in Grand Prairie, Texas. The amusement park is a staple in any Texan's childhood and still remains one of my favorite places to visit anytime I'm in the state.