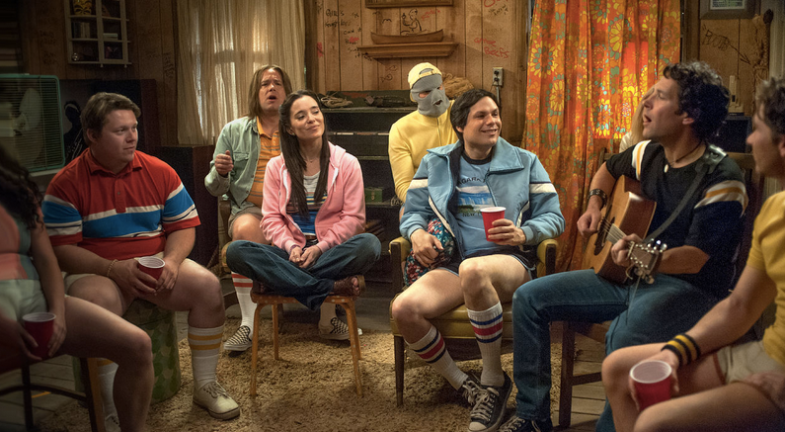 1. The film was written by David Wain and Michael Showalter, who met while they were both studying at NYU. They went on to create the comedy group The State, which led to the legendary cult-status MTV sketch show of the same name. Wain and Showalter wrote Wet Hot based on various experiences they both had while attending summer camp as kids.
2. The film budget was only $1.8 million, but it took three years for them to get that money together, after being repeatedly turned down. When the film was shown at the 2001 Sundance Film Festival, however, it was promoted as having cost $5 million, in order to make it seem more impressive.
3. Filming took about 28 days total, and according to various stars and production members, it rained practically every single day on set.
4. When the film was released in 2001, it was only shown in 12 theaters – earning about $295,000.
5. Janeane Garofalo said that while filming the movie, she was drunk about 90% of the time. She also admitted there was a lot of "bed-hopping" among the cast.
6. Although First Day of Camp was shot in L.A., the original movie was shot at an actual summer camp (Camp Towanda) in Pennsylvania. The entire cast stayed at the camp site throughout filming, which led to a lot of heavy drinking from booze purchased at the local Wal-Mart. According to Christopher Meloni, "They set us up on these bedsprings with a plastic mattress, if you can call it that."
7. Paul Rudd has joked [but is maybe serious?] that he was paid nothing for the film. He was quoted saying, "I'm not sure I got paid. I'm not kidding. If I did, I would have gotten the very minimum. But it was such a small production, and stuff falls through the cracks."
8. According to Rudd, his role in Wet Hot American Summer is one of the reasons why he was cast in Anchorman. Apparently director Adam McKay was a fan.
9. And supposedly Seth Rogen told Elizabeth Banks the same thing when she was cast in The 40-Year-Old Virgin.
10. Although it has become a cult classic, original reviews of the film were quite scathing. Roger Ebert called it "cinematic torture." The Oregonian called it "agony on a stick." Salon.com said it was "a model of how not to make anything." A Washington Post reviewer wrote that it was "so depressing I almost started to cry."
11. Bradley Cooper was still studying at The Actors Studio Drama School in New York City when Wet Hot was being filmed, and he actually missed his graduation ceremony because he had to be on set.
12. Amy Poehler admitted that during the shooting of the film, all anyone would talk about all day was what they were planning on smoking and drinking that night after filming wrapped.
13. The film still has a mere 32 percent rating on Rotten Tomatoes.
14. But the Netflix series has a 92 percent rating.
15. Paul Rudd actually met director David Wain at the performance of a 1998 New York City play called Sex a.k.a. Wieners and Boobs. For real.
16. Joe Lo Truglio, who plays Neil in both the film and the Netflix spinoff, lived across from Showalter at NYU. He also co-wrote Sex a.k.a. Wieners and Boobs with Wain and Showalter.
17. Bradley Cooper had so many commitments during the filming of the Netflix reboot that they shot all of his scenes in a single day, when he was in L.A. for the Academy Awards.
18. Paul Rudd has said that Wet Hot American Summer is "the only script that I ever kept around and reread out of pleasure, like a book."
19. To promote First Day of Camp, Netflix sent a school bus full of Wet Hot American Summer branded promotional items to various cities across the country.
20. To celebrate the film's 10th anniversary back in 2011 and 2012, events were held all over the country. There was a screening at the Los Angeles Film School that included a Q&A with David Wain, a screening in Boston, a midnight screening in Cleveland, a celebration at the Music Hall of Williamsburg in Brooklyn with Wain, Showalter, and Black, a reading of the script by many original cast members at the San Francisco Comedy Festival, and more. This is when rumors of a possible sequel began to circulate.