I've documented my problem skin a
time or two before
. And I'm going to talk about it again.
Since hitting puberty, the relationship between my skin and me has been…well…not exactly ideal. My pores love to suck things up, my oily skin is also met with bouts of eczema, I almost always breakout on my period. Basically it's all just super fun and chic on my face!
One of my commitments to myself for 2017 was to get my skin as under control as I possibly could, and without the use of medication from a dermatologist. My acne, while annoying and frustrating and the source of one of my biggest insecurities, was never cystic. I'm also weird about medications being unnecessarily in my system despite putting tons of wine and beer into my body and being super into my SSRI. But I digress. I didn't want to use a medication for my skin if I could avoid it.
And it turns out that medication was totally avoidable.
Thanks to a bunch of products, time, and realizing that having a skincare routine is important to me and also a huge part of my self-care regime, my skin is honestly the best it's ever been. My old marks and hyper-pigmentation are fading, I don't breakout NEARLY as bad as I used to (although the week before my period is still a time that's tough to completely avoid), and my skin just overall looks better.
But there's one product that I credit with making the most difference in my skin as a whole.
And that is a product I swore I would never use.
Face oil!
As someone who considers herself to have fairly oily skin, the concept of putting MORE oil onto my face was honestly laughable. I would have none of that. That sounded like a one way ticket to zit town, and I was not interested in jumping on that ride.
Here's why my logic was flawed.
When you have oily skin, one of the reasons could be because your skin is actually dehydrated, and so it overproduces oil in order to compensate for the dehydration. Face oils are one of the most hydrating things you can possibly put onto your face. As they soak in and enrich your skin with their goodness, it's actually giving your skin permission to relax and stop producing its own oils, thus actually combatting the oily factor.
Secondly, face oils come in all shapes and sizes. There's literally an oil out there for whatever your skin concerns might be. They're packed full of different oils and acids and the formula is designed to just soak on in feeding your skin exactly what it needs to live as its best self.
And since I've mentioned that they come in all shapes and sizes, these are the face oils that I specifically love to use for my moody, moody skin. 
First and foremost the packaging of this face oil is truly stunning. It looks like a little piece of art and I am very much here for it. But other than that, in my opinion this is one of the best face oils on the market. The blend of blue tansy, Kukui Nut Oil, and Jojoba Oil smells like a luxurious day spa. The oil is specifically designed to combat redness and breakouts, and that's exactly what it does. This is an oil that takes a little bit longer to absorb, so if you're using it in the morning make sure you set aside enough time before getting ready to put makeup on. Your face will still be slick for a bit!
But the best part about this facial oil imo? It works fast. I know I said that one of the things that has helped my face on my ~skincare journey~ was time, but let's be honest for a second. We love immediacy. We all want an overnight fix. This is basically that. After just 48 hours of using this oil both in the morning and at night (which it's gentle enough to do!) I saw a crazy difference in the consistency, texture, and quality of my skin. It's my little bottle of blue liquid gold.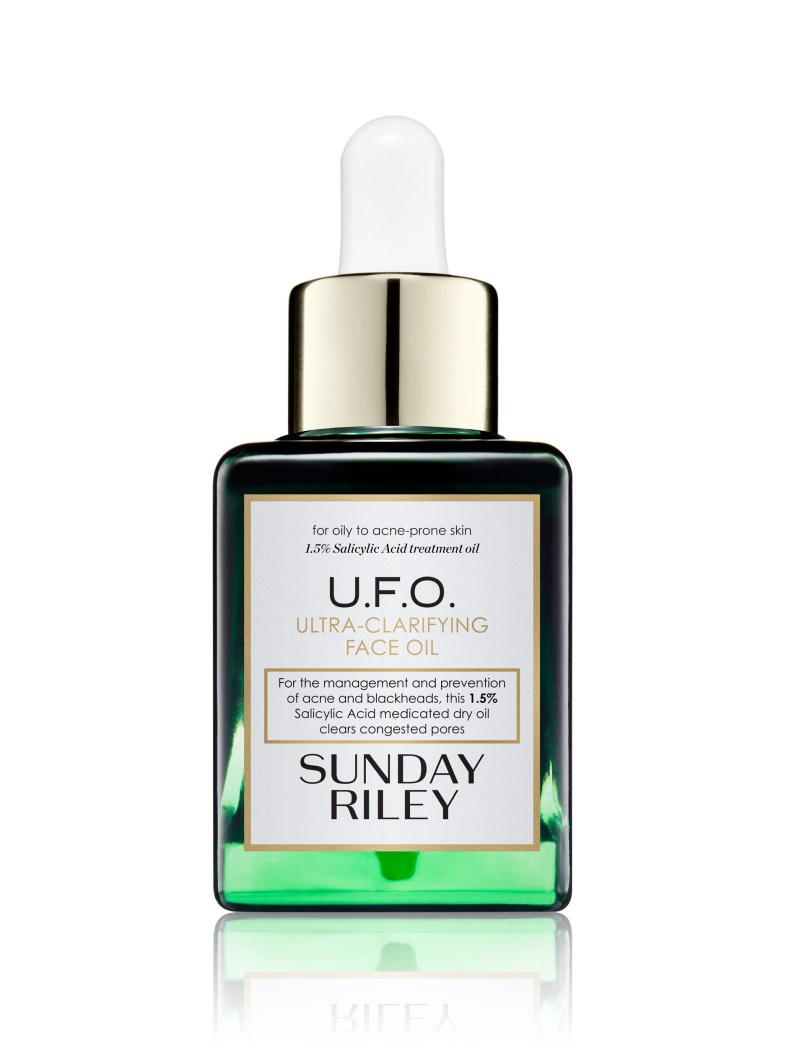 Sunday Riley is one of my favorite, favorite skincare companies. Hey, if it's good enough for Gwyneth Paltrow, it's probably something that you want to put on your mug. Their products are natural, gentle, and specifically designed to leave you with skin that feels healthy, taken care of, and gorgeous. I've been a loyal user of Sunday Riley for quite some time, and I pretty much go nuts for all of their line. (I once ran out of Good Genes when I was in a small town and forced my mom to drive almost an hour to the nearest Sephora so I didn't have to go without it. I'm committed. And a princess. And maybe a nightmare.)
The U.F.O. oil is designed to be a lighter face oil that treats breakouts, smooths out your complexion, and quickly absorbs and sets into the skin. It only contains a minimal amount of salicylic acid, so it's not incredibly drying, and that combined with lovely things like tea tree oil and black cumin seed oil it really does fight blemishes before they get really intense.
Some people have claimed that U.F.O. made them break out more, and here's why. U.F.O. is designed to treat acne, which means if you overdo it, there will be what people colloquially call a "purge period." Basically meaning your skin flips out and just gets way worse before it gets better. Products like U.F.O. aren't necessarily meant to be used every day. They're and every other day product or just when your skin is feeling really icky. Personally I only use it a couple times a week, and that works wonders for me.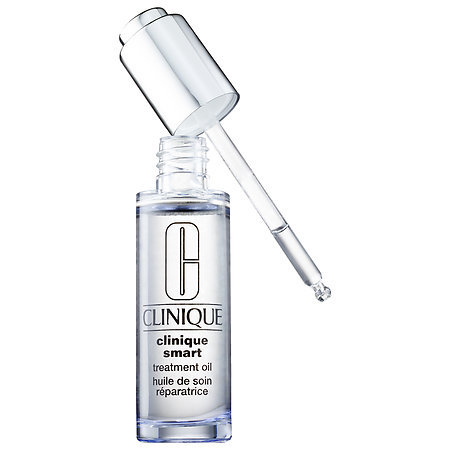 For whatever reason, I've been traveling like crazy this year. As the girl who thinks a great night is just going to the wine bar that's literally below my apartment before coming home by 10:30 PM at the latest (I partied a lot when I was younger, okay?), it's safe to say my wanderlust gene is nonexistent. I'm not someone who likes traveling for a lot of reasons, but one of the main ones is because it frankly just makes me feel like crap. I'm exhausted, jet-lagged, and my skin almost always has a full meltdown about it and freaks out while and after I'm jet-setting.
I have a bunch of products I bring with me while I'm traveling to fight back against my upset travel skin, and this treatment oil by Clinique is one of them. I used to be the girl who traveled in makeup, blame my insecurity and being 50 Shades of Stupid, but now it's all about nourish, nourish, nourish. When my face starts to feel like the bottom of a bus floor thanks to hours of airport and airplane air, this oil is a godsend.
Filled with antioxidants that are meant to repair your skin, this goes on lightly and sinks right in to feed your skin with exactly what it needs. It's basically like hyper-moisturizing; but better. It also stops my face from feeling like it's had the life sucked out of it, which I'm very thankful for.
—
The thing about skincare is that there honestly is some trial and error to it. You have to be ready and willing to experiment with different products before finding the ones that work for you. But I basically guarantee that there's a face oil out there that will change your routine. It's out there, just waiting for you to find it and then love it so much you gush about it for 1300 words on the internet. 🖤