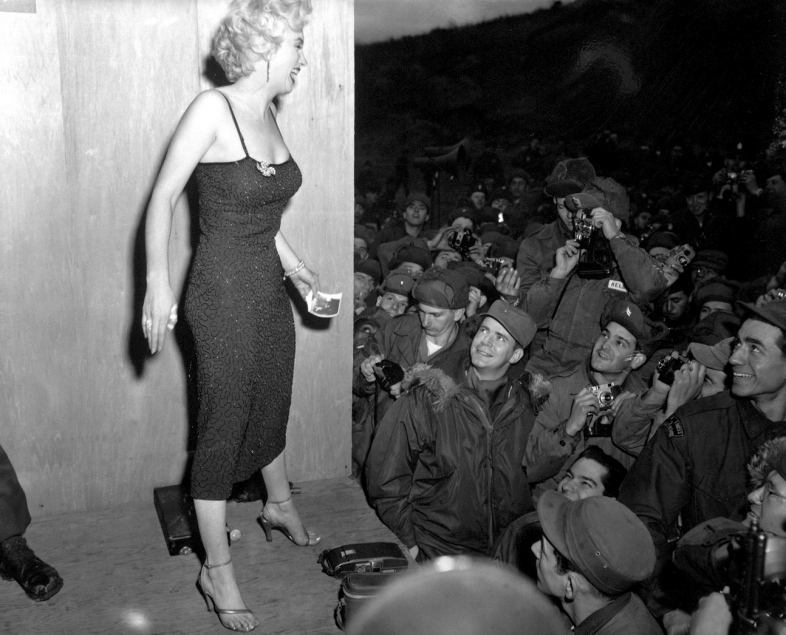 I've been obsessed with Marilyn Monroe for most of my life, and she's influenced me in countless ways; I pick up books because she read them, I pretend to be her in a spritz of Chanel No. 5 and I've been a platinum blonde off and on for almost ten years now. Oh, and Marilyn was the one who gave me the courage to wear a bright red lip at age 14, when lipstick wasn't as trendy as it is now.
My Marilyn mimicry doesn't stop there. As a relatively curvy, busty woman, I steal style tips from MM almost every day. My personal style was described as "a good hearted woman in the body of Marilyn Monroe," and that's pretty darn accurate. When I'm shopping, I often think, "Would Marilyn wear this?" Here's what I've learned from the ultimate blonde bombshell.
1. Keep it simple.
While we think of Marilyn as a glamour girl, in her day-to-day life she dressed very simply, in easy, fitted sweaters, shift dresses and Capri pants. She chose well-tailored, beautiful clothes in neutral shades like white, beige and black, and if she liked something she bought multiples of it. Marilyn had dozens of pairs of a certain Ferragamo shoe. If you look at the photos from her legendary Christie's auction, you see several classic fur coats, a few formal gowns and plenty of easy, casual Pucci dresses and tanks, which she favored in her final years. (She was buried in a mint green Pucci shift dress.)
2. Know your body.
MM's body set the standard for the new blonde bombshell and made her a legend. She had a freak-of-nature body, with a large bust, teeny waist and wide hips, a classic hourglass. MM had a 35" bust, 22" waist and 35" hips, with a D-cup bra. Crazy, right? She knew which silhouettes were most flattering to her and which best displayed her assets, and she stuck with what worked: slim skirts just past the knee, flattering necklines like halter and sweetheart, clean lines and fitted dresses.
3. Celebrate your femininity.
The photos of Marilyn romping around on the beach – and there are several sessions like this – are some of the most beautiful and genuine photos of her I've seen. She looks so comfortable and happy in her swimwear. She has cellulite. She has a scar from surgery. And she doesn't care. We don't either, because she looks radiant. Marilyn never looked juvenile or like she was trying too hard.
4. Highlight your best features.
Marilyn's beauty routine is famous for its intricacy. Her makeup man, Whitey Synder, developed the classic Marilyn look and had it down to a science. They sometimes used up to eight products to create her iconic red lips! Marilyn knew exactly which features to play up and which to conceal; with just a little bit of makeup, she made herself into a legend. Think about it – the red lip and the sleepy cat-eye are classic Marilyn, and we reference her look constantly today.
5. Don't underestimate the power of high heels.
Like I said, Marilyn loved Ferragamo pumps and owned many pairs; Ferragamo kept a wood model of her foot to create shoes just for her. Marilyn's famous hip-swinging walk was a result of her filing down one heel just a bit lower than the other, so when she walked you couldn't help but stare. Clever! And we all know high heels make almost any outfit look better, since they lift you up and force you to focus on your body as you move. "I don't know who invented high heels, but all women owe him a lot," she said. (And that's a real quote, not a fake one, so feel free to Pin it!)
6. A LBD is great, but a LWD can be a killer.
Helloooooo, think about the white pleated halter she wore in "The Seven Year Itch." It's more than iconic. It's more than legendary, and it catapulted Marilyn to superstardom. When you think Marilyn, you probably think of that dress. She loved a good little white dress. I've always wanted a copy of the cherry-printed one she wore in "The Misfits." A white dress can be an unexpected, yet elegant choice when everyone else is wearing black. And it looks great with a red lip, of course.