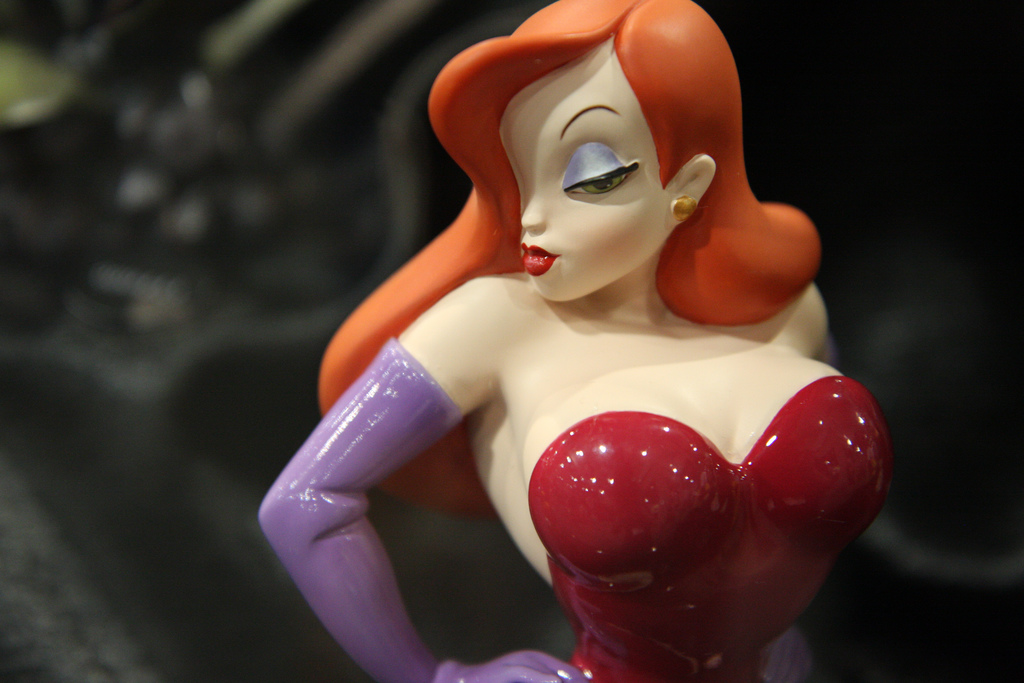 Oh, yes, it's Halloween time again. Time for costume companies to roll out their "sexy" costumes, which seem to get more and more ridiculous (and tinier) every year. I think slutty costumes are great; by all means, girls, wear what you want and have fun! I think about being slutty corn every year. But if you live somewhere where it isn't perpetually summer or you don't feel comfortable exposing a lot of skin, there are definitely sexy costume ideas that don't feel quite as … well … silly and illogical (sexy taco?) as some of the ideas we see. Maybe you're going to a party where a "sexy Dorothy" costume isn't appropriate, but you still want to feel hot. Here are a few ways to toe the line:
Carmen Sandiego – The elusive villain Carmen is an incredibly easy costume. You need a trench coat, a red hat and a wicked look. That's it. (Well, I'd add high boots and red lips.) You don't have to wear clothes under the coat if you don't want to, and all the millennial boys will get boners over seeing their childhood crush in the flesh.
Barbie – Barbie has had so many careers that you can do ANYTHING with this costume. Be old-school swimsuit Barbie, torch singer Barbie, '80s minidress Barbie, rock star Barbie … the world is yours. Blonde hair, a big smile and pink lipstick are a must.
Vintage Hollywood starlet – This costume is a great way to sex it up Jean Harlow-style: a bias-cut gown, a fur and some jewels. That's all you need. Curl your hair in retro-style Marilyn curls and paint on some red lipstick. You'll feel glamorous and sexy, but you're totally covered.
Jessica Rabbit – I did this a few years ago and it was a huge success. Hit the thrift store for a long red dress and give it a slit up the leg if it doesn't have one already. Find long purple gloves or dye some white ones with RIT dye. Jessica Rabbit is a HUGE turn-on for tons of people, but she's sexy in the manner of Old Hollywood. The coy peekaboo hair and full lips are the icing on the cake.
Cassandra from "Wayne's World" – Literally every boy in the world has a boner for Cassandra. And how many of your friends are going as Wayne and Garth? Probably at least 10. Find a cute '90s-style mini dress and some armwarmers – bonus points if you can find red lace like hers. Add hoop earrings and a guitar and bam! Rock goddess hottie.
A peacock – A friend of mine did a great peacock costume a few years ago, and it was really sexy and fun. She found a long deep blue dress and accessorized it with peacock feather earrings. She fashioned a "tail" out of a handful of peacock feathers and pinned it to the back of her dress. Deep teal eyeshadow and a silver embellished headband completed her look.
Any of the "Walking Dead" ladies – They're beautiful, strong and they kill zombies. Maggie, Carol and Michonne – especially Michonne – would be a kickass sexy costume. Show off your zombie-killing arms in a tight tank top. Mess up your hair and use a face spray often to look a little bit dewy and sweaty.
The Spice Girls – Grab a few friends and Spice up your life. There are TONS of Spice-appropriate '90s getups on sites like Nasty Gal.
Schoolgirl Britney and/or "Oops!" Britney – The "sexy schoolgirl" is kind of a dead horse, costume-wise, but not if you're Britney! Don't forget the grey cardigan and little pink pom-poms in your hair. "Oops! I Did it Again" features the iconic red catsuit, which you could easily duplicate at American Apparel with shiny leggings and a red long-sleeved shirt.
Pinup Girl – Sure, it's a little cliché, but this is a costume with elements you'll actually wear again! Get a knee-length tight pencil skirt and a snug sweater, curl your hair and do a cat eye and a red lip. Go nautical. Add feathers and go burlesque. Show off your curves without showing a lot of skin.
Princess Peach – Guaranteed to get you laid by gamer boys. Just sayin'.