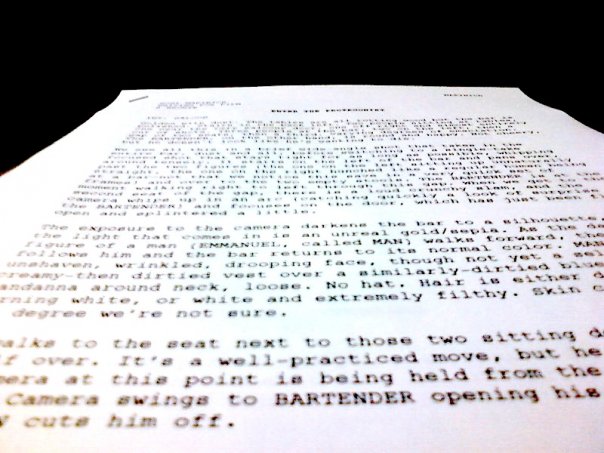 "There is always the problem of being misquoted or, what's even worse, of being quoted exactly." — Stanley Kubrick
---
Did you know there's a species of bee out there that can cook a hornet alive using only its wings?
No bullshit. A whole hive of Japanese Honeybees will swarm an approaching hornet, imprisoning it in a tightly-packed cocoon, and all at once the bees will start rapidly beating their wings. This generates an immense amount of friction (giggity), heating the cocoon's interior to over a 115 degrees Fahrenheit and slowly cooking the unfortunate hornet.
And the bees do all of this with such precision that none of the hive is harmed in the process. Not bad for a species whose only other natural form of defense, its stinger, kills the user after a single application. You wanna know the part that REALLY scares me though?
Humans by their very nature are so fucked up that anytime we discover something like this, you just know there's someone out there who's rich enough and curious enough to go, "Hmm, I wonder how I can utilize this for my benefit? Would you mind doing that again like a million times? For research?"
The point is that I never thought I'd find myself relating to something as vile and obnoxious as a hornet.
Then I tried working as a Hollywood screenwriter…
Yes, for those of you keeping track, that would be the reason why my past few articles have been so sporadically spaced apart. Don't get me wrong. I absolutely love my gig here with TC and all of the awesome opportunities it has afforded me. For example:
From time to time, I get contacted by film producers interested in "optioning" the movie rights to one of my Thought Catalog articles and before you start wondering why I'm not currently fighting off groupies with all my fat sacks of cash money, you should know that I have yet to receive interest from any of the (like 3) major studios still turning a profit in this global economy (I said "profit", Sony Pictures. Put your hand down.)
But that also makes sense if you know anything about the business-end of horror cinema which, unless you're talking about a sequel to an already established franchise, is generally comprised of lower tier film houses producing movies that then have their distribution rights sold to one of the big dogs. And that's because Horror is, sadly, still seen as a niche market by most investors.
But enough boring shit. What I'm getting at is, even when I do receive offers to option one of my stories, those offers don't come attached to "fuck off" money. More like "ignore your passive aggressive Facebook post" money. But still, money is money and money for my creative efforts is even better.
But what happens more often than not is a low-level producer will find my stories and approach me to help them develop one of their own "more commercially-viable" ideas. These are usually the next words out of their mouth and for those of you who are curious, this is why most modern horror movies suck…
"I love your work. Could you write me a treatment based on this other, way more derivative idea on spec?"
And what that translates to in English is:
"Would you mind doing the single most important part of our preproduction for free?"
All of you aspiring screenwriters out there, make a note: Do not let anyone try to convince you that "unknown" writers work for free in Hollywood. Especially if that someone came knocking on YOUR door. They think you're going to be wooed by their previous productions, the fact that they've actually gotten stuff made. But here's the thing:
They PAID all of the people who worked on said stuff. And if they didn't, I can pretty much guarantee you that the end result sucked. Now, working for cheap (at least by Hollywood standards) is another story. It's also why most legitimate up-and-coming movie producers have hired me in the past.
That's why I THOUGHT the guys who contacted me about this most recent gig had wanted to hire me. Turns out there was also a secret third reason on the table I wasn't yet privy to which can best be summarized as…
"Get Joel to stare into the abyss and see what happens."
It all started with an email from the project's lead producer… let's call him Roman… asking if I would mind signing an NDA before talking about the specific project he had in mind for me. This was pretty standard stuff and normally it would mean I couldn't legally tell you about what happened next but thankfully, disclosure isn't going to be an issue here.
So, it turns out that what these guys had was a screenplay written by none other than prolific film director, Stanley Kubrick. The keyword there being "director". Though Kubrick received the screenplay credit for most of the films he directed, the vast majority of those scripts were adaptations of preexisting works.
But, according to Roman, his team had managed to get their hands on an original feature-length concept Kubrick had written a year or so after wrapping production on The Shining (so between 1980-81.) And according to Roman's step-cousin's godfather who was "this small-time director." Not a huge deal. Maybe you've heard'a him. Steven Spielberg? Well, Spielberg said it was the single most horrific thing he'd ever read.
"So… You wanna read it? Tell us if you think it can be modernized?"
Fuck. Yes.
"I could probably do that," I said after forcing a pause for long enough to hopefully mask my excitement. You never want to seem TOO eager with these people. At least not before you've agreed to a rate. That had been my next step but before I could continue, Roman cut me off…
"Spectacular. I'll fly in tonight with the script. Text you when I touch down." CLICK.
This was new. Normally, if it's a fully written screenplay the studio wants me to doctor, they'll email me a PDF. I definitely never had anyone fly cross-country to hand deliver the thing, that's for sure. But of course, this was the late Stanley Kubrick's lost screenplay we were talking about here, so I understood why that might seem necessary.
Our conversation had taken place at 2:30PM CST and sure enough, at a little after 11PM I got a text from Roman that read:
HERE. WHAT'S YOUR ADDRESS? I'LL SEND A CAR TO COME SCOOP YOU.
I replied with my address and about 10 minutes later, I received a text from a local number informing me that my motherfucking limousine was waiting outside. I'm paraphrasing, of course, but that's how I heard it in my head when I read the words.
The last time I had been inside a limo, it was my 11th birthday. My mom hired it to bring me and three of my friends to see a matinee showing of Pauly Shore's magnum opus, Bio-Dome. That limousine had been pearl white and we made the driver blare Weezer and Bone Thugs-n-Harmony the whole way there. Scholars would later deem the event "the single most 90s moment in all of human history."
Though the limo Roman sent for me was your standard boring old black, it was still a pretty classy move on his part. I slid into the plush leather seat lining the back and the limo started downtown. Not too long after, we were pulling to a stop in front of one of Canal street's most lavish hotels and I spotted a production-assistant waiting for me on the curb outside.
He introduced himself as "Justin" and we shook hands before starting inside the hotel. Justin and I attempted to make small-talk in the express elevator up to penthouse level, where Roman was waiting to greet me with a warm smile as I exited a few moments later.
The producer looked just as swanky as his IMDB profile photo had implied and he seemed absolutely ecstatic to meet me. It might sound like kind of an odd thing to imply about oneself, but he seemed almost TOO excited.
I figured I was merely witnessing the cliche of the coked-up film producer in action, though I still couldn't quite shake the nagging feeling that it was somehow more than that. As he extended his right hand to me, I saw that in his left Roman was clutching a leather-bound stack of pages which I assumed was Kubrick's screenplay.
We shook hands and then started inside the penthouse. Roman rested the bound script in his lap as he sat in one of the suite's plush living room chairs and gestured for me to do the same. He said, "So, tell me… Are you familiar with Kubrick's work?"
I contemplated reciting one of the many Jack Nicholson moments I had memorized from The Shining or Malcolm McDowell's closing soliloquy from A Clockwork Orange or maybe just tilting my head back and giving Roman my best dead-eyed Vincent D'Onofrio stare as I held up an imaginary bullet and muttered, "Full… metal… jacket…"
But instead, I simply nodded and replied, "I am."
"Good," Roman said, sounding completely satisfied by my answer. And just like that, he held out the script. "Here you go."
I did my best "Birth of Man" pose as I reached across the coffee table to take it from him. I sat back and lifted the leather cover to reveal a title page that appeared to have been typed out on an actual for-real typewriter:
The Pelagic Man
a screenplay by
Stanley Kubrick
Roman stood and gestured for Justin to follow as he said, "Take all the time you need. I'll be waiting in the bar downstairs when you're done. Justin's going to be right outside in the hall, in case you need anything."
I gave Roman a quick nod as I watched them exit the penthouse and then I promptly turned to the first page of the script which contained only a single, admittedly-helpful definition:
Pelagic – living at or near the surface of the ocean, far from land
From here, I will do my best to recount the screenplay's most notable moments, outline-style (or "treatment-style" if you'd prefer me to use proper biz lingo and/or sound like a dick) but just a quick FYI:
I didn't actually finish reading the script and still have no idea if it was really written by Kubrick or not. We're getting ahead of ourselves, though…
The screenplay opens with a man named Vincent seated at a bar. He is described as "confident and boyishly handsome." Vincent eyes a pretty girl as she enters the bar and he soon begins to chat her up. The girl seems into him and Vincent eventually talks her into going back to his place.
He drives the girl out to the suburbs and they park in front of a house Vincent claims is his. He tells her to wait as he gets out and walks around to open the passenger door. In the process, Vincent pulls out a bottle of chloroform and douses a rag with it. The girl smiles up at him as Vincent opens her door and promptly shoves the soaked rag into her face.
We cut to Vincent navigating a speedboat through dark, choppy waters. The woman is wrapped up in a canvas tarp and bound in duct-tape. Her struggling clues us in that the girl is still alive. She begins to plead for her life but her muffled sobs are ignored. They are far from shore when Vincent finally kills the engine and drops anchor. For a brief moment, the point-of-view switches to something swimming towards the boat.
A shark's fin emerges from the black water and begins to circle them. Vincent rolls the bound girl overboard and the shot follows her into the water. We catch a glimpse of what looks like a large disfigured shark with glowing-yellow eyes swooping up out of the darkness to start gnawing on her bound, cloth-encased body.
Vincent begins to touch himself while quietly chanting the same phrase over and over again. The language he's speaking isn't English but part of it sounds like a name. "Y'golonac… Tunk ba mal! Y'golonac… Tunk ba mal!"
Vincent strips naked and jumps overboard. He swims out to the disfigured shark and begins to hump it while the shark continues devouring the bound girl. From the sounds he is making, it becomes obvious that Vincent is fucking the disfigured shark.
—
What? Don't look at me like that. I didn't write it! I don't even know for sure if Kubrick wrote it but if you believe everything you hear about that guy, you also think he directed the fake moon landing so this probably doesn't even seem that farfetched.
By the way and I shit you not, there was an actual crash of thunder when I got to that part in the script. It began to storm outside and I checked the time on my phone before standing up to approach the penthouse's entrance.
As I was crossing the room, there was another bellowing clap of thunder accompanied by a bolt of lightning that lit up the night sky and I thought for a moment that I saw several figures standing in the penthouse's adjacent bedroom as I passed the open doorway.
I was starting to legitimately freak myself out, which was something I was typically a lot better at avoiding. Though, in my defense, there was very little about this night that was typical. I pulled open the door to the penthouse and found myself staring at Justin before I was even sure why I had come out here.
"You need something?" Justin asked, looking up from his phone.
"Um… Coffee? Coffee would be awesome."
Justin gave me a nod and said, "I'll have room-service bring you up a pot."
"Thanks." I nodded and closed the door, starting back across the living room despite the fact that I really didn't want to. I couldn't put it off any longer though and resumed reading the script…
After the shark-fucking scene, Vincent returns home to find that police have surrounded his house. He mutters that they must have found the storage shed. There's a shootout in which he is fatally wounded. As Vincent lies there on his front lawn bleeding out, he quietly begins to chant…
"Y'golonac… Tunk ba mal! Y'golonac…"
The sound of Vincent's chanting carries over as we fade to a shot of deep, dark water. The disfigured shark's glowing-yellow eyes emerge from the inky depths below us as Vincent's voice grows increasingly louder.
As the shark swims into view, it's sides suddenly swell up as something begins to grow inside of it. The shark's skin splits open and a vaguely humanoid figure emerges from its midsection, tearing the shark in half.
This figure is something between man and predatory fish. There is a note scribbled in the margin here that reads: Imagine a merman with no arms and a mouth like a garfish and a big, weird-looking dick. This is the Pelagic Man.
The Pelagic Man begins roaming the open oceans, doing all sorts of demented shit like using the terrible horn-shaped appendage where his penis should be to defile a rotting whale carcass while a boat full of teenage girls watches, mistified. The girls find themselves growing more and more aroused and they start going down on each other.
It was right here when I was interrupted by a brief knock on the penthouse door. Room-service had arrived with my coffee and I told them to come in. The pretty, olive-skinned girl who entered couldn't have been older than twenty and from the expression on her face, she definitely hadn't been expecting to find my goofy hippie-haired ass waiting for her in the penthouse suite.
The girl must have realized she was giving me a weird look because she quickly forced a smile and started across the room with my coffee. As she reached my chair, the girl set down the tray and pulled open her uniform skirt to reveal the hideous, borderline-demonic face of an Angler fish staring out at me from beneath her pubic hair. It hissed at me…
And then suddenly the girl was gone and it was Justin standing beside me, looking more than a little concerned. He placed a hand on my shoulder and gently shook me, saying, "You okay?"
I took a beat to swallow and said, "Yeah, why?"
"You were screaming."
"I was?"
Justin nodded. "Loud enough that I could hear you out in the hall."
"Huh. Weird… Honestly, I'm not really feeling too hot at the moment," I said and pointed in opposite directions. "Which way's the bathroom again?"
Justin led me through the adjacent bedroom, pointing me towards the bathroom as he pulled out his phone and said, "I'm gonna call Roman. Give him a quick update."
I headed into the bathroom and started to plan my escape. Obviously, I had to get out of here ASAP. I took a few minutes to think of exactly what I was going to say to justify my sudden departure and then I started back into the living room.
Justin hadn't fully closed the door on his way out into the hall and I could hear him talking quietly into his phone as I approached the partially open entranceway.
"Oh, it's DEFINITELY taking effect. I don't know how far in he is exactly but you should've heard him screaming…" Justin paused to listen and then he replied, "Sounds good. Grab the kit. I'll go make sure he's still cornered."
Justin had already started back towards the penthouse as he said this and I barely had enough time to duck behind the door as it swung open.
I waited for the sound of Justin's footsteps to fade into the bedroom and then I darted out from behind the door and sprinted into the hallway. I reached the door to the stairwell going about Mach 2 and almost forgot to pull the fire-alarm before plowing through it.

The fire-alarm had provided me with ample cover as it sent the rest of the hotel's guests flooding out through the lobby entrance and, obviously, I managed to escape with my life. I knew Roman still had my address though and I wasn't very eager to find out what "the kit" was, so I've been crashing at a friend's place for the past week. Just until I can figure out my next move.
The morning after all that went down, I received a text from Roman asking where I had disappeared to the previous night. I didn't respond and the next day, he sent me a frowny-face emoji, followed by one final text:
SO HOW DID YOU FIGURE IT OUT?
The truth is I hadn't. Not until long after I was out of there, anyway. The name Vincent's character kept chanting had sounded so familiar to me and OF COURSE it had because "Y'golonac" is considered part of Lovecraft's infamous Cthulhu Mythos, though this particular "old one" was first documented by a completely different author. And that's when everything finally clicked…
See, Y'golonac is the god of depravity. He is drawn specifically to humans who spend large amounts of time "reading perverse and forbidden literature" (like say, for example, the script for The Pelagic Man.) And, according to the lore, that was all you needed to do to summon him. Of course, this typically resulted in the summoner going stark-raving mad in the process. But instead of trying to explain any of this to Roman, I simply texted him a link to the video below:
[youtube https://www.youtube.com/watch?v=K6m40W1s0Wc?ecver=1%5D

Producer's Note: It should be noted that this story is fictional.