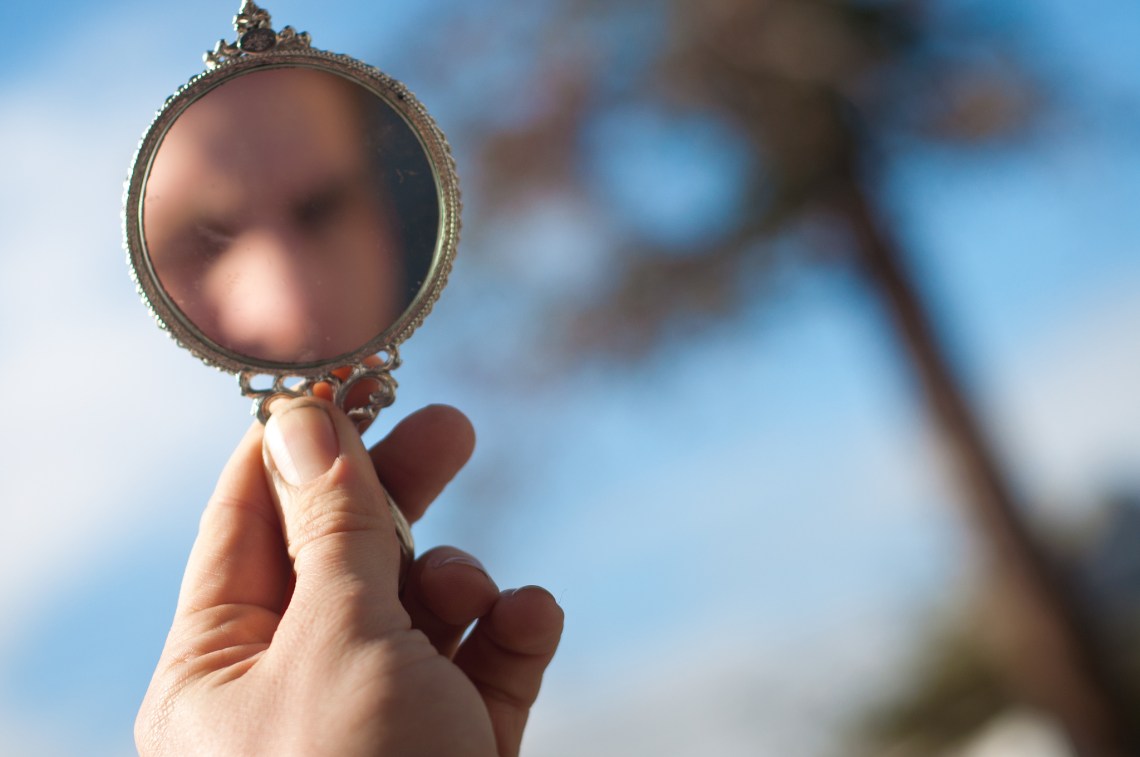 Unlike those who suffer from most other forms of mental illness, a person with Narcissistic Personality Disorder hardly suffers at all. Instead, he makes those around him suffer, and his victims are often left scratching their heads and wondering why.
Look for these warning signs and spare yourself the suffering—if the guy you're falling in love with exhibits many of these traits, you should run, not walk, away from him.
---
1. HE SWEEPS YOU OFF YOUR FEET AT FIRST…
Women are attracted to narcissists for the simple reason that they are very, very attractive—almost fatally so. Narcissists tend to be better-looking than most people; they also fairly vibrate and sparkle with charm. He will lure you in by making you feel special for even catching his attention—after all, why would such a handsome, witty man—a perfect "catch"—want to be with you if you weren't beautiful and charming yourself? He will buy you gifts and show you off and tell you you're the most amazing woman he's ever met. You will feel an instant boost of self-esteem almost as if he'd injected you with it like a drug. For a brief time, you may feel happier and more in love than you've ever been in your life.
---
2. …THEN LOSES INTEREST ONCE THE CHASE IS OVER
The "honeymoon phase" with a narcissist can last anywhere from a few weeks to about four months, at which point you will feel fairly slapped across the face with the icy hand of reality. Once the honeymoon phase is over, it will feel like a long, drawn-out, agonizing divorce. He won't call or text you as much. He will stop buying you gifts, showing you off, and complimenting you. If you seek another injection of self-esteem, he will withhold it from you like a sadistic drug dealer. If you even dare to ask him why he's acting differently, he will treat you with annoyance as if he's swatting away a fly. Remember how great you felt at first? You will feel exactly that horrible now—if not worse.
---
3. HE HOGS EVERY CONVERSATION
Did you hear about his new plan to take over the world? How about his gym routine? Or the clothes he wants to buy? Or all the people who compliment him? Or the movie he just saw? What did you say? Did you say something about yourself? Anyway, let's get back to him…
---
4. HE SAYS ALL OF HIS EXES WERE "CRAZY"
Oh my God, with you at least he's finally found a girl who understands him! As his curiously bad luck would have it, EVERY SINGLE ONE of his many, many exes was a psycho bitch who whined too much and falsely accused him of things and clung too tightly to him and stalked him after he dumped them. What are the odds? But at least you're not like that—until he starts trying to make you think you're crazy.
---
5. HE TRIES TO MAKE YOU THINK YOU'RE CRAZY
Why the hell did you keep texting him last night when he stood you up for a date? And no, that beautiful ex of his who posted pictures of them on Instagram last night is just a friend, and he accidentally ran into her at a bar when we went there to loan some guy friend twenty dollars. Please tell him you're not some paranoid psycho bitch like all the others were!
---
6. HE EXAGGERATES HIS ACCOMPLISHMENTS
Did you realize that he once held the world record for holding your breath underwater? He also was once offered a position on the President's Cabinet but turned it down because he wanted to "see the world." And when he went off seeing the world, he had a personal meeting with the Dalai Lama because the Dalai Lama follows him on Instagram. He also once discovered a cure for cancer, but Big Pharma stole his idea and is currently keeping it under wraps.
---
7. HE ALSO EXAGGERATES HIS SUFFERING
The reason he discovered a cure for cancer is because he's had cancer—six different times, actually. He was also abandoned by his family at age two, whereupon he pulled himself up by the bootstraps by selling chocolate milk to rock-quarry workers for twenty hours a day. After being jailed for two years on false accusations, he was released and then had to fight for his life on the mean streets of Detroit every day for years—until he was hit by a car and spent another two years in the hospital. Why doesn't he have any evidence to back up these claims? Because it was all lost when a jealous psycho ex burned down his mansion—duh!
---
8. HE TAKES UNNECESSARY RISKS
Sure, he has had tons of unprotected sex with strange women and drives his car 90MPH on suburban streets and gets into unnecessary fistfights and talks back to police officers and doesn't have health insurance and quits jobs that he needs and doesn't have a single plan for his future. That's because he's not boring like everyone else!
---
9. HE USES YOUR DEEPEST INSECURITIES AGAINST YOU
When you told him about your darkest childhood secrets and your insecurities about your looks and that one boy who broke your heart a few years ago, he seemed patient and understanding. But he was only gathering information to use against you the minute you challenge his authority. Since he knows everything that has hurt you in the past, he will beat you over the head with it and pick at every emotional scab until you're left bleeding again.
---
10. HE CONSTANTLY REMINDS YOU THAT HE HAS OTHER OPTIONS
When he poured on the charm at first, he made you feel like the luckiest girl on Earth. But that was not intended to make you feel secure—as time wears on and it becomes obvious that you're not the object of his affection but rather the target of his sickness, he will keep reminding you that you're lucky because there are 100 girls waiting in line to replace you. He will not for one moment allow you to breathe easily and feel secure. Rather, he will keep you on your toes and wracked with worry.
---
11. HE ALIENATES YOU FROM FAMILY AND FRIENDS
He doesn't understand why you even talk to your family anymore, because they obviously don't appreciate you. And the only reason you have that guy friend is because he obviously wants to fuck you. And all your girlfriends are stupid and jealous of you because they all obviously want to fuck him. He really hopes that one day you come to your senses and realize that he's the only person you will ever need. But be warned—the minute you do that, he will drop you like a hot potato.
---
12. HE WILL FREEZE YOU OUT OVER THE SLIGHTEST CRITICISM
Although he appears outwardly confident, the narcissist is the most insecure man on the planet. If you even gently try to suggest that he's doing something wrong, he will walk away, quit talking, ignore your texts, or just outright dump you. He will wait for you to admit you were wrong and to beg and plead and cry and apologize. Once he's reeled you back in, you will never feel the slightest bit comfortable expressing even the tiniest misgiving about him. It will feel like absolute torture.
---
13. WHEN HE FINALLY MAKES YOU CRY, HE WILL ACT DISGUSTED AND CALL YOU WEAK
You need to understand that you only exist to serve his needs—in fact, in all the most important ways, you are not even real to him. The fact that he's insulted you and repeatedly dumped you and never made you feel safe and alienated you from everyone you know is completely irrelevant to why you finally broke down sobbing—it's because you're "weak." So you better stop crying, or he'll leave you again.
---
Girl, if he even meets one of these 13 criteria, he's not worth it. If he meets even a few of them, you should block his number and threaten to get a restraining order if he attempts to make contact. If he meets all 13, he and everyone like him should be permanently exiled to Narcissist Island, where they can claw one another to death struggling to stare at themselves in the island's only mirror.
But above all, don't let him make you feel like shit. He's just projecting. You are far better than he could ever hope to be.