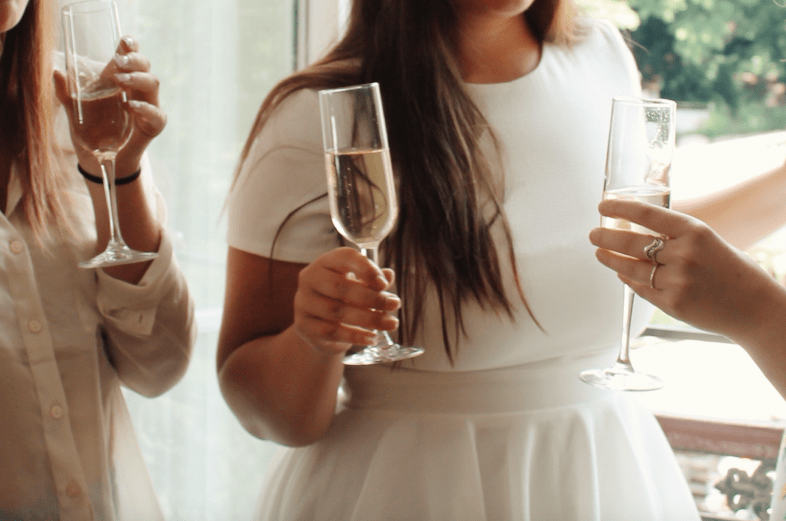 1. 'OH, RICK—SORRY, I MEAN TOM…'
"My honeymoon and marriage are in tatters because of two words I said on my wedding night. A few years ago, I was in a very intense relationship with 'Rick.' …I met 'Tom' shortly afterward, and knew he was 'the one.'…We just married and had a beautiful reception, spending the night at a hotel near the airport because we were going to Europe for our honeymoon. As things heated up between us, I accidentally said, 'Oh, Rick.' I realized my mistake immediately, and the look of horror on my face was met by the look of hatred on his….It got really vicious. He called his parents and told them to set up a divorce attorney when he returned. Then he called my parents and introduced himself as 'your future ex-son-in-law.'" (source)

2. GET THE FUCK OFF ME!
"Got drunk at the after-party and eventually, somehow, fell into bed. New wife jumped on top of me expecting marital sexy times…a bout of nausea immediately hit me, I screamed 'Get the fuck off me!,' pushed her off the bed and ran, puking all the way, to the bathroom." (source)

3. MOANING IN PAIN
"My ex-husband sprained his ankle badly while drunkenly dancing with one of our bridesmaids to 'Cotton-Eyed Joe.' His parents came up to our hotel room later that night to check on him, because he was so swollen. Needless to say, the only moaning coming from our room was him…moaning in pain!" (source)

4. WE ATTEMPTED SEX
"My wife was literally crying because I was taking too long to undo the 800 buttons on the back of her dress that was now hurting her shoulders too much to wear. Then she cried as I pulled out the 8,000 hairpins for her hair. A few strands of hair and 30 minutes later we attempted sex, both decided we were tired and said, fuck it, went to bed cuddling. 10/10 would do again. Love that woman." (source)

5. THE SEX SUCKED
"My husband got drunk on champagne, and the sex sucked, and he passed out right afterwards. I spent the night watching TV. We are divorced now." (source)

6. I BARELY REMEMBER IT
"We had sex, but I barely remember it, because I was hammered! Keepin' it classy." (source)

7. SEPARATE ROOMS
"We got into an argument, because a group of his friends got drunk since we had open bar and was being disruptive and rude and he thought I had them leave our wedding. I didn't, [but] we spent our wedding night in separate rooms." (source)

8. VIOLENTLY PUKING AND SHITTING
"I had the flu, so I left the reception early and went to bed shivering violently and puking and shitting, while my very introverted husband was a gracious host to 40 people. We didn't have sex for a week. Ten years later, marrying that dude is the best decision I've ever made." (source)

9. HE PASSED OUT SNORING
"I was sober and looking forward to drinking Champagne, chatting and maybe having sex. Then I turned 'round and in the last five minutes of the party my husband was so smashed he couldn't walk! So when I suggested Champagne, he suggested coffee, walked into the bedpost and passed out snoring, and I took out bobby pins in a fury!" (source)

10. I COULDN'T GET IT UP
"We got absolutely fucking shit-hammered. I couldn't get it up so I spent the better part of the night just smacking her ass raw while she ate one of those giant pretzels that a street vendor gave her as a wedding gift." (source)

11. HE COULD NOT RISE TO THE OCCASION
"After we adjourned to the marital bed, my new husband, try as he might, could not 'rise to the occasion.' We tried everything…and I do mean everything. Finally, we were so exhausted that we collapsed and just slept in each other's arms. With all of the 'wedding night issues' we were having, we did forget to turn off the fireplace before we went to bed. The last thing I remember of my wedding night were flames shooting out of the fireplace and the hotel manager pounding on the door. Talk about romantic." (source)

12. I CRIED
"We did not have sex on our wedding night. He fell asleep. I cried." (source)

13. PAIN, PAIN, LOTS OF PAIN
"If you want the grisly details, it went like this: a bit of awkward foreplay, pain, pain, lots of pain, oh my god that hurts so much, and then some blood, and some VERY painful thrusting and then it was over. 'That's it?' I thought. This is what I was supposed to save myself for and what at the same time everyone else thinks is so great? I almost cried, not from joy or love, but from a strange sense of grief. He was a little embarrassed too but loving, but it was awkward and I hid my disappointment by saying it was 'not bad.'" (source)

14. THE 29-YEAR-OLD VIRGIN
"My 29-year-old bride was a virgin, I was not. It was a COMPLETE disaster. We were unable to have ANY penetration, either on our wedding night or for the next six years. It was so painful for her that we went to several doctors that told us that there were no problems. Years later we found one who diagnosed her as suffering from vaginismus. Sex may not be the most important thing in a marriage, but it is very important. By the time she was diagnosed and went to therapy, I was no longer really interested. We had sex a few times and divorced after we had been married eight years." (source)

15. EARTHQUAKE!
"I'm of Turkish origin so I organized a big party in Istanbul. Exhausted by the celebrations, Frank and I headed to our hotel room to enjoy each other's company in private for the first time all day. We'd only just got into bed when the walls started to move and objects fell off the table…earthquake! We had to evacuate the premises straightaway so there we were stood in the street with the other guests…in our underwear! I was more scared than embarrassed though." (source)