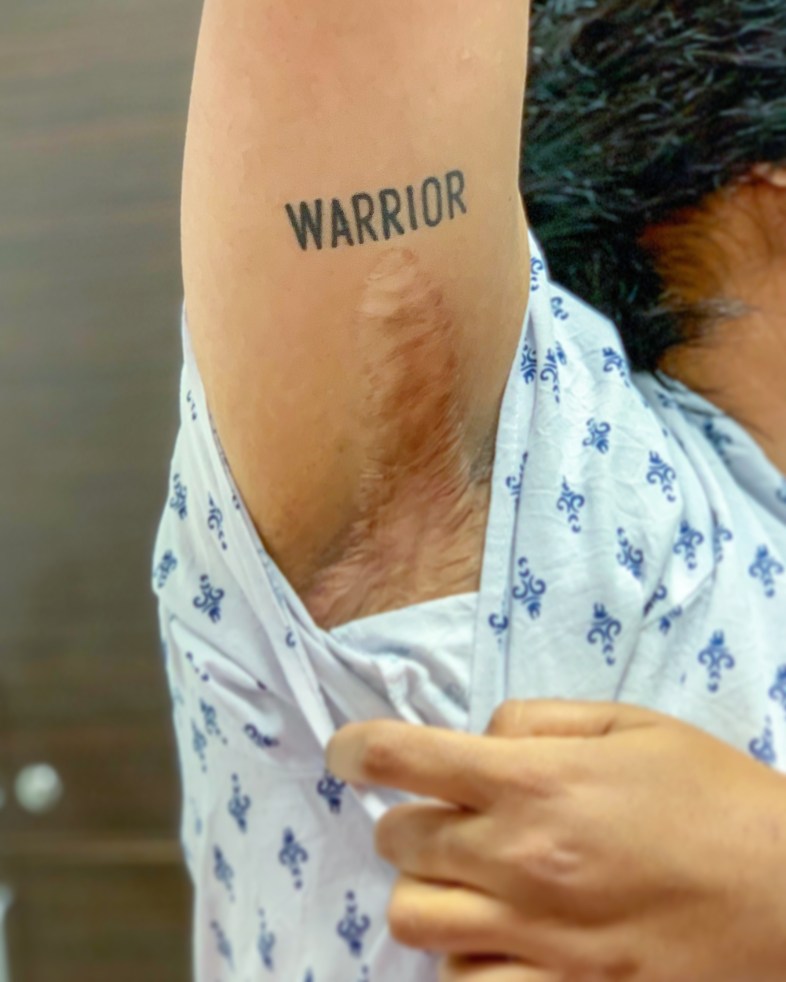 "I sometimes think back to that moment and of how blissfully unaware I was of what the next decade would look like for me," Pooja Parikh, an Oklahoma City local and years-long HS sufferer shares, recalling the first flare up that really sidelined her back in 2008. Though her symptoms peaked prior to her seeking a diagnosis, she realized that her symptoms had been occurring since high school. "It was HS all along," she said.
However, a diagnosis was not as easy to come by as one might think.
"As far as I was concerned, it was just an excruciating infection that didn't respond to treatment," Pooja shared of the beginning of her HS battle. Prior to diagnosis, she endured nearly a half dozen surgeries and even more in-office procedures to help her lesions heal properly, but to no avail. Eventually, she was referred to an infectious disease specialist in college who treated her with a PICC line and aggressive antibiotics.
Finally, in 2009, she and her family went to India to seek some answers.
"We had a lot of family there, as well as connections with different doctors who may have been able to help," Pooja explains. "I had yet another surgery in India — also on my sternum; at this point my sternum was the only area affected. After extensive testing, I was diagnosed with extra-pulmonary Tuberculosis and prescribed an aggressive medication regimen that involved taking up to 25 pills a day for 6-8 months. My symptoms still did not improve, and of course the TB treatment was very hard on my body."
The next year, her symptoms worsened, and she returned to India. Eventually, a colleague of her endocrinologist had an answer. "I will never forget his calm, calculated, confident demeanor and the way he sat in his chair when he told me, 'You have hidradentis suppurativa. You never had tuberculosis. I'm 100% certain, not a doubt in my mind.'" Pooja asked him to write down the name of the disease, because she had never heard of it before. "As I cautiously read through the symptoms, tears of relief poured down my face because it was like I was reading my life story," she said. "We finally had an answer."
Prior to her health problems, Pooja was a Psychology student pursuing a PhD. Though she was passionate and intent about becoming a school psychologist, life had "other plans" for her, as she recalls it. "With chronic illness came a completely lifestyle shift," Pooja explained. That included moving back in with her parents, to whom she expresses profound gratitude for their care, and learning to cook for herself. In the process, she fell in love with it, and is now a chef at a healthy "fast food" concept restaurant.


Though Pooja does love her life today, she knows that HS took a big toll on her both personally and professionally.
"Undergoing multiple surgeries and dealing with a slew of aggressive treatments is very challenging to do while you're in college," she explained. "I had to withdraw from my undergraduate classes three fall semesters in a row." Pooja explained that each setback was more demoralizing because it seemed like she would never "get her life back." Though she does not feel that way anymore, she does note that a major impact HS has had was in teaching her to set boundaries and say "no" when she needs.
"I used to feel guilty when [saying no to a party or event], and I would feel like I was missing out," Pooja explained. "After years of practicing and knowing how important it is for me to exercise necessary boundaries, I no longer have any of those fears. My presence does not make or break an event, but respecting my body instead versus stretching myself too thin could make or break me."
Pooja believes that one of the major misconceptions about HS is that it is merely a skin condition, when it can in fact profoundly affect one's mobility or daily function.
The biggest misunderstanding is that HS is only skin-deep.
"When people think of a chronic skin condition, they don't understand that it can become so severe that you are in a wheelchair, completely dependent upon other people to do basic acts like brushing your teeth, feeding yourself, bathing, going to the bathroom, washing your hair, every task that seems trivial until you are unable to do it for yourself," she explained. "People do not understand the horror that comes with watching your body deteriorate until there's almost nothing left and being powerless to change your circumstances."
Pooja hopes that more people can grow to better understand what people who have HS, and similar diseases, endure on a daily basis. As for those who are battling it themselves, she hopes everyone knows they are a warrior in their right.
Going forward, Pooja hopes to be transparent in her HS journey, and inspire others to do the same. "I find that more and more people are helped by the conversation, and so many are lost and don't have access to the resources I do or the knowledge I've gained through my experiences," she said.
"The legacy I want to leave is one of self-compassion and self-love. With a disease like HS, it can feel nearly impossible not to hate your body and what it has put you through. But what I've learned is that my body and I are a team. Just like my mind didn't ask for this disease, my body didn't ask for it either. Showing her love and compassion has changed my life and helped me approach the illness with patience instead of resentment."