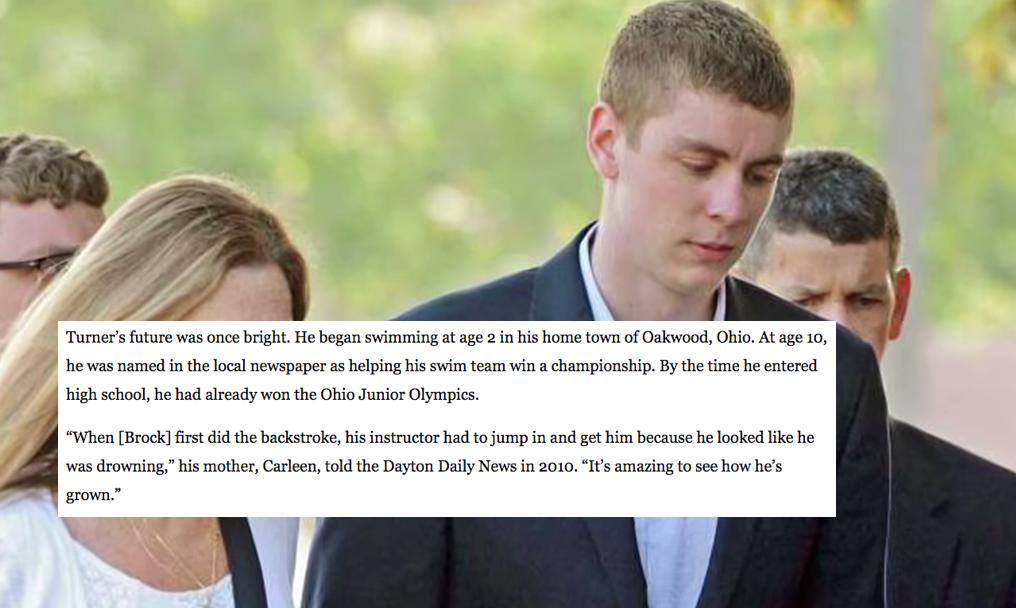 If you've read anything about the high-profile case against Brock Turner this week, you've probably come across backlash from the public regarding how the media is portraying the sex offender. Turner, 20, was found guilty of sexual assault after two men witnessed him on top of an unconscious woman behind a Stanford dumpster last January. In March he was charged with three felonies, and faced up to 14 years in prison. However, last week Judge Aaron Persky shocked the nation when he handed Turner a 6 month jail sentence, that would be followed by a three year probationary period. Following the sentencing, Persky mentioned that he was worried a longer sentence would come with harsh consequences for Turner.
The Washington Post, in all of their backwards glory, penned a writeup of the case that seemed to paint Turner in a positive light and downplay the severity of his actions. Boasting about his swimming career, his ten year plan, and so on, the Post completely succumbed to the grossly negligent way most mainstream media outlets downplay sexual assault cases.
Ellie Fialk read the article that the Washington Post ran on the proceedings, and completely called them out in an epic Facebook rant. She accuses the Post of using language that only perpetuates rape culture, and insists that they can do better journalistically. She then comments on the case, saying that its handling and media portrayal "should offend women immensely."
You can read the whole post below:
---
"Washington Post,
1.
Firstly, use his mugshot. He is a criminal. I didn't ask for his pristine Stanford yearbook photograph or his "All-American Swimmer" smile. This man is a rapist.
2.
"Turner's future was once bright. He began swimming at age 2 in his home town of Oakwood, Ohio. At age 10, he was named in the local newspaper as helping his swim team win a championship. By the time he entered high school, he had already won the Ohio Junior Olympics. When [Brock] first did the backstroke, his instructor had to jump in and get him because he looked like he was drowning,' his mother, Carleen, told the Dayton Daily News in 2010. 'It's amazing to see how he's grown.' He kept going, earning a spot at the U.S. Olympic team trials just two years later, and then leading Oakwood High School to two straight state titles. Turner turned down scholarships at a host of universities to attend Stanford, where he joined a top-10-in-the-country swim team. But on Jan. 17, 2015, midway through his freshman year and first swim season at Stanford, Turner's life and career were upended during a night of drinking."
Thank you, Washington Post, for this detailed track record of Brock Turner's swimming career, which is so incredibly relevant to the fact that he was just found unanimously guilty of committing an unforgivable act. I'm sorry things were so sudden for you, Brock. That your career was "upended during a night of drinking." Since you know, that's all it was, just a casual night of drinking when you raped an unconscious woman behind a dumpster.
These articles constantly remind me that you go to Stanford, headlining with "All-American Stanford swimmer," as though your attendance at such a prestigious university and your athletic ability should by default consider you to be too intelligent and too talented to be found guilty of rape? A Stanford student who apparently cannot recognize the difference between an unconscious and conscious body, consent and the lack thereof, but a Stanford student nonetheless.
3.
"Although Turner's blood-alcohol content was twice the legal driving limit, he testified that he remembered what happened that night. The woman, whose BAC was more than three times the limit, did not."
Ok??? So she was drunk, okay. Alcohol didn't take her clothes off, nor did it throw her behind a dumpster and rape her while she was unconscious. Her alcohol consumption does not decrease the severity or validity of this crime. You cannot simply equivocate drinking with rape. It is pathetic and almost comical that this is even included in the article, intoxication and sexual assault are not synonyms.
4.
"It was a stunning fall from grace for Turner. Once a record-setting swimming prodigy, he is now a convicted sex offender at age 20," and towards the end of the article, "Turner was also asked where he hoped to be in 10 years.
'In residency to be a surgeon,' he responded."
I'm so sorry, Brock, that you've suffered so greatly from your own actions. That you believe you are the victim. That this act has stripped you of your degree and titles at the age of 20. Yes, 20 is young, but not young enough to misinterpret an unconscious woman for sexual consent, nor young enough for the malicious and immoral nature of rape to go unrecognized. I do not pity you.
Brock was sentenced to only 6 months in jail, on the basis that, "a prison sentence would have a severe impact on him."
I could go on for hours about multiple other parts of this article that are unacceptable, but this post is long as it is. The amount of victim shaming in this article, as well as the constant recognition of Brock's accomplishments and aspirations, are both disturbing and inadmissible. The use of this language only further perpetuates the misogyny that is already so deeply ingrained in American rape culture. Do better, Washington Post.
Ladies, the handling of this rape case and its portrayal in the media should offend you immensely. It is a slap in the face to the woman involved, as well as to women everywhere. A blatant disregard for our rights and our worth. This is inexcusable."