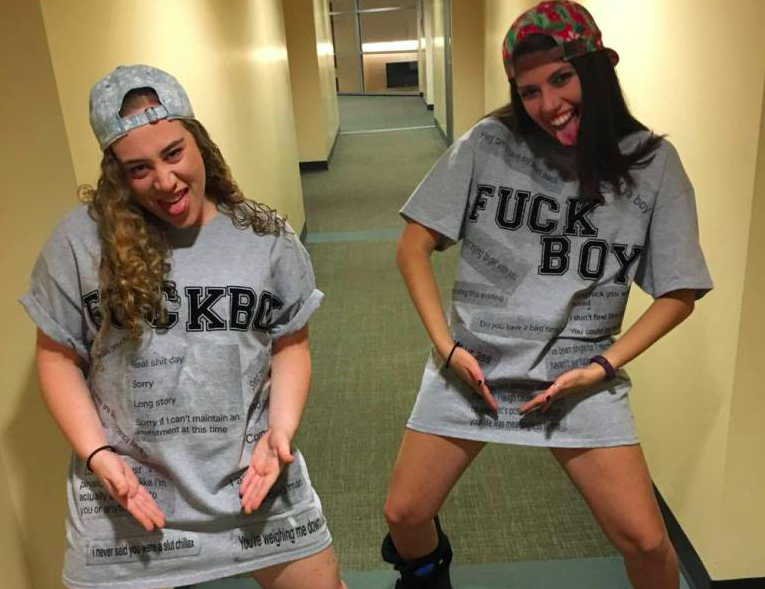 Even though Halloween isn't technically over yet, this last weekend was probably the most ~lit~ we will get, as we all have to go back to work and school on Monday and Tuesday.
And so, last weekend, we all saw a variety of interesting costumes. Dope group costumes that made us jealous, cute couple costumes that made us vomit, and lots of people who probably didn't try very hard (like dudes with a football jersey…come on).
But the real cake was taken by these two girls, who dressed up as…ya, you guessed it, fuckboys.
How does one dress up as a fuckboy? Well, if you are these two badass women, you print out all the annoying-ass "u up?" bootycall texts you've even gotten onto an oversized shirt. Then you put on a snapback.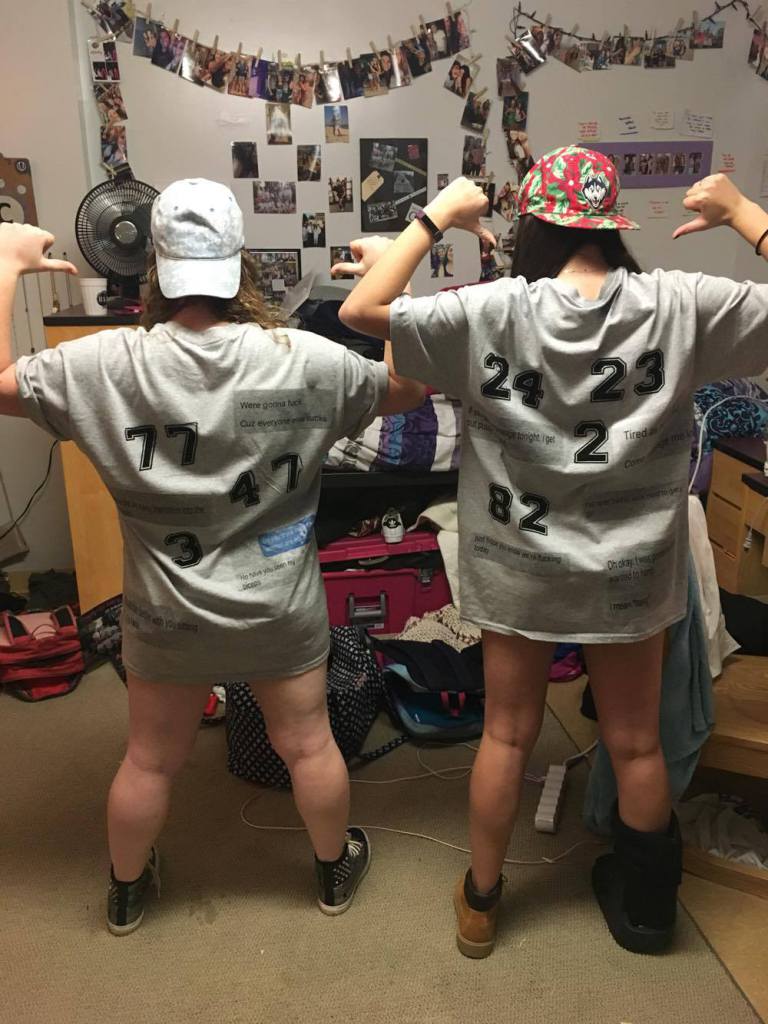 Lexi Fragola and Jessica Zharnest told The Tab that their costumes were a huge success…with most people.
"The response was amazing. Girls were hugging us and even boys were high-fiving us. We could tell who the fuckboys were because some guys thought the costume was so hilarious and perfect and there were some that were like 'oh…' and walked away." (via The Tab)
While some of the texts printed on their shirts were cliche, like "send nudes," or "come chill," there were also some more unique texts such as, "We're gonna fuck cause everyone else sucks."
A complete list of the text messages on the "fuckboy" costume.
• "Just hope you know we're fucking today."
• "Do you think men and women are equal… 'no have you seen my biceps.'"
• "It's going to be an easy transition into the bedroom."
• "We're gonna fuck cause everyone else sucks."
• "I've never had to work hard to get a girl."
• "If you get a massage tonight, I get pussy."
• "Tired as hell come massage me."
• "Visit ya boy."
• "Do you have a bed time?"
• "Real shit day. Sorry. Long Story. Sorry if I can't maintain an investment at this time."
• "Send nudes."
• "Come chill."
• "I am bad. I am a bad man."
• "I never said you were a slut chillax."
• "Hope you find someone better than me. I laugh cause there's no way that's possible. Goodbye. Your life was meaningless to me."
• "I've been single for seven months so why haven't we fucked?"
• "Hey can I have my shirt back?"
• "You're weighing me down."
• "I just fuck you when I'm bored"
• "I'm just trying to get with you."
• "Would be better with you sitting on my face."
Fragola and Zharnest claim that they have all received, personally, every text message on the shirt. And, very clearly, they are done with that shit.