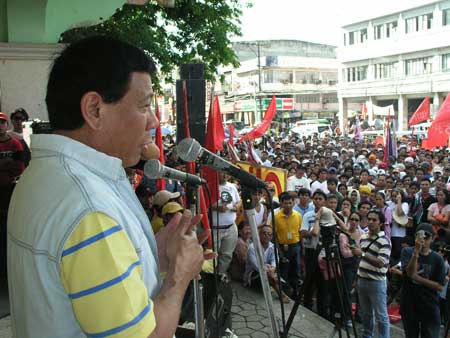 1. like Being a dictator?
"If you don't like my style because it sounds dictatorial, then, vote for Poe, Binay, Santiago, forget all about me."
2. REVOLUTION!?
"If I'm the president, I will declare a revolution. I will rebel against my own government and close down everything except your businesses and make a body to take care of your expenses."
3. "Forget Human Rights"
"Forget the laws on human rights. If I make it to the presidential palace, I will do just what I did as mayor. You drug pushers, hold-up men and do-nothings, you better go out. Because I'd kill you. […] I'll dump all of you into Manila Bay, and fatten all the fish there."
4. Killing his own kids
"None of my children are into illegal drugs. But my order is, even if it is a member of my family, 'kill him.'"
5. Joking about rape
"They raped all of the women … There was this Australian lay minister … when they took them out … I saw her face and I thought, 'Son of a bitch. What a pity … they raped her, they all lined up. I was mad she was raped but she was so beautiful. I thought, the mayor should have been first."
6. Insulting the pope
"We were affected by the traffic. It took us five hours. I asked why, they said it was closed. I asked who is coming. They answered, the pope. I wanted to call him: 'Pope, son of a whore, go home. Do not visit us again.'"
7. On His (struggling) sex Life
"I was separated from my wife. I'm not impotent. What am I supposed to do? Let this hang forever? When I take Viagra, it stands up."
8. Hang 'em all
"I will recommend to Congress the restoration of death penalty by hanging in public."
9. More relationship info
"I am a womanizer but not corrupt."
10. Big tree hugger tho
"Cut the trees and I will cut your heads."
11. ok.
"Don't fuck with my team."
Duterte has dismissed calls for him to backtrack on his sexist and bizarre remarks, saying that it is "how men talk."