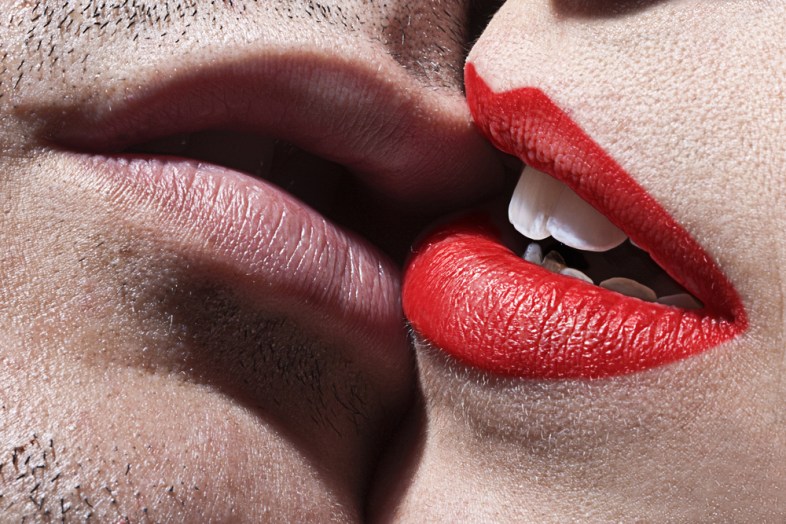 Sometimes my boyfriend begs me to give him head. "Your blowjobs are completely epic," he tells me, and I believe him. I love going down on him and watching how he loses himself, and I love knowing I can do this thing to him that drives him completely wild, every time, without fail. But what he doesn't want to know is that I've gone down on a lot of guys in my life. Not quite porn-level oral, but I'm 26 and I've had several boyfriends so you do the math. I've always heard guys talking about "deep throating" but I never know what it was or how to do it. Some guys insist and hold your head down or force you, which isn't really that comfortable, or they'll ask you politely to deep throat them and you sort of try but aren't sure if you're doing it right? Now I think I'm pretty OK but I don't know how I got here, so I went to these two Reddit threads to see what tips people have on deep throating. Maybe some of these will work for you?
I like kneeling over him (a lot of people don't, but I find it helps with his curve) while he plays with my hair, grabs my boobs or whatever. Then, go as far down as you can without gagging (even if it's just the tiniest bit), and just stop there. Swallow a bit, breathe and just get used to the sensation. When you feel comfortable and your throat is relaxed, try a little further. Don't push too quickly, just breathe in and ease down. Try moving your head to find the angle of least resistance to the bottom of your throat, as that will likely trigger your gag reflex. I find that pushing the head of the penis against the back of your throat whilst breathing in had the most success. Just keep doing this every couple of times you guys have sex, and slowly you should get used to it.
a little add on to this, when you actually get yourself to the point where you are able to deep throat, take a deep breath BEFORE you go all the way down. with him in your throat you will have a very difficult time breathing, even through your nose. it can also make you gag a little if you try to breath with him all the way in you. most importantly, PRACTICE!!! you will both love it!!!
3. This Guy Is Eager To Give Advice

Penis shape makes a huge difference. If you try to deep throat against the curve, failure is inevitable. Try every position you can think of. In my case, with a straight and thick at the tip penis, the easiest for most girls is he classic 'road head' position, in which I sit on a couch facing forward, and she curls up beside me on m right, on her right side, and then sucks. Picture the position you would use in a parked car.
move to england.
5. Road Head Makes For Easy Deep Throating???

If you're going to do it I suggest and emptyish road without a lot of other cars around, no point endangering other people any more than you have to. Make sure the asphalt is smooth, you don't want a bumpy road for obvious reasons. The best place is probably a controlled access highway (like an interstate) without much traffic. You don't have head-on traffic to contend with and they are typically smooth without sharp curves. Set the cruise control so he is less likely to accelerate unintentionally when it starts feeling really good. Oh, and don't forget to video tape and share the results with us. :D
It is way easier for me to do it when he's soft or just a little hard and he gets bigger. The feeling is pretty weird, but it works much better to start from 20% and have him go to 100% in my mouth, than to try and go from nothing in my mouth to all of it at once.
I completely agree with the position thing. I've found being on my knees in front of a man is best for me. Try different positions until you find what's best.
8. Out-Willing Your Gag Reflex

I usually have him lay down in the bed and I get on my hands and knees between his llegs. This works really well for me. I haven't ever really had too much of a.problem deepthroating but some of the tips here.really make sense. Breathe before you go down as they said. I have found that if I need to, I can just open my mouth a little wider and breathe that way. If you aren't good at it yet I wouldn't suggest this until you are a.little.more comfortable. I also conveniently had boyfriends whwho started small and the one I have now is the biggest I have been with. It just worked out consecutively luckily. For this reason the advice to go down as far as you can before gagging makes sense. Just kinda sit there for a minute and then work your way down. It will take time but eventially you will out-will your gag reflex.
9. WHATEVER YOU DO DON'T SUCK TOO HARD

Ah. This may sound strange, but is she sucking very hard? I found that when I felt nervous or like I wasn't doing a good job, I would start to suck quite hard and that would make my jaw and my lips ache very quickly. If she tries to remember to relax her jaw and just move up and down and let her tongue do the work she may not tire out as quickly.
There are a few positions where it's supposedly a little easier to do, basically if the head is back so the throat and mouth are in line. Probably the easiest one for doing this is lying on your back with your head a little off the edge of the bed and him standing on the floor. You also need to relax, if your throat tightens up no amount of forcing will get it in, also probably easier if you do the position I suggested above if you grab his ass and pull him into you rather than have him push, that way you can control the depth a bit better.
11. [deleted]
ahh yeah i finally taught myself how to do this with my curent bf. first thing, lots of saliva. i like first putting the head just to the back of my throat. as youre moving up and down his rod, try to push the tip barely into your throat and swallow a few times to help work it in. i usually go a half dozen times balls deep and hold there to get used to it. a lot of times he will flex his dick in my throat. feels amazing. i like burying his cock down my throat just as he cums. once he starts shooting down my throat, i swallow several times while his cock is in my throat. he says its the most amazing feeling and almost feels like im pulling the cum out of his balls when i swallow down on his cock. this is taken a better part of a year but ive been able to practice almost daily :)
12. It's All In Your Head (lol)

Thank you! Maybe the secod time I blew him, he pushed my head down and I gagged and had to stop for a bit because I wasn't expecting it. I haven't been able to go down as far since then, but hearing multiple times that it's mental and can be worked up to again gives me a lot of encouragement :)
Tip for the reciever: resist the urge to flex when she does it, the more pliable you are, the easier it will be on her.
14. Deep Throating Is Not A Sustained Thing

Well, in my experience, you deep throat it, back off, repeat. Deep throating, at least from my observation of the guy's reactions, should be mixed in with the whole blow job experience. You should probably deep throat, back off, breathe through your nose or mouth a little, then go back for more. When his cock is down your throat, your airways are most likely both blocked, thus preventing air even from your nose from getting in.
15. When In Doubt, Give Him A Titty Fuck

Also, while giving a blowjob with deep throating I like being on my knees while he's sitting. If you need to breath or need a break and want to add something to it, give him a titty fuck. This really helps me since my jaw tends to get soar and he really likes it. Then go back down when you're ready. :)
For me, the most important thing is pacing. If I'm controlling the pacing and know when I can expect his dick to be where, I can (and do) deepthroat. If I'm allowing him to control the tempo, however, I will gag almost every time. This is usually made worse by things such as having my head pushed down by his hand or him changing the angle of his hips to make thrusting easier– both of which are unfortunately common behaviors in facefucking.
Basically, my advice is this: make sure your guy understands that he needs to sit back and let himself get deepthroated, not try to make it happen himself.
Thank you for making the world better for many people!
It's all in a day's work.