Most people side-eye when they hear about Dr. Phil and his infamously exploitative talk show The Dr. Phil Show which is still being made and has aired over 3,000 episodes. You might already know that the real Dr. Phil, Phil McGraw, isn't a medical doctor. McGraw has a PhD in clinical psychology from the University of North Texas and hasn't been licensed to practice in Texas since 2006. He has never been licensed in Illinois or California, where he has filmed his television appearances. If this feels like a pretty big red flag you've got great gut instincts, embellishing educational history or credentials is actually a big red flag that you're dealing with a dangerous personality.
Here's a deep dive into the shadier aspects of Dr. Phil and The Dr. Phil Show:
A grifter is born
[*] In 1985 Phil McGraw, his father, and Thelma Box created a company that delivered self-help seminars. 6 years later Dr. Phil sold his part of the company for $325,000. In 1990 he co-founded Courtroom Sciences, Inc., a company that advised lawyers on areas where psychology and legal practice intersect like jury selection and prepping witnesses for trial. It's through Courtroom Sciences, Inc. that Phil McGraw met Oprah. He consulted on a lawsuit Oprah was a defendant in and she liked him enough that he eventually became a frequent "expert" on The Oprah Winfrey Show.
[*] Oprah helped him launch The Dr. Phil Show in 2002.
[*] In 2007, Phil McGraw created The Doctors which was executive produced by his son, Jay McGraw. A 2014 study of this show concluded that the advice given by "The Doctors" was founded in actual medical fact only 63% of the time, 14% of the advice went against medical fact and 24% of the time they couldn't find a connection between what was said on the show and medical science at all.
[*] In July 2021, a former host of The Doctors sued the parent companies of the show saying producers dismissed his concerns about the show's lack of diversity. When he overheard racist comments on a Zoom call, he made a complaint and was fired. Another host of the show said the atmosphere was toxic and that the only time producers allowed diversity was during weight loss segments.
Legal troubles
[*] In 1988 Phil McGraw was reprimanded by the Texas State Board of Examiners of Psychologists for employing a former patient.
[*] In 2003 Phil McGraw marketed a line of diet products with his face on them called Shape Up. Customers sued and won $10.5 million from the company.
[*] Also in 2003, one of McGraw's former patients said he raped them while they were a patient of his in the 1980s.
[*] In 2006 Phil and the parent companies of The Dr. Phil Show were sued by Deepak Kalpoe and his brother Satish Kalpoe, the brothers famous for being with American student Natalee Holloway the night she disappeared forever in Aruba. The other man they were hanging out with, Joran van der Sloot, was later convicted of murdering a woman, Stephany Flores Ramírez. The Kalpoe brothers claimed that their interview with Dr. Phil was manipulated before it aired and defamed them. This lawsuit was finally dismissed in 2015.
[*] In 2016 Phil McGraw and his wife, Robin McGraw, sued the company that owns Radar Online after they interviewed a former patient who says Phil raped her when they were his patient.
He's not actually good at his job
[*] The Dr. Phil Show is billed as an advice show led by someone with a doctorate in psychology. "Dr. Phil" hasn't been licensed to practice since 2006. He is frequently criticized by people who are licensed to practice as being a poor counselor and giving people overly simplistic and hard to follow advice. The National Alliance on Mental Illness says The Dr. Phil Show is "incredibly irresponsible".
[*] Of his approach to "advice", Phil McGraw says unlike most people in his field who work with the public, he isn't a "Let's talk about your mother" kind of psychologist."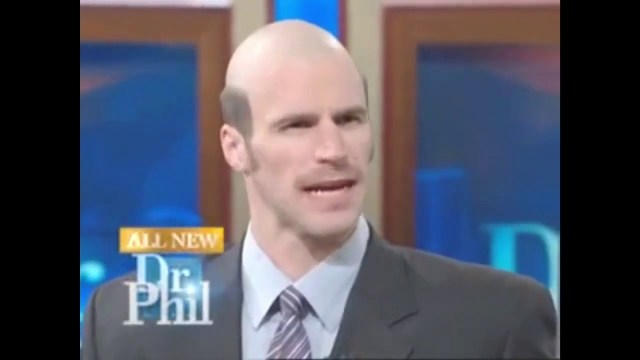 [*] Phil McGraw invited the creator of an exploitative video series called Bum Fights on his show so that he could rake the guy over the coals about how exploitative he is. The Bum Fights guy showed up dressed as Dr. Phil and said he was doing the same thing Dr. Phil does on a national level. Dr. Phil then kicked him off of the show. It was pretty good.
[*] One of the most famous episodes of The Dr. Phil Show aired in 2016 when a 13-year-old girl named Danielle Bregoli and her mother, Barbara Ann Bregoli, appeared to discuss their home life. Danielle said her mother abused her. Dr. Phil titled the segment "I Want to Give Up My Car-Stealing, Knife-Wielding, Twerking 13-Year-Old Daughter Who Tried to Frame Me for a Crime". Distressed, Danielle uttered her now infamous phrase, "Cash me ousside, how bout dah". Now a millionaire recording artist, Danielle says Phil McGraw knowingly sent her to Turn-About Ranch in Escalante, Utah where she was abused for six months. She is far from alone in saying she was abused at the ranch, joining others like Paris Hilton who are speaking out against the "troubled teen industry" where they say teens are abused and tortured for profit. Here is Danielle describing her experience with Turn-About Ranch.
[*] Turn-About Ranch is owned by Aspen Education Group (and now, Acadia Healthcare) who operate a large amount of troubled teen residential programs, diet camps, boarding schools and other pseudo-therapeutic programs. They are routinely criticized or sued for negligence or outright harming people in their care including several deaths. One incident occurred in 2009 where a 16-year-old boy died of heatstroke after being forced to hike in 80 degree heat with an 80-pound backpack. When the boy became visibly ill and told staff he was dizzy, the staffers told him he was faking it. In 2004 a 14-year-old obese boy died in a similar way when he was forced to hike in 90-degree heat until his body went into hyperthermia. When he collapsed, a staffer threw water on him and told him they "knew" he was faking it. His family was not told how the boy died for almost four years. Long after these deaths and other allegations of torture, slavery, abuse, and rape aimed at Aspen Education Group, Dr. Phil continued send children there on his show.
The ick factor
[*] Phil McGraw's first wife says he asked her to lift weights to "bulk up her chest", cheated on her, and wouldn't let her work outside the home.
[*] It's been noted that Dr. Phil seems especially focused on teen girls, frequently creating segments around them and sending them to controversial residential therapy programs.
[*] In 2004 then executive director of the National Alliance on Mental Illness, Michael Fitzpatrick, talked about The Dr. Phil Show to The Washington Post and said: "It's unethical to do that sort of, if you will, pop psychology to the point of looking at a child on videotape and saying this child exhibits most of the signs of being a serial killer. You don't do that for ratings. This is a human being."
[*] In 2014 Dr. Phil tweeted and deleted a message that read: "If a girl is drunk, is it OK to have sex with her? Reply yes or no to @drphil #teensaccused."
[*] In 2008 Phil McGraw made an uninvited visit to Britney Spears' hospital room as she was healing from having a public nervous breakdown in order to badger the family into having an intervention for Britney on The Dr. Phil Show. A spokesperson for the Spears family said that they felt "betrayed" by Dr. Phil showing up, pressuring them to do something that was clearly not in the best interests of anyone other than Dr. Phil, and for making public statements about Britney as soon as he left the hospital.
[*] Phil McGraw interviewed an abuse victim who says his partner punched and kicked him in the face. During the interview Phil said he "doesn't care what [his abuser] does" and called the victim a coward. As an unlicensed TV host, this is a situation in which he should have had an expert on the topic come on instead of victim-blaming and repeating unhelpful stereotypes about intimate partner abuse.
[*] In 2016, a woman who worked on The Dr. Phil Show, Leah Rothman, said Dr. Phil imprisoned his staff in a room when he was angry over how he was portrayed in the media. In her lawsuit, she said, "Dr. Phil often embarrassed guests on his show in their darkest hour, leaving the staff to pick up the pieces of the broken people who had put their trust in Dr. Phil." Rothman says at least one guest attempted suicide after appearing on the show.
[*] There's also this unhinged gun room in Phil and Robin McGraw's home:
Yep, those are guns on the wall. Story by @jflem94: https://t.co/PnY1hAEtZ7

— Daniel Miller (@DanielNMiller) January 2, 2020
Exploiting people while telling the public he's "helping" them
[*] One Dr. Phil Show segment showed producers following and filming a pregnant guest as she desperately tried to buy drugs in Los Angeles' Skid Row.
[*] In 2016 Dr. Phil was criticized for exploiting actress Shelly Duvall who has battled mental health issues publicly. Stanley Kubrick's daughter, Vivian Kubrick, publicly spoke out against The Dr. Phil Show after the episode, calling it cruel and saying "Unquestionably, this is purely a form of lurid and exploitative entertainment."
There shd be laws to protect mentally ill people from TV talk show predators like @DrPhil who is exploiting Shelly Duvall for his own gain

— Mia Farrow (@MiaFarrow) November 18, 2016
[*] Todd Herzog, winner of the 15th season of Survivor, appeared on The Dr. Phil Show in 2013. Herzog was struggling with alcohol addiction but arrived to the show sober… where he found a bottle of vodka waiting for him in his dressing room. Later, he was given his first Xanax. When filming started, Todd had to be carried on set.
[*] Phil McGraw is contracted to do The Dr. Phil Show through 2023. In 2020, he made $65.5 million. His newest show, House Calls With Dr. Phil, is now airing.