If you love creepy facts and scary movies, I send out the best horror streaming that weekend every Friday, get on the list
here
.
One of the biggest radio hits of the '90s was a wacky rock song by the band Fastball called "The Way". The song has that classic catchy 90's alt rock vibe but the lyrics make you wonder what the song is actually about. It turns out, the song is an ode to Fastball lead singer Tony Scalzo's fascination with the unsolved mystery of the deaths of Lela and Raymond Howard.
Here's the song's music video:
In 1997, the Howards were an elderly couple living in Salado, Texas who planned to go to a fiddling festival only 15 miles from their home. Lela Howard was 83-years-old and was showing signs that she was suffering from Alzheimer's disease. Raymond Howard was 88-years-old and had recently suffered a stroke and a head injury which required surgery. The Howard's son had called that morning concerned about his parents' cognitive health and begging them to let him drive them to the festival. The couple said they would be fine, since they attend the festival every year.
Lela and Raymond Howard never returned home.
500 miles away a police officer pulled the couple over for driving at night with their headlights off. Lela, who was driving, couldn't tell the officer where they lived. The officer gave her a warning to turn her lights on and sent them on their way.
Three days after the couple was reported missing by their children, they attended a farmer's market in Arkansas. A search of the couple's home revealed that they left their cat, toiletries, and clothing behind. The calendar in the Howard home was displaying February, though it was June when they left.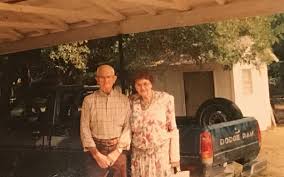 14 days after the couple left for a 15 mile trip they were found with their car at the bottom of a cliff near Hot Springs, Arkansas. There were no skid marks on the road at the top of the cliff, indicating that they had not slowed down before flying off of it, either because they could not see or understand that they were driving off a cliff, or because at least one of them was suicidal.
Tony Scalzo read about the case right after the couple was reported missing, but before their bodies were found. His fascination turned into the lyrics for The Way:
They made up their minds
And they started packing
They left before the sun came up that day
An exit to eternal summer slacking
But where were they going without ever knowing the way

They drank up the wine
And they got to talking
They now had more important things to say
And when the car broke down
They started walking
Where were they going without ever knowing the way

Anyone can see the road that they walk on is paved in gold
And it's always summer
They'll never get cold
They'll never get hungry
They'll never get old and gray
You can see their shadows wandering off somewhere
They won't make it home
But they really don't care
They wanted the highway
They're happier there today

Their children woke up
And they couldn't find 'em
They left before the sun came up that day
They just drove off and left it all behind 'em
Leaving it all behind
But where were they going without ever knowing the way?
Despite this case's gruesome end, frontman Tony Scalzo says, "It's a romanticized take on what happened." The Howards' children reported that they were happy the couple was together when they died.