Federico Fellini once said, "
La vita è una combinazione di magia e pasta
" which translates to "Life is a combination of magic and pasta." We partnered with
Passion For Pasta
to bring you a (true) story of travel, new friendship, and of course good food.
My first taste of Italy was the best. I'd just moved into a small room in an apartment in Florence when my padrona — or landlady — requested I join her for dinner. The meal was simple — salad, fruit, pasta with some vegetables — but I remember biting into it and thinking it was the best thing I'd ever tasted. So this is what Italian food really tastes like, I thought. I had no idea.
I was lucky to have a padrona that treated me like family. She invited me for dinner nearly every night, and for over two months, every meal she made was unique — every pasta dish was made just a little differently, every meat cooked a unique way, and every bite was just as good as the last. Once she served nothing but cantaloupe wrapped in prosciutto, a combination that made me wary. I was pleasantly surprised.
"It's all about the ingredients," my padrona told me in her thick Italian. "Quality food is good food."
I should have known I would fall in love with the food as much as I'd fall in love with the country. So many things in Italian culture revolve around shared meals, and it didn't take me long to realize why. Every bite of pizza in Rome tasted better than the next; every tortellini dish in Venice was to die for. In Italy, food was considered sacred, and it was treated as such. It wasn't just necessity but an experience.
It was a lot for me to take in. I'd spend the entirety of college eating instant ramen and delivery pizza, and when my time in Italy was up, I found myself falling into the same dietary patterns as before. Though I craved cacio e pepe, I settled for buttered spaghetti. Instead of prosciutto and mozzarella, I ate packaged turkey and American cheese. After months of amazing meals, nothing I ate at home ever tasted good enough — but I'd never learned to make anything else, and I wasn't sure how to recreate it. I never missed Italy as much as I did when I was craving my padrona's cooking. It was its own sort of homesickness.
That's why, when I moved back to Italy a year later, I was determined to understand Italian cuisine on my own. This time I wasn't moving into an apartment with a padrona, which meant no free meals, and I couldn't just deliver a pizza like I could in the U.S. One way or another, I was going to have to learn how to cook.
And it was… not great at the beginning. My first time in the neighborhood marketplace nearly gave me a panic attack. I walked through aisles fresh fruits and veggies and had no idea what to do. Back home, I rarely cooked for myself. What was I even supposed to buy? In the end, I settled on mozzarella, a loaf of bread and a few fresh vegetables. When I got home, I tried to mimic what I'd seen my padrona do the year before. The result was not nearly as good as anything she'd made, but it wasn't bad. I wrote down everything I'd done so I could remember the next time.
It became my new goal to look for interesting recipes. I took cooking classes at a place near the river and learned to make Panzanella and potato ravioli and panna cotta as the instructors yelled the directions in hurried Italian. I took pictures of recipes from cookbooks in the bookstore near my apartment. I discovered Passion for Pasta and found new and easy ways to make some of my favorite pasta dishes with all the best ingredients. And I'd go to the market every few days, learning exactly where everything was kept and profusely thanking the workers as they rang me up.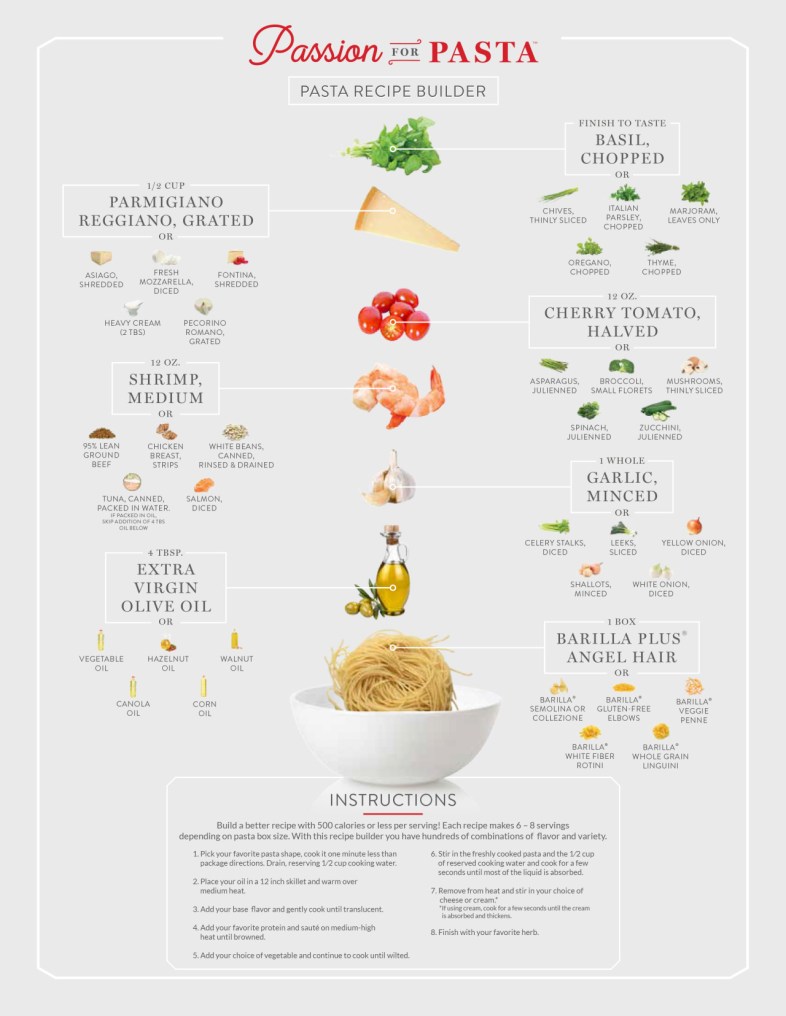 I slowly came to realize the secret to my padrona's culinary success—yes, she was a good cook, but more importantly, she cooked with the right ingredients. Italians don't care for complicated recipes. For them, the best pasta dishes are made with just a few high-quality ingredients.
Making a nutritious and tasty pasta dish doesn't need to be difficult. The best way to do it is the Mediterranean way—pairing pasta with fresh herbs and vegetables and the right portion of fish or lean meat. I was given a lot of materials when writing this article, but one thing that really stood out to me was this recipe builder. Such a simple, healthy way of cooking would've saved my life when I was abroad and clueless about how to cook an Italian meal. It shows that amazing dishes aren't hard to make when you use pasta as a base for other healthy (and tasty!) ingredients.
Since I left Italy, I've learned that every place has a taste. I remember Prague as beer-braised pork leg. I remember Manchester as fish and chips. I remember Stockholm as meatballs and lingonberries. And when I want to remember Florence, I make a trip to the farmer's market and pull out all my old pasta recipes. I pour myself a glass of wine, blast my favorite Italian songs, and dance around the kitchen like I used to during those beautiful Florentine evenings. I may not be sitting along the Arno river, but I still feel at home.