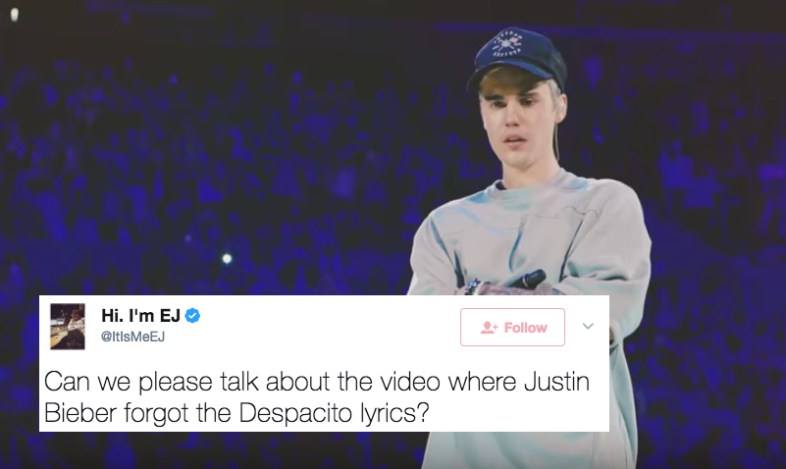 Oh Biebs, you've been doing so well at keeping the bad publicity away. But here I am writing about you again, so we all know you fucked up something.
Recently, a video of Justin Bieber singing karaoke at a New York club 1 OAK on Tuesday night has circulated the internet, and not for a great reason. Bieber, who is obviously drunk, sang along to Daddy Yankee and Luis Fonsi's hit "Despacito" (in which he's featured) but couldn't seem to remember the Spanish lyrics, so instead he substituted them for gibberish.
https://twitter.com/beenflatline/status/867503233887080450
"I don't know the words so I say poquito, I don't know the words so I say Dorito," he sang, then later added, "Blah, blah, blah, blah."
People weren't loving the impromptu performance, that's for sure.
Can we please talk about the video where Justin Bieber forgot the Despacito lyrics?

— It's EJ (@ItIsMeEJ) May 25, 2017
https://twitter.com/EmBackFoRevenge/status/867780209579360258
So yall just gone let this fuck Boi @justinbieber disrespect Latin culture like that??!! 🙄🙄 fuck outta here pic.twitter.com/k1ffu7DoDC

— danielgotskillz (@danielgotskillz) May 25, 2017
https://twitter.com/DJ_X2C/status/867827117198761984
Bieber screaming burrito for the hook on "Despacito" cause he doesn't know his own lyrics is a euphemism for every Cancun Spring Break ever

— 🌻 Flores Boy 🌻 (@tomasflow7) May 25, 2017
Others thought we should cut the Biebs some slack, since he doesn't actually know Spanish and was obviously pretty intoxicated while trying to sing along.
https://twitter.com/typedbieber/status/867506675456114688
https://twitter.com/_avaquera/status/867717995677839360
After all, a lot of us foreign language-learners know what it's like to suddenly trip up and forget the words we're looking for.
Justin Bieber forgetting the lyrics to despacito is me whenever I'm in a Latin country

— Q (@purpleskit) May 25, 2017
So, what is it? So offensive or so relatable? I guess it's up to you to decide.