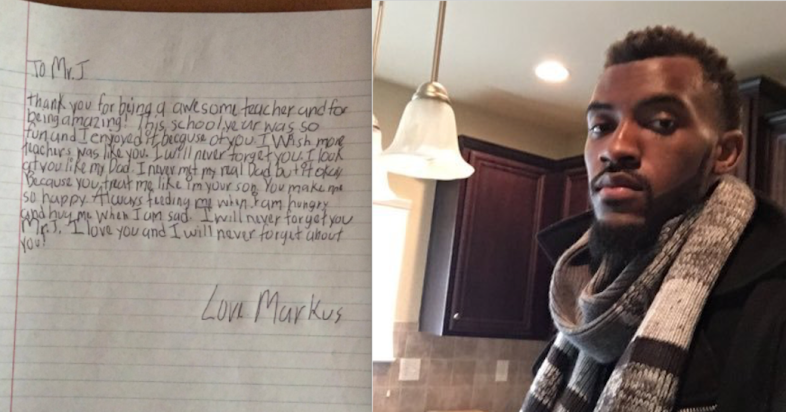 If you've ever been lucky enough to have an amazing teacher, you know how life-changing they can be. Sometimes the hardest thing to do is just to say goodbye by the time summer break comes around.
Take this fifth grade teacher, for example. He didn't realize the impact he had until a student wrote him this letter at the end of the school year.
https://twitter.com/mainey_maine/status/856551337202503684
The letter read:
To Mr. J

Thank you for being an awesome teacher and for being amazing! This school year was so fun and I enjoyed it because if you.

I wish more teachers was like you. I will never forget you. I look at you like my dad. I never met my real dad but it okay because you treat me like I'm your son.

You make me so happy. Always feeding me when I am hungry and hug me when I am sad. I will never forget you Mr. J. I love you and I will never forget about you!

Love Markus
Ugh, my heart.
Twitter was full of feelings about the note.
Bless you for having that kind of an impact on a child! More people need to see this as an example

— Carly (@nuclearcarly) April 24, 2017
Maaannn as soon as I read that part my heart dropped

— Maine (@mainey_maine) April 24, 2017
Thank you so much! My eyes are red and puffy as hell

— Maine (@mainey_maine) April 24, 2017
I read that letter like pic.twitter.com/SKvsvVFREA

— Kristian Winfield (@Krisplashed) April 25, 2017
In fact, some Twitter users have decided to give back to the teacher for everything he's done for his students.
Or do you need any pens/pencils/gift cards/etc? Even if its small, you're making a positive impact back home so I want to help.

— Kam 👨🏾‍💻 (@k7k8t) April 24, 2017
You all don't have to have to get me anything! Thank you so much for the offer! I appreciate the love and support!

— Maine (@mainey_maine) April 24, 2017
The note was a reminder to many about why people become teachers — it's for more than just the paycheck.
Never was about the money, so more than that

— Maine (@mainey_maine) April 24, 2017
I'm not tearing up, you're tearing up. Now excuse me while I go find all my old teachers on Facebook and send them overdue messages explaining how much they meant to me.