Low-adrenaline: Kayaking
With the waters of Chesapeake Bay lapping at Virginia Beach, I discovered that settling into a kayak expedition for a half or full day is a wonderful way to feel connected to nature at the water level. Feed bottlenose dolphins on a tour with Tula Adventure Sports or explore the flat waters of Back Bay Wildlife Refuge with Adventure Kayak Tours. If you're more of a DIY spirit, rent your kayaks and get ideas for paddling from local outfitters Surf and Adventure Company and Go Kayak!.
Low-adrenaline: Hiking
As much as I love the sand and surf, I found it restorative to take a break from both and head to two beautiful state parks in the area. In First Landing State Park, consider making a six-mile hike along the Cape Henry Trail (you can also bike this route), or go easy with a 1.5-mile loop along the Bald Cypress Trail, crossing wetlands on boardwalks.
False Cape State Park south of Virginia Beach's Sandbridge district, has 15 hiking (and biking) trails that cover the park's 4,321 acres of ocean and bay vistas, sand dunes, maritime forests, wooded swamps and marshes. It's a rich mix, and it's definitely worth exploring (you can even hike to the North Carolina state line!).
Low-adrenaline: Horseback Riding
While your first visit to Virginia Beach may be for summer fun, it's worth coming back during cooler seasons, when you can take a picturesque horseback ride along the Oceanfront's beautiful beaches (anyone doubting the everlasting romantic appeal of this soft adventure should tune into Season 22 of The Bachelor). Virginia Beach Horseback offers half- and one-hour rides along the surf from October through May.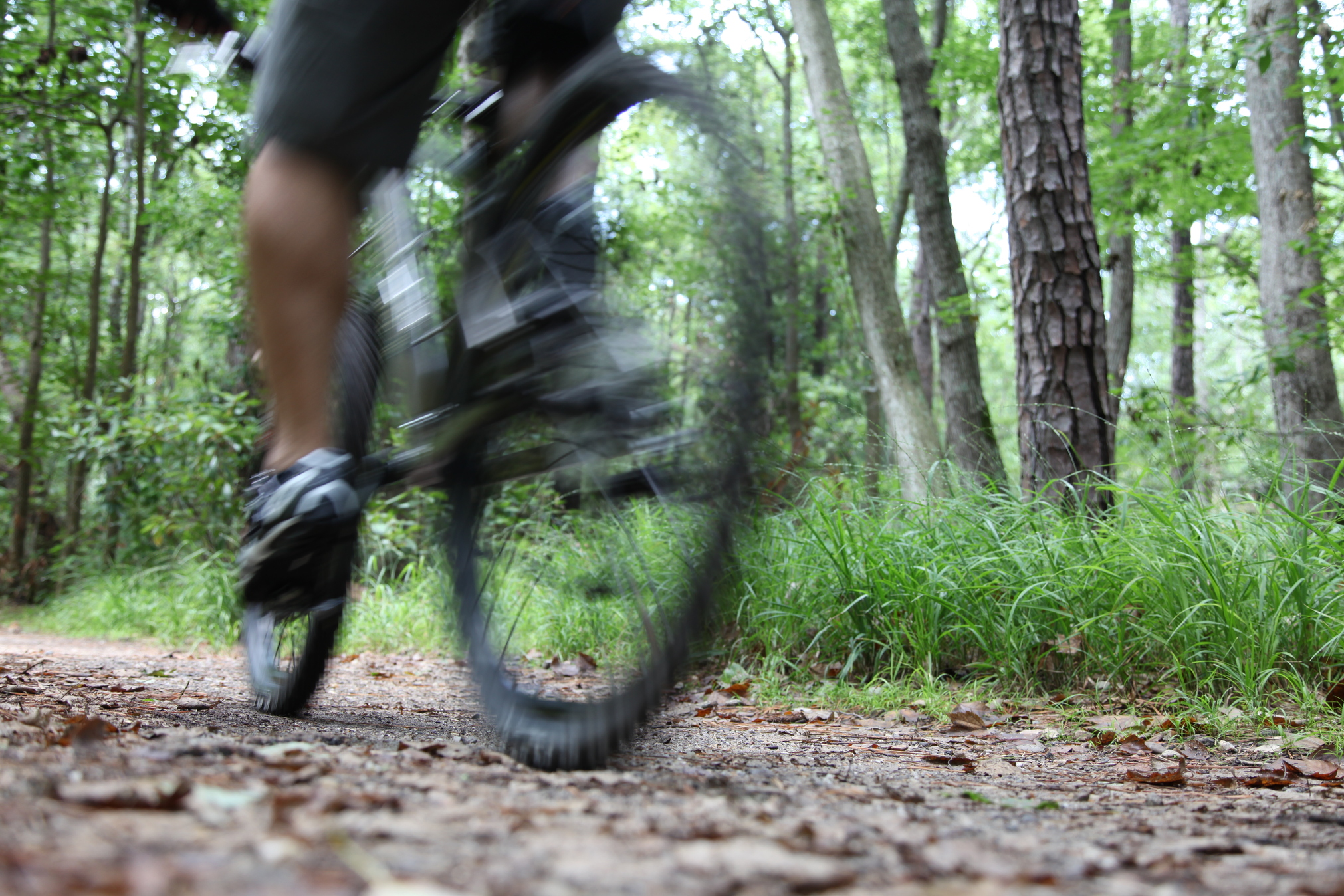 Low-adrenaline: Biking
Whether you're cycling the three-mile, bike-welcoming boardwalk along the Oceanfront or hopping on a fat tire bike for off-roading, two wheels are an ideal way to grab some soft adventure and investigate the landscape. In the quieter sands of the Sandbridge area, rent bikes from Surf and Adventure Company and explore the beaches of Little Island Park, or book a bike tour of False Cape State Park with Ocean Rentals.
Mid-adrenaline: Stand-Up Paddle Boarding
Okay, for me, the excitement comes from just trying *not* to fall off, but stand-up paddleboarding is a fantastic way to get out on the water and score head-to-toe exercise while you're at it. For a muscle-toning version of SUP adventure, check out SUP Barre, which offers a barre-inspired workout on your paddleboard (on calm water), including sunrise and sunset sessions. To do your own exploring or join a tour of Virginia Beach's quiet waters, visit Rudee Inlet Stand-up Paddle.
Mid-adrenaline: Surfing
Virginia Beach is a true surf town, and locals are often spotted heading out for late-day waves after work. The Atlantic's steady swells here make this an ideal place to learn to surf, so step into blue with Seth Broudy School of Surf, Surf & Adventure, or VB Surf Sessions, for private or group lessons, as well as multi-day surf camps. You'll bond with your squad while having a serious blast.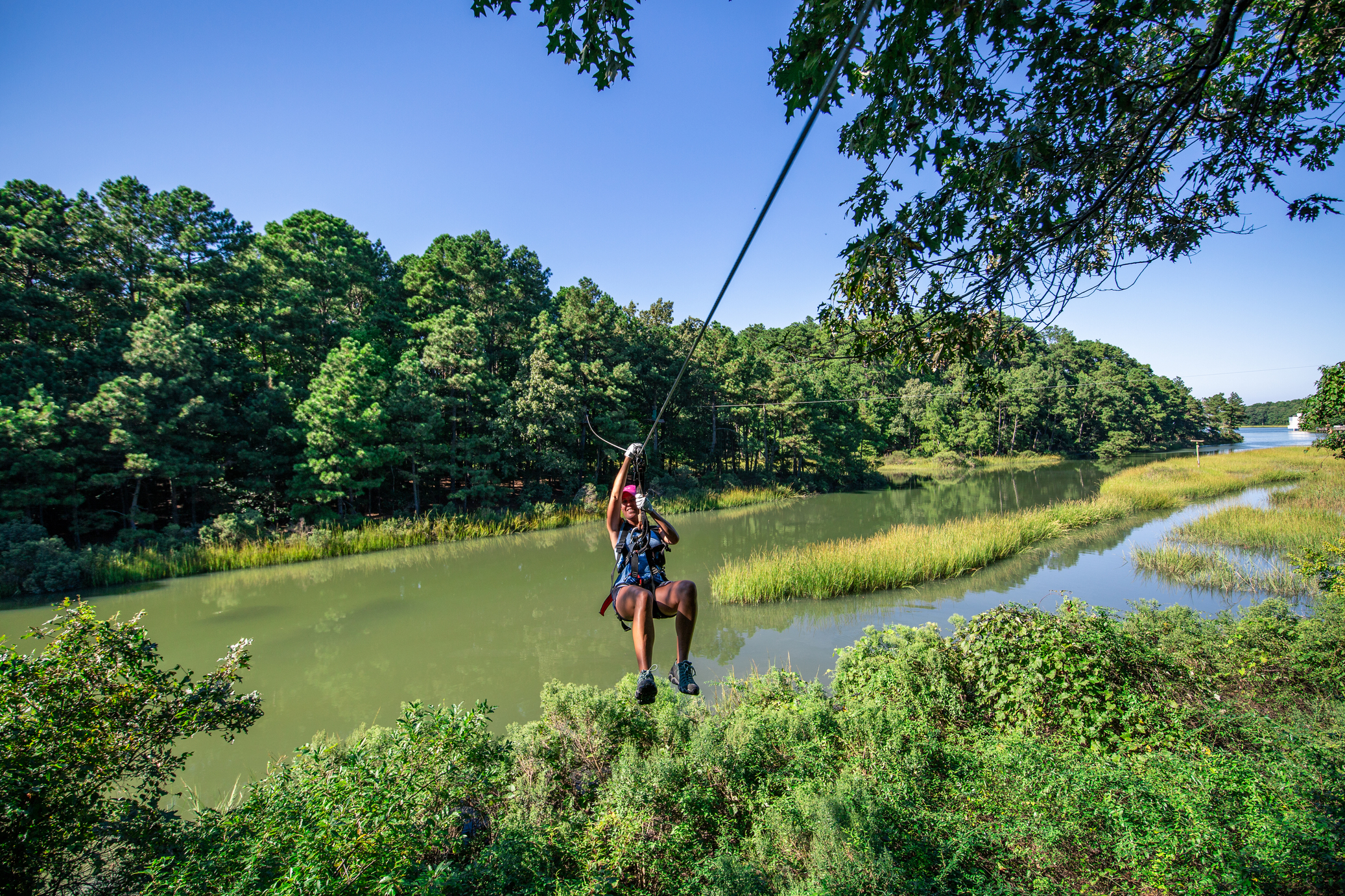 High-adrenaline: Ziplining
If you're like me, you never thought you'd voluntarily spend a vacation afternoon ziplining rather than beaching it. But the promise of thrills and awe-inducing views have a way of making you surprise yourself. The Adventure Park at Virginia Aquarium will put you 150 feet off the ground and in the canopy in unforgettable ways, from zip lines and aerial ropes to challenge courses. In 60 acres of wooded forest in coastal wetlands, AdventureWorks' Wetland Zipline Park offers canopy zip tours for both adults and kids on 9 zip lines that cover about 1.5 miles of lush terrain.
High-adrenaline: Parasailing
Put a smile on your favorite teenager's face (or on your own) with the lift-off dream of a parasail adventure that flies about a thousand feet over the Virginia Beach Oceanfront. Check out Pirate Parasail and Air America Parasail. And an adrenaline note: Once you're up there, you'll find things just got incredibly serene. And that's my kind of adventure. Now all I need is that beach cocktail.

Image credits: Visit Virginia Beach