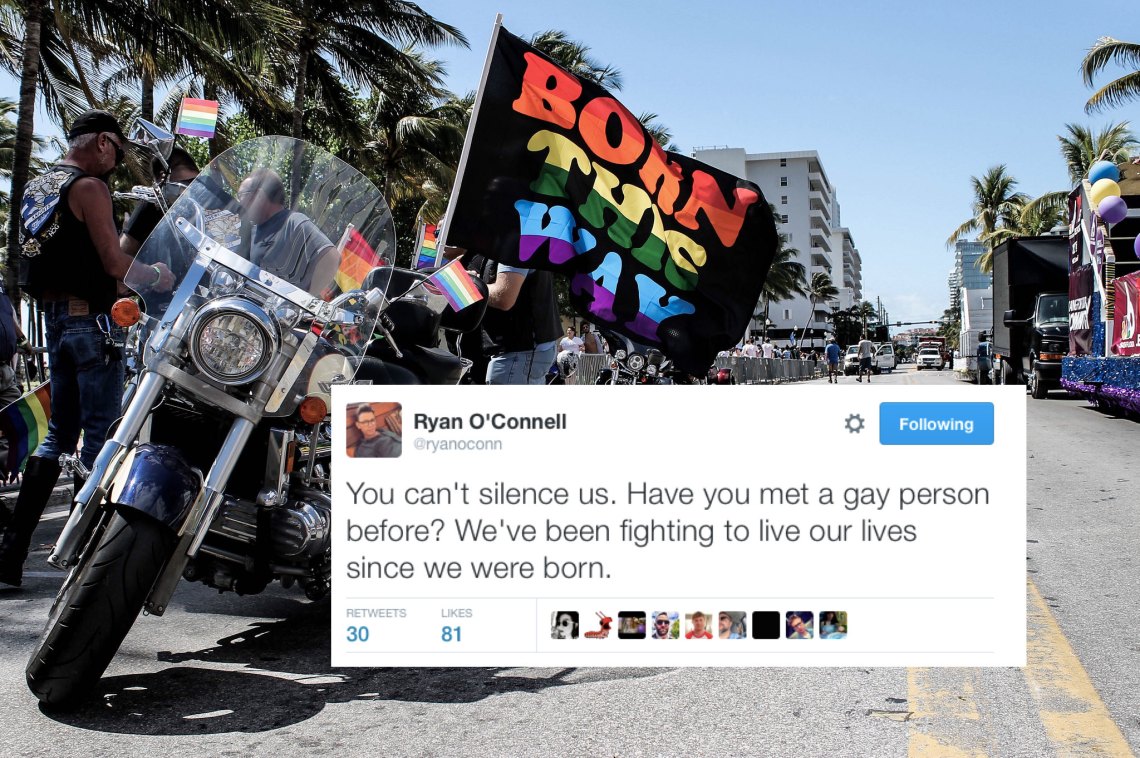 1.
And so we marched with love, with compassion, with solidarity. Hate and fear cannot win. pic.twitter.com/sNfMKKuenu

— Jordan Shalhoub (@jordLS) June 12, 2016
2.
being openly gay in america continues to be a radical act but I hope kids who see terror like this aren't scared into staying closeted

— Matt Bellassai (@MattBellassai) June 12, 2016
3.
THIS is why we have #Pride. Because everyday there is someone who wishes we didn't exist, and yet we do, with love and joy. #Pride2016

— defund the police to abolish the police (@RheaButcher) June 12, 2016
4.
Also, "don't politicize this"? Really? You've politicized queer people using bathrooms and having jobs, you can't depoliticize their deaths.

— Amy says SamCap Best Cap (@spooloflies) June 12, 2016
5.
6.
7.
Be proud of who we are. #loveislove pic.twitter.com/RDgEox3UOH

— h (@halsey) June 12, 2016
8.
Being gay is not a joke. It is not a choice. It is not a political act. For those of us who are gay it is an act of love. Be strong. 🌈🌈🌈

— Ashly Perez 🤙🏽 (@itsashlyperez) June 12, 2016
9.
#LoveIsLove and can't anyone ever change that 💯

— KING (@iamKingAshlee) June 12, 2016
10.
11.
We're gay and we're not going anywhere. Get over it and/or learn to accept us. #OrlandoShooting pic.twitter.com/KaEC5iu8SV

— Tom and Lorenzo (@tomandlorenzo) June 12, 2016
12.
13.
HAPPY PRIDE ❤️💛💚💙💜 pic.twitter.com/YIuiODFzZU

— Will Shepherd (@shep689) June 12, 2016
14.
For those of you tweeting me to be safe, thank you, and I will. Fear should never outweigh love. Our community should be out and proud.

— Steph Frosch (@ElloSteph) June 12, 2016
15.
Proud to say what I say,
and do what I do,
and love who I love,
and trust what is true. #PoemforPride #mygayass pic.twitter.com/72rB4GbQfZ

— Hannah Hart 🌱 (@harto) June 12, 2016
16.
17.
Today, we will not march in fear. We march for love and peace. We march for you, Orlando. #Pride2016

— Kelsey Darragh (@kelseydarragh) June 12, 2016
18.
19.
Freedom isn't just being able to own a gun or make millions.

Freedom is being able to love who you love, and not worry about being harmed.

— jacob geers (@JacobGeers) June 12, 2016
20.
21.
despite it all, i've never felt more proud to be gay. being part of the lgbtq+ community is a blessing, and no violent act will change that.

— tyler oakley (@tyleroakley) June 12, 2016