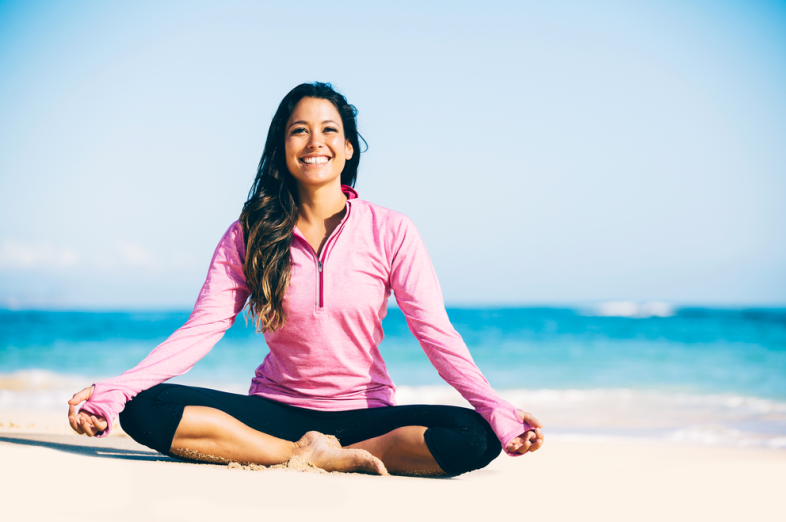 I haaaaaaate the gym. I practically break out in hives I hate it so much. I've come to accept the fact that I am just not a gym person – which is totally fine! Not everyone has to be, and I'd rather that $60 per month is spent on fun stuff like champagne and new sweaters and paying off my bills. But the older I get, the more I need regular exercise. I do NOT want a flat mom butt. No way. It's winter, so my regular walks around the lake aren't happening until the temp is back over 40 degrees. I don't like being sedentary, and shopping is NOT cardio.
So if you're gym-phobic and introverted like me, there's no reason you can't get exercise in the privacy of your own home. Just make a little space on the floor, unroll your mat and get going! No DVD purchase required.
Blogilates by Pilates instructor Cassey Ho is my hands-down favorite way to exercise at home. I've been using her super-handy (and free!) app for a little over a year, and now I'm attempting to get through her intense, take-no-prisoners January calendar – with some modifications. Cassey's workouts are tough, but she's easy to follow and motivating without being annoying. She makes me want to be stronger and healthier as a whole, not skinnier. If you choose, you can make her vegan recipes, but it's not required and she's not preachy about it. I'm writing this post-booty routine and my butt is SHAKING. It'll be worth it!
YogaGlo isn't free – it's $18/month. But when you consider that some yoga studios charge $100+/month to exercise in a room crammed full of sweaty strangers, $18 is a small price to pay. You get access to over 2000 classes in a variety of styles and time periods, so no matter your practice you can get your yoga fix in a quieter environment. Oh, and they offer an app too, so you can do it wherever you are! (I also love Yoga with Adrienne, which is free on YouTube.)
If I get through two of these short workouts, I feel like a champion. They're taught by ballerina Mary Ellen Bowers, and if you want to sculpt long, slim muscles, Ballet Beautiful is a good place to start. I like to use them when I'm short on time but still want to get a short, effective workout in.
These videos are more athletic and barre-based, with elements of Pilates. They're tough, but easy to follow along with and are a nice way to work your whole body in a relatively short amount of time.
Don't laugh at me, but I really love this simple, effective, killer circuit training routine from Lauren Conrad. I know she's basic but I love her anyway. This routine includes burpees. You have to do them. Burpees are terrible, but in one-minute increments they are a little easier to stomach. I really believe Lauren herself does this workout, which makes me more inclined to do it. Take 30 minutes to complete the circuit and you'll feel amazing once you've completed it.