Do you feel the hairs on the back of your neck standing up? Terror is lurking around the corner.
Disney recently dropped the highly-anticipated trailer for the upcoming Goosebumps series starring Justin Long and Rachel Harris. Long plays Nathan Bratt — the new English teacher in Port Lawrence who moves into a creepy house with a not-so-flowery history. As he states at the opening of the trailer, he heard the "horrible story about the boy who used to live there," but little else is revealed about the presumed haunted house. 
Right after telling Rachel Harris's Nora that he has not witnessed anything "strange," the trailer transitions to Bratt placidly completing a crossword puzzle by the light of the fireplace embers. Yet, all tranquility soon vanishes, giving way to atmospheric terror when a strange boy suddenly appears in his home. Floating a couple of inches off the ground, the boy's body slowly dissipates into a dark gray cloud of smoke and flies across the room to possess Long — entering via the educator's shocked and widened mouth. Once all the smoke is ingested, a playfully maniacal expression crawls over Bratt's face — it's giving Tobey Maguire in Spider-Man 3. Apparently, Bratt's possessor is on a revenge mission, and he's going after the students of the parents who wronged him. As one student says, "Oh my god, we're murder nepo babies." 
The trailer retains the spooky atmosphere akin to R.L. Stine's novels while finding time for humorous quips that complement the adolescent-targeted frights.  Run. Hide. Investigate. Fight. All while keeping those goosebumps at bay. 
The trailer strings a coherent narrative that reportedly interweaves five specific Goosebumps installments, so let's discuss each novel that will surface in the 10-part series.
Greg takes a picture of his father's brand-new car, but, in the photo, the car is totally wrecked. Then, his dad crashes his new ride. The question is: does the camera tell the future or orchestrate it? Who will be the camera's next victim? In the trailer, one of the adolescent characters responds with extreme anxiety, shock, and anger to having his photo taken with a retro Polaroid, yelling "Why would you do that man? It's not cool!" So clearly, the cursed camera will enter the frame. 
The 11th book in the original Goosebumps series, The Haunted Mask follows Carly Beth, who puts on a mask she buys at a Halloween store and begins acting strangely. Soon enough, the mask becomes one with her skin, and she is unable to remove it. In the trailer, a girl puts on a white mask that looks like cracked stone— much more understated than the yellow-green, fang-adored Goblin-appearing one on the cover of the book — before attending what appears to be some sort of dance party. 
Michael Webster's father brings home an antique cuckoo clock that he won't allow his children to touch. Michael sees this as the perfect opportunity to finally get his younger sister, whom he calls Tara the Terrible, in trouble. She's always making his life miserable, so he yearns to turn the tables. When Michael fiddles with the clock — hoping to make it look like Tara broke it — he unlocks a strange spell that leads him to grow younger, and younger, and younger. Now, Michael needs to figure out how to stop traveling back in time before he ceases to exist. 
There's a short scene in the trailer during which a naive adolescent reaches out with one finger to touch an antique clock before the bird comes out of his house to "cuckoo, cuckoo, cuckoo —" a steady and melodic backdrop to the children running for their lives.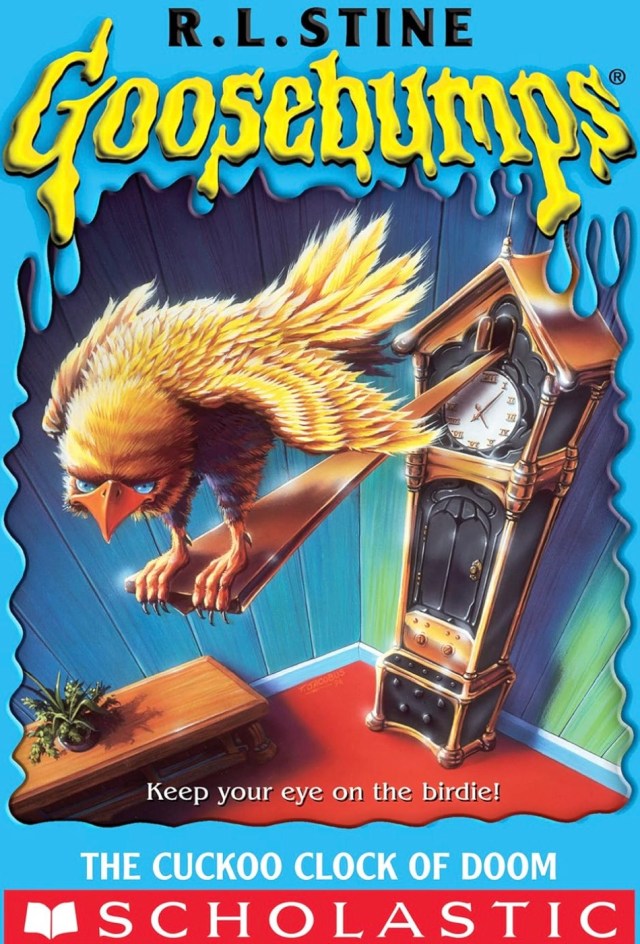 Todd has a basement worm farm that he loves attending to; He finds the little squishy invertebrates fascinating creatures. The fact that it totally disgusts his family is just an added perk. However, Todd begins to find worms in places they do not belong — contorting their bodies along his toothbrush and camouflaging themselves in his spaghetti dinner. Now, Todd isn't so thrilled about his worm collection. We didn't spot the creepy crawlers in the trailer, so it will be exciting to see how this book comes into play. 
Ah, the ventriloquist dummy. One of, if not the most unnerving figures to pop its ceramic head up in the R.L. Stine books. Kris's twin sister has just gotten one — and it's all anyone seems to talk about these days. Fuming with jealousy, she gets a dummy of her own. But two dummies equal two treacherous torturers. The dummy appears toward the end of the trailer when one of the investigating high schoolers — lurking where they shouldn't be — opens a wooden chest, and there he is — lying there motionless and chilling. Why any child would want a toy such as this is anyone's guess, but alas, we suspended our disbelief concerning Chucky, so we must do the same for this wide-eyed doll with a sinister smile.

The show is bound to be chock-full of references to the novels, but The Sony Pictures Television series will not require familiarity with the series going in. Pre-SAG strike, Justin Long shared:
"If you haven't read the books it's going to be just as entertaining, if not more so, because a lot of these stories will be a total surprise. There are big scares, big laughs, and even a few tears — sometimes all within the same scene."
Entertainment Weekly
Goosebumps will premiere on Disney+ on Friday, October 13. What better way to kick off spooky season?