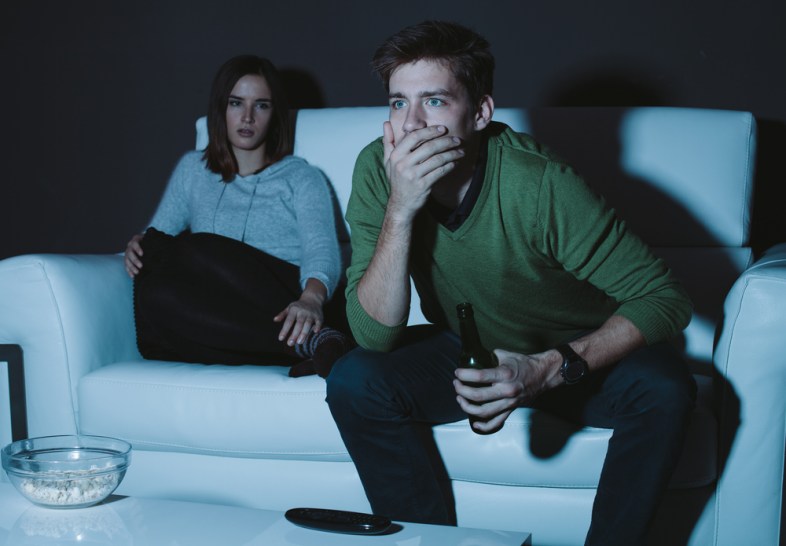 Found at r/relationships and reposted with the permission of mymindisinborabora. She caught this early. Many people never figure it out at all. For those that don't know, Gaslighting or gas-lighting is a form of mental abuse in which information is twisted or spun, selectively omitted to favor the abuser, or false information is presented with the intent of making victims doubt their own memory, perception, and sanity.
Thanks to everyone who reads this, I'll try to keep it short.
My boyfriend of 5 months just moved in with me three weeks ago. He had some problems with his apartment (damp walls) and it has to be renovated. As my roommate is currently spending some time abroad, I told him it would be ok if he stayed at my place for 4 to 6 weeks (he'll be able to move back to his own apartment by that time).
So, now we've been living together for three weeks and things started out great. Jealousy had been a bit of a problem between us because we often go out separately probably once a week but coming home to the same apartment helped him get over his (unjustified) jealousy.
Buuut there has been one new problem. Now, this may seem petty at first, but I'm really at my wits' end with this one. Ever since he moved in with me, things started disappearing and then reappearing one day later in the same place they were missing from. I'm talking about documents, small household items and food. And it's not like "losing" keys and then finding them again somewhere, I specifically look for something in a certain place where it isn't, but is there the next day.
For example, I like to take a chocolate bar with me to work in the morning, and for that, I normally have a pack of chocolate bars at home. Shortly after he moved in with me, I woke up to find all the chocolate was gone. I asked him about it, he said he didn't know anything about it. I come home just to find the chocolate bars are in the cupboard again! I ask him, he says he doesn't know anything about it. "Maybe you just didn't see them in the morning". We're talking about a large pack with about 12 chocolate bars, how can I not see that?
At first, I thought it was maybe some strange kind of humor, but he seems angry when I bring it up and it's starting to really piss me off, because sometimes, it's been items belonging to one of my friends that I wanted to give back to them and then couldn't, or it was certain documents I needed for a certain day.
Now, I have absolutely no idea what this is about. I am not crazy, I just don't understand AT ALL. He gets really angry when I talk about it, saying I'm making this up just to "cause drama". Why should I? I have no idea what's going on. Any ideas?
Then this happened.
First of all, thank you all very much for your suggestions, advice, support and concern. I've gotten multiple PMs asking if I was ok and I really appreciate it!
So, back to my situation. After I read all your comments and did some reading on gaslighting I was really freaked out. Plenty of you told me there were other red flags in our relationship. It got me thinking and more and more stuff came to mind that should have worried me a long time ago:
our whole relationship felt pretty rushed from the start, I didn't even want to date but he showered me with romantic gifts/ gestures/ date ideas/ texts and I finally "gave in"
he was pretty upset when I didn't want to say "I love you" from the start, when I didn't want him to meet my family right away, when I didn't want to have sex without a condom ("you don't trust me!") and when I didn't want to book an expensive vacation with him
he was very jealous and didn't want me to go out without him although he went out with his friends all the time. He made me cancel plans to spend time with him and then stood me up
he logged into my Facebook and changed my relationship status one day after we started dating as a "surprise". I actually did worry at that but thought he was just bad at making surprises
as pigeonsbepigeoning pointed out, all the stuff that has gone missing had something to do with me leaving the house or meeting friends and family: a gift for my friend, the key to my parents' house, a USB stick I borrowed, documents for an application for a semester abroad (which we had a huge fight about because he didn't want me to go!) etc.
After I read all about gaslighting I ordered a nanny cam. Unfortunately, the delivery took four days and after day one I already knew I couldn't be with him any longer. I wanted him out of the apartment asap and with as little drama as possible. I told him that my roommate had gotten a really interesting job offer and would cut her vacation short and come home in a week, so he had to move out. He was pretty angry, but I told him that there was nothing I could do. I also told him (as some of you suggested) that his landlord had to get him a place to stay and that he should call him. The next day, he told me that he had talked to his landlord and he could move back in his own flat on the following weekend. The renovations had not taken as long as planned. At this point, I doubt the apartment ever had "damp walls" to begin with but who knows. In the evening he asked me if I wanted to move in with him because "it works so well" and "you don't like your roommate anyway" (I never even said that!). I told him sure, I would move in with him in June. He was pretty excited about it.
While I was waiting for the nanny cam to arrive, there was one incident when something went missing, a book that I had ordered for my dad over Amazon and wanted to bring him the next day (at least that's what I told my bf). Of course, in the morning, the book was gone. I chose to ignore it and he reacted quite strange to it, even asked me on my way out if I had taken the book with me (why on Earth would he ask that if he didn't expect a reaction from me?). I just asked: "What book?" "The book you wanted to bring your dad." "I don't know what you're talking about." In the evening, the book was on my desk again (of course!) and I ignored it again. Two hours later, he casually walks by my desk and says: "Ah, that's the book I was talking about!" I just said: "Oh, that book." He seemed pretty angry for the rest of the evening.
Two days later, the nanny cam finally arrived. I set it up while he was at the gym and again, when he was there, placed a letter I needed for work on my desk. I wasn't surprised at all when it was gone a few hours later and re-appeared the next day. When I finally was alone at home again and could check out the nanny cam evidence, I only saw what I already knew: he took the letter while passing the desk, put it in his gym bag and put it back a few hours later. However, as soon as I saw the "evidence", I decided against confronting him. To be honest, I was scared of his reaction and had already decided to break it off as soon as possible. Also, the camera didn't show me his motive and I figured he probably wouldn't tell me anyway.
However, it frustrated me very much that I would probably never know why he did it and on the last evening before he moved back to his "newly renovated" apartment, I told him I wanted to watch an old movie called Gaslight (Thanks for the tip everybody, it really is a great movie!) He sat with me through the whole movie, but was quieter than usual while I talked the whole time about how unrealistic the movie was and that he was obviously insane. I actually expected some kind of reaction from him but he just sat there looking nervous.
On Sunday, he took all his stuff back to his apartment. My brother had organized someone to come and change the locks, and as soon as that was done, I wrote my bf a text telling him that it was over, I had no interest in being contacted again, that our break up was final and I thought it was very sad that he had to hide my things to keep the relationship interesting. Since then, he called me more or less non stop but I haven't picked up and I won't.
I know, this isn't the most heroic or exciting ending, I could have confronted him with the video evidence but instead I cowardly broke up with a text message. However, I really didn't want to confront him and have a dramatic fight. I just wanted it to be over as soon and as smoothly as possible.
If there's anything I've learned from this, it's to not rush into a relationship. For the past 7 years, I've jumped from one LTR to the next and I think it's time to stay single for a while and concentrate on my college classes. For now, I'm going to stay at my brother's for two or three weeks and I should probably change my phone number. I'm sorry that I can't give you any insight on why he did it. It may have been cleptomania, a "prank" or messing with my stuff because something about me frustrated him. I will probably never know. In all the texts he's sent me it only says that he doesn't know what I'm talking about and he never took my things!
tl;dr: Nanny cam evidence shows that it was indeed my (ex)-boyfriend who took all my things and put them back later. I got him out of my apartment and broke up with him as soon as he was gone. I don't know why he did it but I'm pretty sure it has something to do with isolating me from friends and family and keeping me in "our" apartment and under his control.