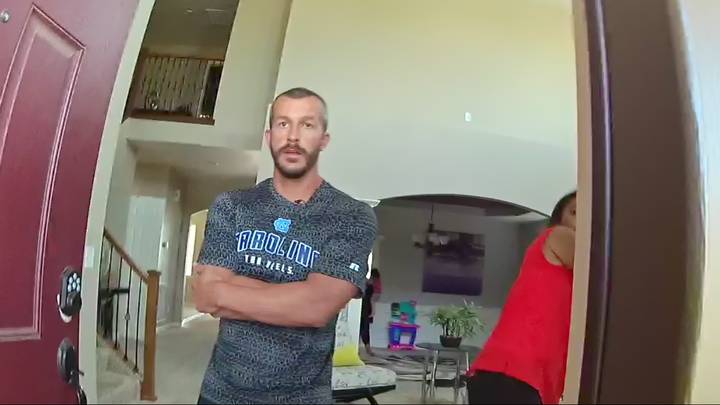 Yes. You read that correctly. Chris Watts who murdered his wife, Shannan Watts, their unborn baby, and their two little girls is apparently a ladies man in prison. Peopleis reporting that Watts has received letters from "dozens" of women looking to start a relationship with the confessed and convicted murderer:
"He got a lot of letters at first. Many of them are from women who thought he was handsome and felt compassion for him. He had nothing better to do, so he wrote them back. And he started having pen pals. A couple of them stood out, and they've kept in contact…they have compassion on him, despite what he did."
Some of the letters even include sexy photos.
Others claim that Watts is innocent:
"When I first saw your very first interview I was like OMG I have to get to know this guy". She says that in her heart she believes everything he says and finishes the letter with "#TEAMCHRIS #CHRISISINNOCENT #LOVEHIM #SOOOOOCUTE"."
Watts is serving five life sentences at Dodge Correctional Institution in Waupun, Wisconsin. He already confessed a detailed account of his crimes to one woman. Famously, Watts was having an affair with another woman when he decided to murder his wife and daughters, ostensibly so that he and his mistress could be together. People reports that he has a bible and photos of the family he murdered in his cell.
How can any woman (or human, for that matter) look past his gruesome crime and seek him out as even a correspondence partner? There are a few theories:
[*] Correspondence is generally allowed in prison because it is thought to help prisoners rehabilitate. Since Watts has explicitly been told he will never leave prison, the idea is probably more to avoid inhumane punishment than to rehabilitate him.
[*] One forensic psychologist cites several reasons women may be attracted to men behind bars:
"Some believe they can change a man as cruel and powerful as a serial killer.

Others 'see' the little boy that the killer once was and seek to nurture him.

A few hoped to share in the media spotlight or get a book or movie deal.

Then there's the notion of the "perfect boyfriend." She knows where he is at all times and she knows he's thinking about her. While she can claim that someone loves her, she does not have to endure the day-to-day issues involved in most relationships. There's no laundry to do, no cooking for him, and no accountability to him. She can keep the fantasy charged up for a long time."
[*] One author on the topic suggests women who love violent men are uncomfortable with their own desires to be violent and loving a prisoner who has been violent is their way of dealing with their feelings.
[*] Another expert thinks that evangelical women who write to prisoners are able to act out an emotional fantasy to escape their boring home lives.
[*] Another theory about why women fall in love with murderers is that "in a world where men's roles and value are diminishing, the serial killer triggers ancient instincts and represents a sort of heroically promethean being, the alpha caveman whose prowess at brutality demonstrates he'd be able to protect a woman and her offspring."
While these theories help explain the phenomena, they don't change the reality that it is deeply uncomfortable to see such a violent murderer sought out by women.