We are now in the era where more and more murders will be randomly captured on people's Ring doorbells or other random cameras. This was a significant aspect to the Shannan Watts case where her neighbor's camera probably caused her husband Chris Watts to confess. There are so many cameras around now that there is an entire series on Investigation Discovery, See No Evil, only about murder cases where video footage played an important role. There are seven seasons of this show.
Strangely, this abundance of video evidence doesn't always mean these cases will get solved.
Famously, medical student Brian Shaffer entered a bar surrounded by security cameras and simply disappeared. Though he should have been seen by one of the many cameras in the area, they never figured out how Brian left the bar and his disappearance remains unsolved 15 years later. Brave 14-year-old Libby German captured her murderer on her phone and even managed to upload a photo to Snapchat. Police have a person of interest in custody, but it's been four years since Libby and her friend Abby Williams were killed. In Texas, the 2016 murder of Missy Bevers horrified every who saw her killer calmly prepare for murder. Missy was due to arrive alone at a church early in the morning to set up for an aerobics class she taught. The church's security cameras caught her murderer walking around leisurely before Missy showed up in SWAT gear. Her murder is still unsolved.
Another Texas woman was gunned down in broad daylight and the entire exchange was caught by her neighbor's camera as well as the woman's own porch camera.
At 7am on the morning of January 25, 2019 Liz Barraza was setting up for a garage sale at her home. Her husband had just left for work ten minutes earlier. A dark Nissan Frontier pickup truck approached her house and stopped short of her driveway. A figure gets out, exchanges words with Liz, and then guns her down in broad daylight. After shooting her three times, the suspect stands over her and fires again before fleeing. Chillingly, the truck passes by the home again, likely trying to confirm that Liz was dead and would not be able to identify her killer.
Here's what it looked like from the neighbor's Ring camera:
Police have subsequently released the Barraza's own doorbell cam footage, which (warning) contains audio of the shooting as well as more footage of the black truck circling their home:
By all accounts Liz Barraza was a well-liked person in her community. She and her husband were part of a volunteer group that dressed up as Star Wars characters to spread cheer at children's hospitals. The couple had the garage sale to earn money for an upcoming trip to celebrate their 5th anniversary.
The suspect appears to many to be a woman. They are wearing boots and a nightgown or dress. Some people think it looks like the suspect is wearing a wig. Others have guessed they could be wearing a mask. Some people have tried to connect the weird looking outfit with the couple's Star Wars cosplay. Even though we can see the whole murder, we barely know anything.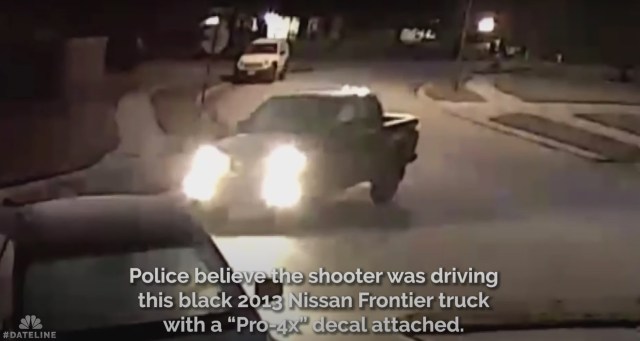 The case has been covered by Dateline:
It's hard to understand how multiple angles of camera footage of a murder can exist and the crime can remain unsolved. Granted, these certainly aren't HD and the best angles, but we can see the suspect's car pretty clearly. No one thought their friend or coworker who drives that truck was acting a little weird around the time of the murder? Really???
Despite all of this and a $20,000 reward, Liz Barraza's murder remains unsolved. One deputy involved says to the killer, wherever they are, "I hope you can't sleep at night."