Four years ago on February 13, 2017 two girls in the small town of Delphi, Indiana decided to spend their day off from school together hiking on a local trail. 13-year-old Abby Williams and 14-year-old Libby German got a ride from Libby's sister and started their hike at 1:35pm. At 2:07pm, Libby posted a photo of Abby crossing a trail bridge to her Snapchat account. At 3:15pm, the girls failed to meet Libby's father. At that same time another woman crossed the trail bridge and posted photos to Facebook. Libby and Abby were nowhere to be seen. At 5:30pm they were reported missing. On February 14th, the girls' bodies were found quite a distance down the hill from the trail.
The murders shocked the 3,000 residents of Delphi. Police released a photo and an audio recording of a man on the hiking trail they defined as a "person of interest". Later, they revealed the photo came from Libby German's phone. She had likely captured her killer moments before her death in order to aid police in bringing him to justice. From the beginning, it seemed like only a matter of time before the small community closed in on the killer, but two years went by and nothing seemed to happen. The case changed courses two years ago when police held a press conference about the case to announce a "new direction" the investigation was taking.
During the press conference police asked for the public's help identifying a car that was parked near the Hoosier Heartland Highway between 12-5pm on the day the girls' bodies were found. They then released video and additional audio recording of the suspect taken from Libby German's phone. The new audio recording add the word "guys" before "down the hill". Finally, police gave the public a sketch of the suspect they believe to be responsible for Libby and Abby's murders. They stated that they believe the suspect is familiar with Delphi, lives or works in the area, and is hiding in plain sight.
Here are the audio and video recordings Libby was able to make of her killer:
At the press conference, Indiana State Police Superintendent Doug Carter read a message for Abby and Libby's killer:
"We believe you are hiding in plain sight. For more than two years you never thought we would shift gears to a different investigative strategy, but we have. We likely have interviewed you, or someone close to you. We know that this is about power to you. And you want to know what we know. And one day, you will.

A question to you. What will those closest to you think of when they find out you brutally murdered two little girls? Two children. Only a coward would do such a thing. We are confident that you told someone what you have done, or at the very least, they know because of how different you are since the murders.

I believe you have just a little bit of a conscience left and I can assure you that how you left them in that woods is not what they are experiencing today."
Maybe I've read too many John Douglas books but to me that sounds like they know who the killer is and they're circling him like vultures waiting for him to mess up so they can get the evidence they need to convict him in a trial. It's not uncommon at all for a killer to tell people about his crimes. Many serial killers have been caught because they did just that. They can't help themselves. Some even give news interviews about how "horrified" they are by the crime they committed. They get to feel powerful for "duping" the public, so they take risks. Superintendent Carter even mentioned that the killer might be in the audience of the press conference. We can only hope it gets them caught.
BTW, the "mindhunter" himself (John Douglas) thinks it's interesting that in this newly released audio the killer refers to the girls as "guys". He says police need to look into people who lived or worked in Delphi who have since suddenly left the area.
Here is the most recent sketch police released that depicts the man in Libby's video that they believe to be responsible for Abby and Libby's murders. There was a previous sketch of another man. Police say they talked to that man and he is no longer a suspect. This is the most recent sketch that depicts the man in the video who is the primary suspect: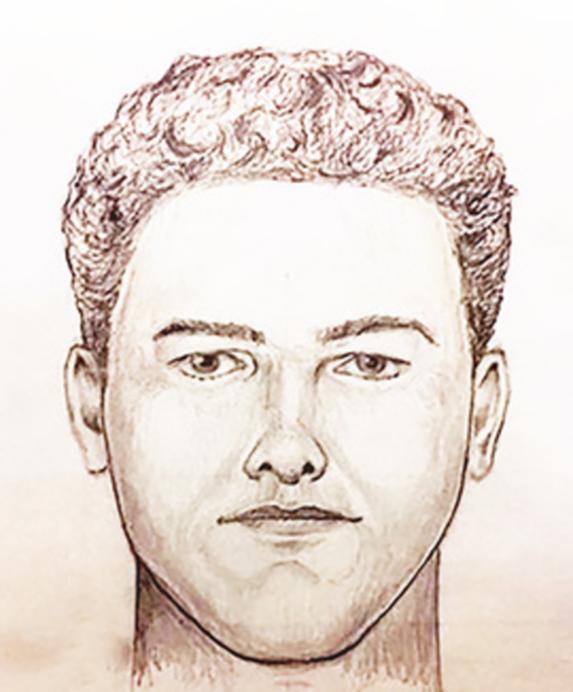 The details of how the girls were murdered was never released to the public but police have said it's "obvious" foul play was involved. Police have also not released how much video Libby shot, or whether there are other clues that haven't been released. They say they are doing this because this type of case attracts copycat killers and false confessions and they need confidential information to recognize the real suspect when they interview him.
If you're having trouble visualizing the trail bridge or what "down the hill" means, true crime YouTuber Gray Hughes made this 3D animation:
Superintendent Carter told the Williams and German families that when he takes his last breath on Earth, he will be thinking about Abby and Libby. Investigators continue to say they believe this case will eventually be closed, but little is told to the public about their progress. If you know anything about the man in the video/audio known as "bridge guy", please contact the Indiana State Police. You can send anonymous tips to them at abbyandlibbytip@cacoshrf.com.