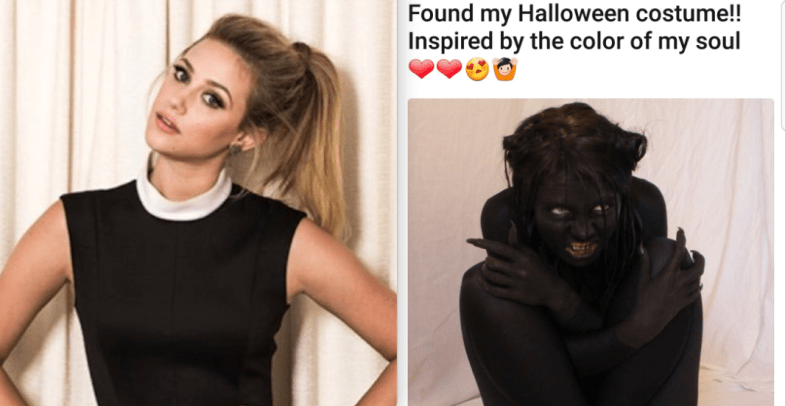 The Internet is torn about a new tweet from Riverdale actress Lili Reinhart. While some call it "racially insensitive", others are criticizing people for making it about race at all — and the whole thing brings into question what blackface really is in regards to Halloween.
The tweet, which she has since deleted, was that of a demon in all black clothes and black body paint. "Found my Halloween costume!!" the actress wrote. "Inspired by the color of my soul."
And, of course, because this is the Internet, chaos ensued. As people began tweeting at Reinhart for the offensive outfit, she deleted her tweet and apologized:
I did not mean for my tweet to come off that way. I can see how it was interpreted as being insensitive, completely. I saw the pic on a Halloween Instagram and didn't think it would be interpreted as being racially insensitive.

— Lili Reinhart (@lilireinhart) October 22, 2017
But still the conversation continues: should Lili Reinhart have had to apologize? Was her costume actually a portrayal of blackface?
Some people argued that yes, darkening her skin in any way was problematic.
For those curious. She was joking about doing blackface for Halloween. pic.twitter.com/silTFxCctE

— Perez (@ThePerezHilton) October 22, 2017
Regardless of intent, if people were offended they have the absolute right to speak up and say they find something offensive!

— nalbis (@nalbis_) October 22, 2017
https://twitter.com/LYDlAINSKI/status/922103744875114496
Others, on the other hand, saw nothing wrong with Reinhart's costume.
https://twitter.com/ravishhme/status/922053725597859841
It's a demon or a shadow or something. I don't condone people doing blackface, but this isn't blackface. This is a Halloween costume

— Brooklyn (@brooklyngrace23) October 22, 2017
https://twitter.com/ddadelijahh/status/922115791805444097
In fact, some people believed that calling it "blackface" was problematic to begin with, because what does that say about how we view POC?
https://twitter.com/AudnyHood/status/922785689342705664
https://twitter.com/BronzedBeauT/status/922161431289696257
🤔 that was a demon not blackface. Race did not come to my mind at all. We need to think critically about #racism Your makeup WASN'T racial

— Glen Guyton 🎤✍🏽 💡 (@GlenGuyton) October 23, 2017
I'm sure this is going to be a pretty big topic this October. While costumes that appropriate culture have been a hot topic debate the past few years, what does and does not count as blackface is sure to be one of the conversations going on this year. What do you think?