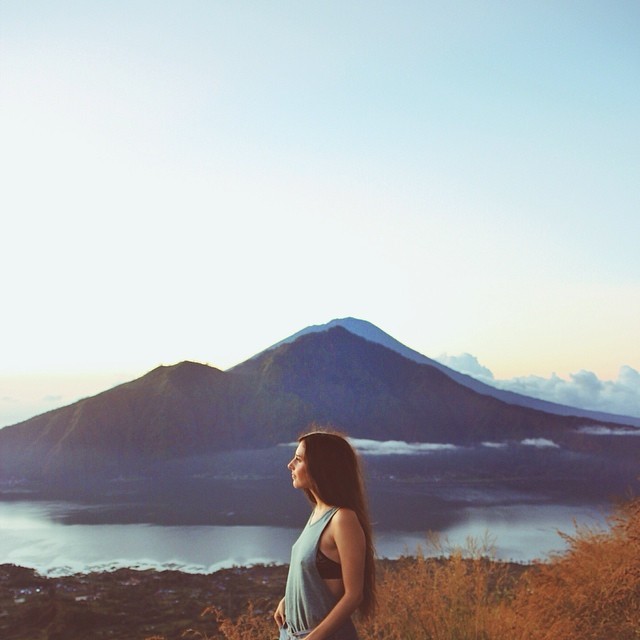 As Indonesia woke up around me, I slowly caught my footing atop one of its largest mountains. It was 6am, and I had started the trek when the sky was still stained indigo, climbing throughout the night to reach the summit as the sun enveloped the atmosphere and kissed every living thing with light. I looked at my feet, my hands, my legs with the largest grin on my face. I looked at my best friend, I looked at the sheer happiness that had overcome her. I looked inside. I could barely contain my joy, I could barely believe where I was. Everything went still, as if the world were a tunnel highlighting the ways in which the clouds danced with the horizon. "How did I get here?" I asked in wonder.
The reality is, I never would have experienced that moment if I had listened to myself. If I had, three months earlier, told myself to be realistic, to wait for the perfect time to travel or to do the things that I had spoken about for so long. Thinking back, I had been writing about that moment ever since I knew beauty like that existed. I had penned list after list, etched dream after dream within the manila confines of a shiny notebook, and for a very long time that act was enough.
Bucket lists allow for dreamers to dream. They allow for us to hash out our thoughts and what our hearts desire, what our bones want to feel, and in a way that is necessary. We should always be reminding ourselves of what we want to accomplish, what we want our eyes to see. However, in a way the very act of writing down such things, the very act of putting an idea out there, is what ends up fulfilling us in a moment. When we write bucket lists we live in a world of "I will…one day" rather than "I will, today."
Strive to make things happen. Strive to dream large dreams and act on them in large ways. If you want to run a marathon, instead of proclaiming that ambition, force yourself to sign up for one ten months down the road. In that moment will you be ready, trained and equipped to finish the race in record time? No. Not at all. You will, however, be accountable – to a date, to a goal, to a dream, because you took a leap of faith and acted in a tangible way. You added breadth to your vision, you manifested it in a physical manner, and that will in turn motivate you to work towards it.
I promise you that there will never be a perfect time to do anything in life. There is never a perfect time to fall in love, or to travel the world. You will never have enough training, enough preparation, or enough money. Waiting to feel fully and abundantly ready is a way in which we cheat ourselves out of amazing life experiences. Book that plane ticket, even if you only have enough for the fare. Sign up for that business course, even if you have no idea how it will end. Trust me when I say that it will all come together. When you meet your dreams with intention, when you meet them with physical dedication, irrespective of how prepared you feel, you invest your trust in them. You make them a priority instead of a line on a list. Your dreams are not inkblots, they are meant to be experiences. Make them happen, fight for them, and you will see how your life turns into a living, breathing manifestation of everything you could have imagined.