Co-written with Nico Lang
1. Giovanni's Room by James Baldwin (Zach's Pick)
This was James Baldwin's second novel, and probably one of his most well known pieces of works. Giovanni's Room tells the story of a man who moves to Paris and his relationship with another man named Giovanni. This book is so important because it was one of the first to really show the complicated ways in which gay men had to manage their identity, self and place in a world that didn't want them do exist. This story takes place in Paris, but one doesn't have to have been to Paris to feel a connection to Giovanni, his bedroom, and all that happens to the protagonists, David.
While not one of Vidal's "best" works (to me, he's an essayist first and a novelist second), The Pillar and the City is a must-read because of its place in the queer canon as one of the first recognized and reviewed gay novels. It's an incredibly dark and misanthropic work and a bitter pill to swallow, harrowingly depicting the costs of trying to live openly in the 1950's. The Pillar and the City is dripping with loneliness, depression and social isolation, and if it's ending is more shocking today, it's nothing if not brutally honest. That exact sexual frankness would become a hallmark of his later writing, when he came into his own as a storyteller with works like Lincoln and Myra Breckenridge, which is one of the strangest and most indelible novels of its decade.
3. A Single Man by Christopher Isherwood (Zach)
A Single Man came back to popularity in 2009 when famed designer Tom Ford made it into a film that is nothing short of beautiful. The book is a day in the life of George Falconer who is going through what some may deem an "existential" crisis after suddenly losing his partner in a tragic accident. The book is most importantly about staying alive when the thing you love most is gone, which makes this story so beautiful both on screen and in print.
See Also: Berlin Stories, which was later adapted into the musical Cabaret.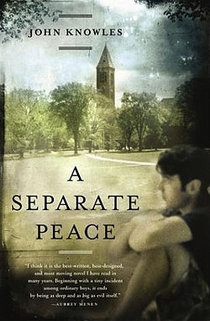 The fact that A Separate Peace continually gets taught in high school English courses baffles in the best possible way, as Knowles' best-known work is one of the most homoerotic bildungsromans ever written. A Separate Peace is an almost-love story between Gene and Finny, two students at Devon Academy who are torn between friendship and rivalry. Like Catcher in the Rye and the later Perks of Being a Wallflower, the novel perfectly captures the complicated longings of adulthood, when you're beginning to feel things you don't understand yet.
This is probably one of Ellis' most famous works, especially for millennials. The novel is about a group of over-privileged liberal arts college students who like to have sex, do drugs, and get into some interesting situations. The one character many gay men find themselve connecting with is bisexual Paul Denton, who is in love with Sean Bateman, the drug dealer of the story. Their relationship is pretty ambiguous the whole story and Ellis leaves it open to one's own interpretation, but I think that is what has so many gay readers loving Paul. I think we've all had that sexually ambiguous relationship with a straight guy, right?
Extra credit: Also read Glamorama and Less Than Zero or Donna Tartt's The Secret History, also of the Brat Pack literary era and criminally overlooked in the queer canon.
All of Thomas Mann's works are strange and somewhat maddening, but Death in Venice weaves a particular spell as a tale of obsession, an elderly author's craving for a youth, beauty and the unattainable. Although it's easy to read Mann's work as strictly dealing with pederast desires, Death in Venice leaves it's protagonist's motives open to question. Does Aschenbach wish to possess with boy or what he represents? Would he ever really speak to him if he had the chance? Through our own voyeurism, we are implicated in the novel's mysteries and Mann leaves us with no easy answers.
Extra Credit: Read Truman Capote's Breakfast at Tiffany's, which likewise features a sexually ambiguous protagonist. They claimed he was in love with Holly in the movie (when he got named Paul Varjak), but queer readers know: The Narrator Without a Name was totally on our team.
The book is written in a series of letters from Charlie the main character that give it a sense of intimacy. Charlie, as you can probably tell from the title, is a loner and wallflower. Many gay men connect with Charlie within his sense of isolation in the story and other experiences that you will have to read to find out. There is a gay character who acts as one of Charlie's closest friends So, that aids in the 'gayness' of the book. Also, Emma Watson is a main character, in the movie adaptation, which just makes it awesome.
It's not Sylvia Plath or anything, but I read Leroy Aarons' Prayers for Bobby when I was sixteen on a car ride to Toronto with my parents, and I found it an important step in coming to terms with my own relationship with my mother. At a time when I needed the words to start the conversation, this showed me how. The novel details a mother's struggle to deal with her gay son's suicide, as she wasn't supportive of his coming out while he was alive, and how the post-mortem lessons changed her. For a movement that often makes the message the too-simple "It Gets Better" mantra, this shows us how. Through loss and hardship, we can share our stories and affect change for others.
Oscar Wilde is one of the quintessential gay authors in history. His flamboyant lifestyle and tragic death have made him iconic beyond the impressive canon of work he created. The Picture of Dorian Gray is a story that makes one wonder: What would you do to be beautiful forever? Vanity and beauty are two things that many gay men struggle with their entire lives due to living in a gay culture in which how good one looks supersedes most other aspects in regards to social capital and success. This book attracts gay readers all over the world because Dorian, who is not gay, is dealing with an issue that eclipses many gay lives.
Extra Credit: Check out Brideshead Revisited, Evelyn Waugh's most celebrated novel and an early work in the queer canon, and the collected works of Patricia Highsmith, all of which were really, really gay.
Yes, I know this is a lesbian book, but too often the gay community self-segregates and the lack of knowledge about other segments of the community is an ongoing problem. We can start when we learn about each other's histories, and Rubyfruit Jungle is an incendiary glimpse into lesbian coming-of-age in the 1970s. For those interested in the history of New York, Brown's prose is a telling look at the concrete jungle fantasy of the 1970s, and the ways in which the reality of New York clashed with it's status as a queer oasis.
Extra Credit: Check out queer works by Alice Walker (The Color Purple) and Maya Angelou (I Know Why the Caged Bird Sings). Any guy who has read Maya Angelou is instantly twenty times hotter. It's science.
Running With Scissors is the memoir of Augusten Burroughs, which focuses primarily on his adolescents. It tells the story of how Burroughs went from living in a "normal" family home, to experiencing his parents divorce, his mother deciding to explore her sexuality, and him ending up living with his psychiatrist, Dr. Finch, and his wacky family. If you thought you had an interesting childhood, Burroughs will give you a run for your money. Burroughs over the years has become one of the most widely read contemporary gay writers, and this book is evidence to why that is.
See Also: Burroughs' follow-up, Dry, about his history of substance abuse.
For fans of recent documentaries like We Were Here and How To Survive a Plague, this National Book Award-nominated bestseller was a surprise hit in the 1980s stands up well the best works of Tom Wolfe, Hunter S. Thompson and George Plimpton, great journalists and chroniclers of the era who put you into the heart of the action. And The Band Played On, like the later Devil in the White City, reads like a historical thriller, one more poignant because it's real. In looking at the bureaucratic and governmental mismanagement of the crisis, Shilts' work was an important wake up call and an issue that many had heard about and few truly understood.
See also: Armistead Maupin's Tales of the City, a very different look at life in San Francisco throughout the 70s and 80s.
If you love film then you will love this book. Russo's groundbreaking book shows how LGBTQ people have been erased from films starting in the 1920's, played the 'sissy,' been the predator, and everything in between. The Celluloid Closet showed the world when it was published in the 1980's just how film helped in the oppression of a community fighting for their rights. This book is a must read for any LGBTQ person interested in representation of sexual minorities in film.
14. Just Kids by Patti Smith (Nico)
Just Kids is a masterpiece, perfect in just about every way a book can be. The "godmother of punk" proves herself to be equally impressive with a pen, and on top of being one of the best autobiographies and books about music ever written, it's a heartwrenching romance. Smith dishes on her on-and-off relationship with queer artist Robert Mapplethorpe, who later died of AIDS. As we see Mapplethorpe battle disease and addiction, we are forced to ask what it really means to love someone and what we have to give of ourselves in the process. Also, Just Kids is a must-read for struggling artists who want to a little less alone in their starvation.
See Also: The poetry of Arthur Rimbaud, one of Smith's (and Bob Dylan's) key queer inspirations.
If you have a list of "Books for Gay Men" then a book that shows the struggles the LGBTQ community faced in the midst of the AIDS epidemic is needed, and this play is even more needed. Wait, I know what you just thought: Wasn't this a list of books? Yes, it is. And yes, Kushner's play will stay on this list. This play is widely read in bookclubs and classroom across the world, and the HBO mini-series rivals the amazingness of this text.
Just read this. Please?
16. On the Road by Jack Kerouac (Nico)
If you've read this book, you're probably like, "Wait, there aren't any gay characters? Why is this on the list? What about [insert novel by other writer]?" While a great book by itself and inimitable feat of stream-of-consciousness, the story behind it is just as fascinating, pulling back the queer curtain over the Beat Generation scene. Although folks like Allen Ginsberg and William S. Burroughs were more open about their same-sex relations (I mean, have you fucking read "Howl?"), Kerouac's was all subtext, the parenthetical secrets of a conflicted bisexual (who intermittently slept with Gore Vidal).
That's right, 10th Grade English students: Sal and Dean were totally doing it in real life.
On any gay books list there needs to be a little queer theory. Jose Munoz is one of the most prominent queer theorist in the world. His newest work, Cruising Utopia, is a perfect example of Munoz's intertwining high-theory with performance to support a queer theoretical framework. This book is a little dense, and if you've never read any theory before you may want to pace yourself with this one. But if you know what 'anti-social theory' means or care about 'queer-world making', or queer spatiality, then this book is something you should cozy up to.
See Also: Queer theory mavens like Judith Butler and Jeanette Winterson.
18. Barrel Fever by David Sedaris (Nico)
You could literally put any of Sedaris' novels on this list and I'd be cool with it. Except for that one about squirrels, the man is flawless, and Dress Your Family in Corduroy and Denim, Me Talk Pretty One Day, Let's Explore Diabetes with Owls and When You're Engulfed in Flames are so hilarious they should come with a warning label. However, special love will be thrown to Barrel Fever, his least-recognized collection and Sedaris' first. One of the refreshing things about the work is that it's one of the few times that Sedaris doesn't just write from his own perspective. "Season's Greetings to Our Friends and Family!!!" is a particular standout, the story of a family who adopts a 22-year-old immigrant prostitute from Vietnam. It's a brilliant satire of American greeting card narcissism, one of the hallmarks of Sedaris' work.
For anyone who hasn't read everything he's ever written, I don't know what you're doing with yourself. Look at your life, look at your choices.
Leslie Feinberg is a well-known transgender activist whose book, Stone Butch Blues, is considered one of the iconic texts that thoroughly discusses the butch-femme culture in the 1960's before Stonewall. If you ever take an LGBT Literature class you can expect this to be on the list. Currently, Leslie Feinberg is battling some major health problems that are interrupting the 20th anniversary edition of Stone Butch Blues to be re-released in a free edition online this year. You can stay up-to-date on Feinberg's health status and the re-release of the book on their Tumblr.
See also: Anything by Kate Bornstein, whose 2012 memoir, A Queer and Pleasant Danger, is on shelves now.
You probably aren't to read the whole thing, Proust's seven volume series on involuntary memory and the gentle passing of time. It's 4215 pages, and I'm not even close to getting through the whole thing. Pull an Infinite Jest, and just lie and say you've read it until you finally finish, twenty million years later. Fake it 'til you make it.
Extra Credit: If you haven't died, make your way through Michael Cunningham's books. It's impossible to recommend just one, but A Home at the End of the World, Specimen Days and The Hours are all stand outs. Michael Cunningham, marry me. Seriously.
21. Recommend your own books.
What queer books have spoken to you? Are you way into Jean Genet? Or are you more of a Marquis de Sade kind of girl? Upset that Boy Culture wasn't on the list? Do you have an unrelated hummus recipe to recommend, apropos of nothing? Sound off in the comments.