Sephora is my promised land. I probably spend way too much money there (what up, VIB status), but ya know, some people buy hard drugs, I buy a shit ton of eyeshadow. So it's probably fine. 
ANYWAY.
I felt like doing my makeup all fun today so I thought I would document it here, using what I consider to be must-have products from Sephora. So without further ado, here is a before of my bare naked face (be nice, people):
Today, I'll be primarily focusing on doing a #dramatic eye look using Urban Decay's Naked Heat palette (yes, it's totally worth the hype), glow-y skin using Too Faced's Born This Way line, and finishing up with a peachy lip using products from Fenty to balance it all out.
So let's get started, shall we?
PREP:
Skincare is the first step to flawless makeup application. A freshly washed and moisturized face will hold onto products much better and you'll find that makeup applies much more evenly.
I start off with washing my face with Purity by Philosophy, an incredibly gentle but thorough cleanser that will leave your skin feeling clean but not at all tight. (Little known fact: Purity can also double up as an incredible cleanser for your makeup brushes, which you should be washing at least twice a month to remove buildup and bacteria, FYI!!!) I recommend Purity because it's great for all skin types. It's gentle so it won't break out oily/sensitive skinned guys and gals, and it has conditioning properties so it won't leave drier skinned people feeling stripped. It's literally the perfect cleanser.
Next, I follow up with a good moisturizer to hydrate my skin. Lately, I've been using Kate Somerville's oil-free version, since my skin falls more on the oily side. (AN ASIDE: OILY SKIN PEEPS, YOU STILL NEED TO MOISTURIZE, K??? K.) Kate Somerville carries a slew of other great moisturizers, so you're guaranteed to find something that works for your skin type and concerns. Sephora also has an entire skincare arsenal that its experts can help you navigate so you're guaranteed to find the product that will work best for you. They have this sick Skincare IQ booth in stores, too, where you can fill in your skin type, concerns, and price points.
Finally, I finish up with an eye cream to keep my delicate eye area hydrated. I use Tarte's Maracuja C-Brighter Eye Treatment. It's incredibly moisturizing, which is great, especially during these harsh winter months.
EYES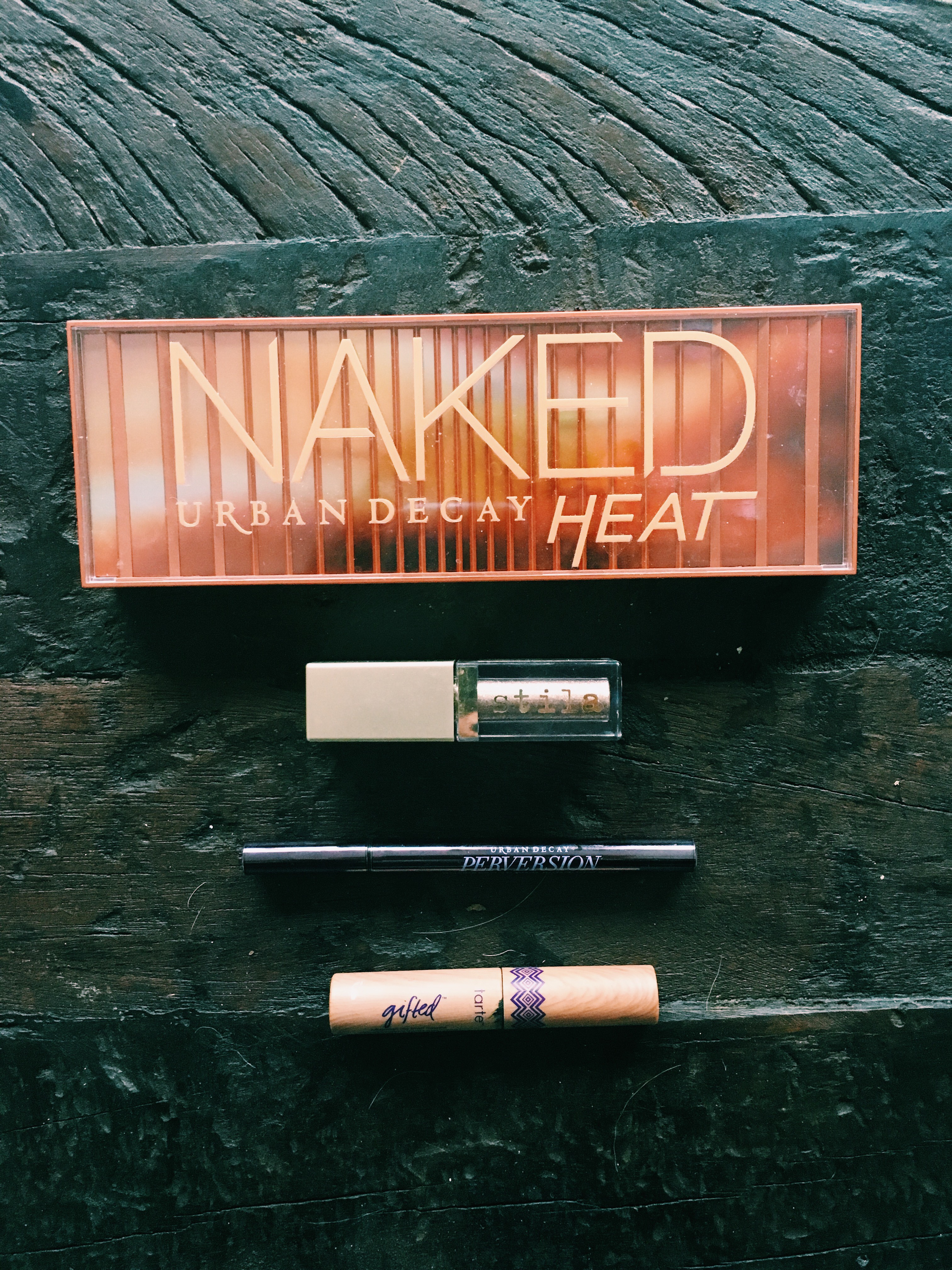 I start off with eyes as opposed to my face so I can clear up any fallout and not ruin any foundation/concealer. Also, I'm lazy! The products I'm using for this are:
Which leads us to our first step: primer. I highly recommend not skipping this step because it really does make your eyeshadow last a whole hell of a lot longer and makes application much easier. You can also use a concealer as a base.
Next, eyeshadow! With a fluffy blending brush, apply the colors "Chaser" and "Sauced" throughout the crease, using windshield wiper motions. This will act as your transition shade. After that, start to gradually apply "Scorched," concentrating on the outer corner. Finally, in the outer V using the color "Ember," start building up the color to darken and smolder out the look. Once you're satisfied with the intensity, take a clean blending brush with a bit of the color "Ounce" and begin to soften any harsh lines to make the look more cohesive.
Now, THIS is the fun part: the glitter eyeshadow. I loveeeee this newer product line from Stila. It really does take your look to next level. Simply apply the color all over your lid. (Pro tip: keep your eyes closed for a few, as you don't want the glitter to transfer to your brow bone!)
Finally, finish up the look with winged liner and mascara. To get your wing just perfect, start drawing your line as an extension of your lower lash line. This will give you the best angle for your eye.
(Use a makeup wipe to clear up any fallout that may have occurred while creating this *~smokey lewk~*)
Face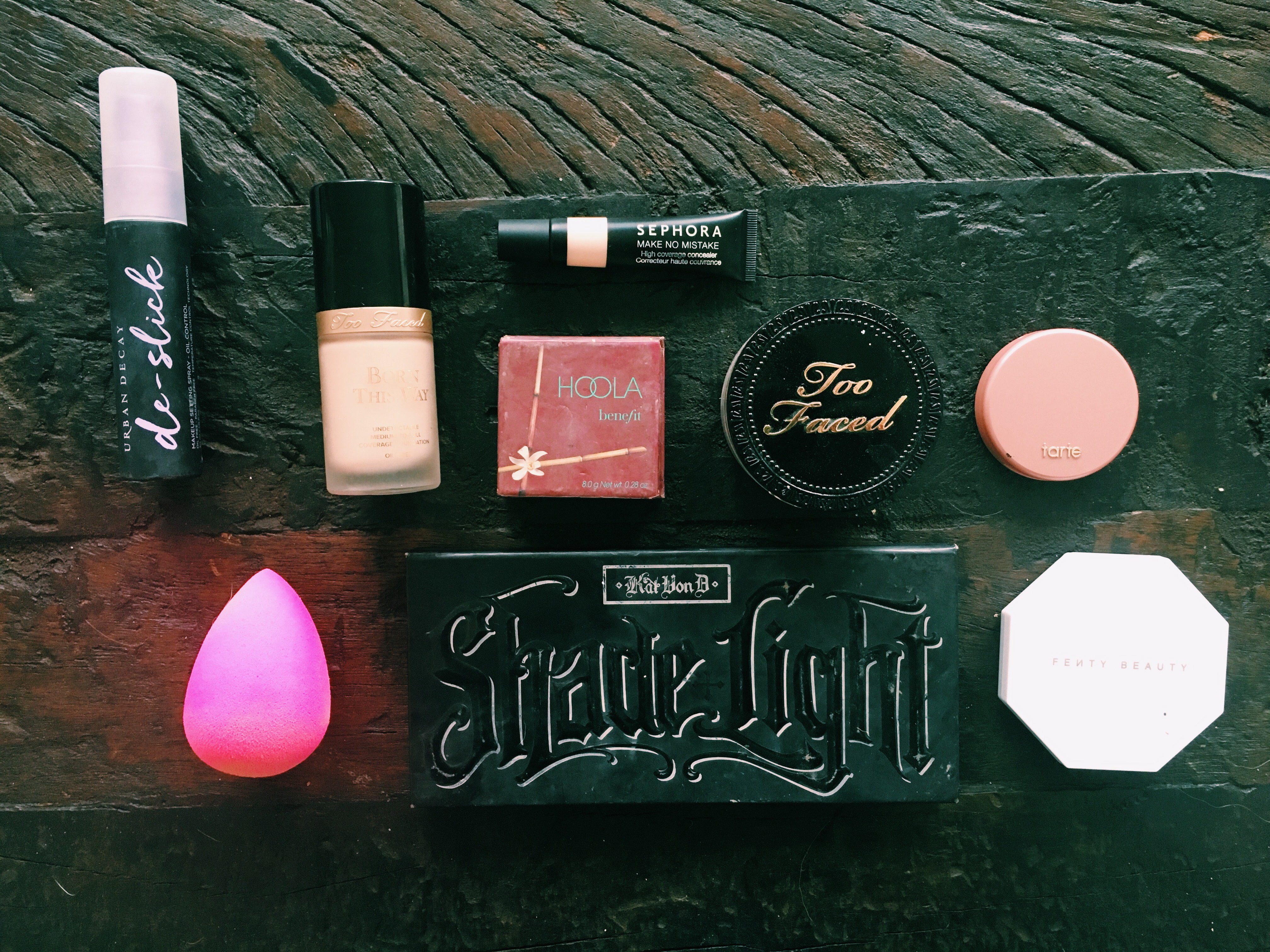 Now time for the face. The must-have products I'll be using from Sephora are as follows:
First, wet your beauty blender. This little sponge is amazing to blending out foundation seamlessly. It's also awesome for concealers and other cream products.
Next, use a pump and a half of the Too Faced Born This Way foundation. I say only a pump and a half because you want to build foundation gradually to avoid looking cakey. Easier to add more than it is to take away!
Now it's time for concealer. Spot correct any dark spots/blemishes and apply underneath your eyes to get rid of any discoloration beneath the eyes.
Next bronze up your face a little using Benefit's Hoola to look less pale and set your makeup with the Too Faced Born This Way powder. This will make your skin look blurred and better than it actually is! Love this stuff.
Add blush, highlight, and LIGHT contour. Since the eye look is so dramatic, you don't want to go overboard with that Kim K contour look. Just a little bit in the contours o the face using the Kat Von D palette, blush to the apples using the Tarte blush, and highlight with the Killawat duo.
Finally, set your makeup with a setting spray. I love Urban Decay's Deslick. They have a few other varieties too so you can find one that works best for your skin type.
Lips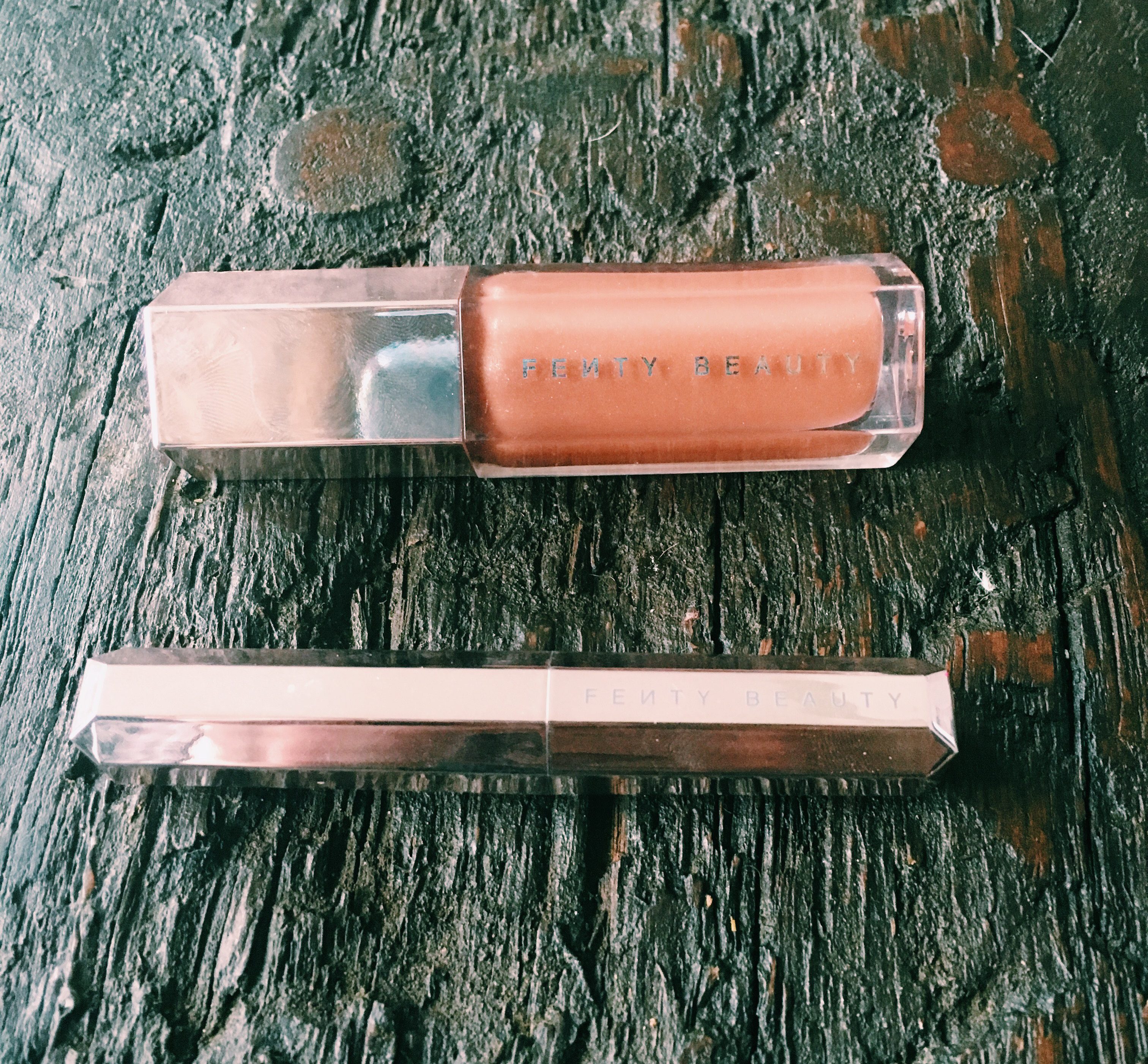 Finally, swipe on the Fenty Mattemoiselle Plush Matte Lipstick in "S1NGLE." Top off with the Fenty Gloss Bomb Universal Lip Luminzer and you're ready!
Final Look: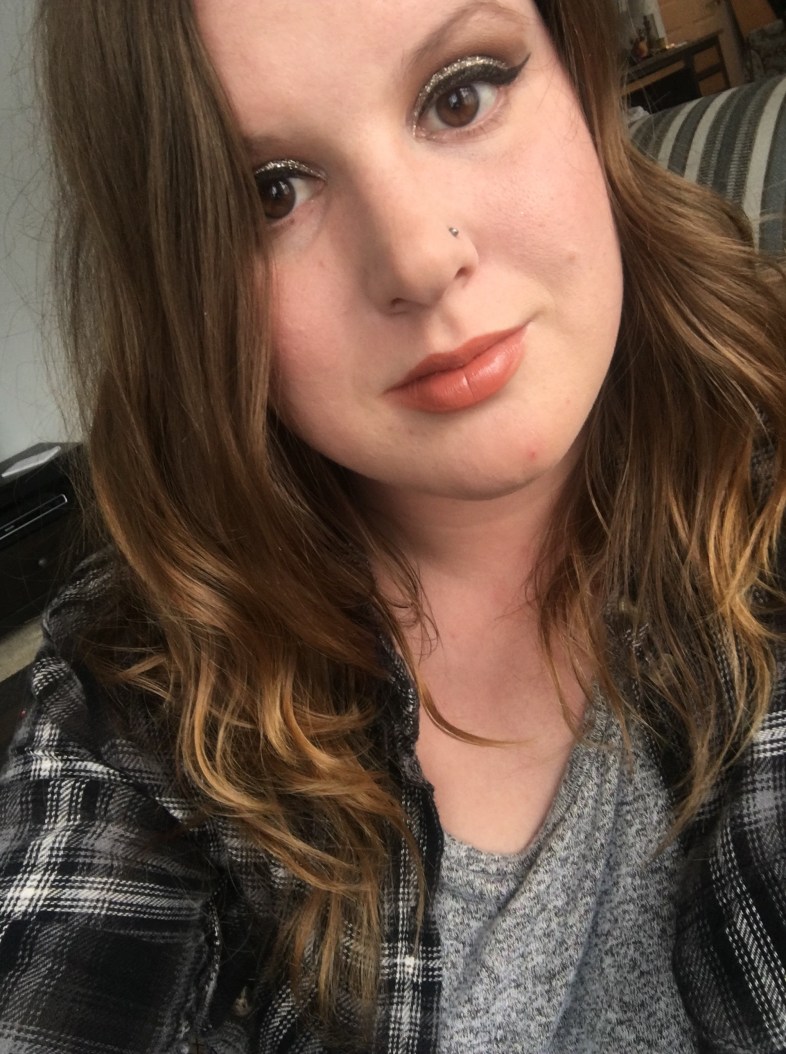 Not too complicated, not too many colors. Super quick, dramatic look perfect for a Friday night out! Or, if you're me, to wear alone in your house on a Tuesday. Whatever floats your boat.