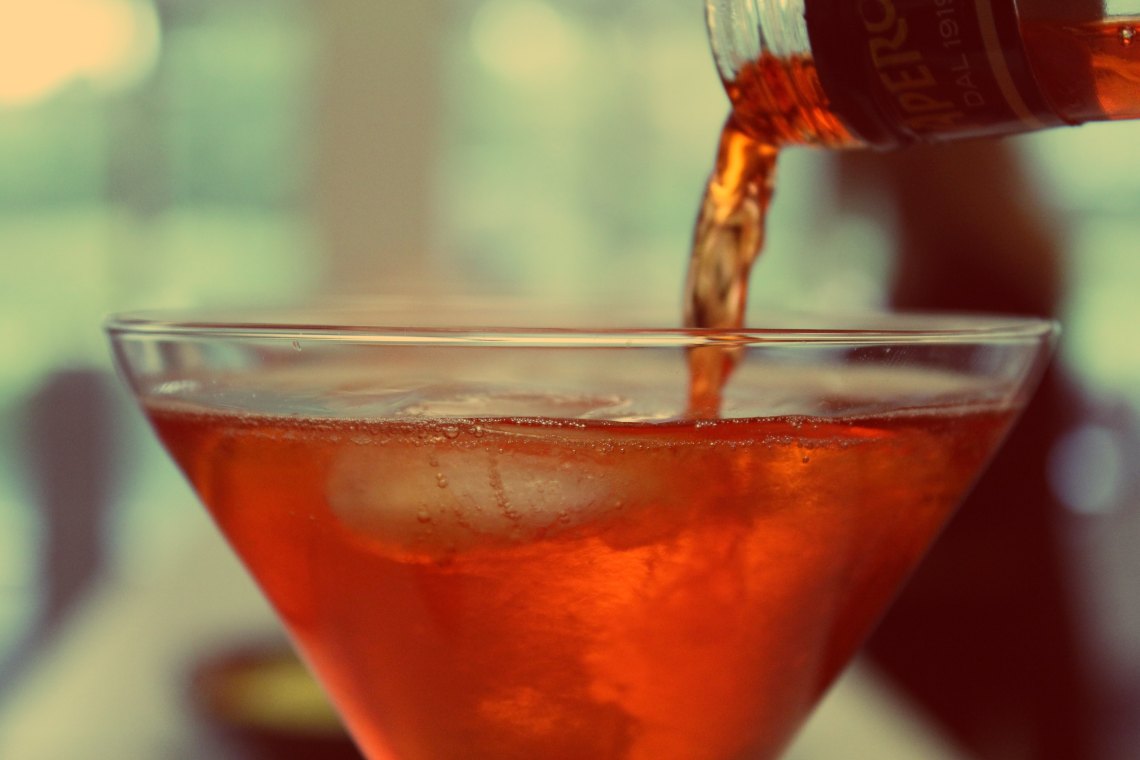 Throughout high school, college and for close to a decade after, drinking with my buddies was "standard operating procedure". It was what we did. Whether at a bar, a party, a BBQ, or just sitting around, odds were high that alcohol was present, and more often than not, center stage.
It was not the standard "I am never going to drink again" hangover that began my slow decline in becoming a non-drinker. It was more of a mix of not enjoying it as much, and more importantly, feeling terrible while I was drinking. Somewhere along the line, even with just a beer or a glass of wine, I started to get instant headaches and it took me about a year or so to accept the fact that alcohol and I no longer mixed.
I knew I would feel better from not drinking, I just underestimated the extent. Almost instantaneously the anxiety that I had battled during the decade prior dissipated significantly and once I got out of my own head and other good things started to happen, it made the decision to cut it out for good an easy one.
My intention for this post is not to serve as a public service announcement. If I have learned anything in my 38 years it is that everyone has to figure out their own way. I just wanted to share my experiences of what my life has been like over the last five years of not drinking.
1. MY BAD DECISIONS TODAY PALE IN COMPARISON TO MY BAD DECISIONS WITH A SIDE OF BOOZE:
I have made my fair share of bad decisions, and I still do, they are just a fraction of what they used to be. Most of my bad decisions took place after midnight and since now I am an hour or two into sleep at that time the odds have been cut considerably. If you need clarification of what a bad decision is, as a general rule anything that involves taking out money (or your phone) after 12am is potentially a bad decision.
2. I PLAY EVERY DAY.
The anxiety that accompanied my hangovers was much more damaging to me than the standard headache and lasted days after my last drink. I am nervous by nature, but now if I feel anxious I go for a run, try and sweat it out or simply lay in the grass and play with my son and the effects are amazing.
3. I AM MUCH MORE PRODUCTIVE.
Kind of a no-brainer, but waking seven days a week with a clear head and immediately thinking about what I am going to do that day, and having the energy to do it, is a game changer compared to laying around with that sinking feeling of "what did I do last night". Since I have eliminated my biggest detractor, now when I set goals, I actually see them through or at least try my best.
4. I HAVE LESS CONTACTS, BUT MORE CLOSE FRIENDS.
Drinking did make it easier to meet new people, I am not going to pretend that it didn't. But out of the people I met while drinking I can count on one hand who I still have a good relationship with. It may happen less than it used to, for the simple fact that I do not go out as much, but when I make a connection with someone now, the relationship lasts.
5. I AM IN CONTROL OF MY MONEY.
I did not have a "turn off" switch when I went out in just about every aspect imaginable. Even the nights I tried to keep it tame I would blow through money. Since I have stopped drinking I do not have to worry about making it to the end of the month and never ask myself "where did all that money go?"
6. MY WORK HAS MUCH MORE PURPOSE.
I have been straight commission, free-lance or a small business owner all of my life. Combine this with a drinking problem and I was always chasing money and not purpose. Not too long ago I used to believe that doing work with "meaning" was reserved only for the "lucky." Now I know that this is not the case, it just demands clarity, and for me, booze made that impossible.
7. I LIKE TO THINK I LOOK BETTER, IN FACT I KNOW I LOOK BETTER.
Around the time I really started to cut back on booze I lost 50 pounds. It was not just the calories from the booze, but fast food became less and less appealing and I rarely felt the need to eat anything after dinner. Because I had more energy I also started to rely on my own two feet for transportation, and to this day I still walk just about everywhere I go. Put these things together and I smile more and no longer mope around with a painful look on my face, like I used to when I was suffering from a rough one.
8. EXERCISE IS MUCH EASIER.
I am not going to pretend that everyday I jump out of bed and feel a burning desire to go for a run or hit the gym, but since I am not fighting a thick head, most days I do just that. I never considered myself a runner, but about a year ago I decided to run home after walking my son to school and I have not stopped since. Combine the weight loss and more energy, and the dominos just naturally started to fall.
9. I AM MORE CREATIVE.
It took me a while to get over the feeling of boredom that I experienced when I eliminated the only consistent hobby I had for close to a decade, but shortly thereafter I started reading, writing and learning again. I used to write when I was a kid. When I started drinking on a regular basis, that stopped. Over that decade I did nothing on a regular basis but drink, and if writing has taught me anything, it is that you have to stick with it, every single day for the creativity to come.
10. I SLEEP MUCH BETTER.
Some people claim that they do not need a good night sleep to perform well. I usually reply to that statement with, "if you perform well without it, imagine what you could accomplish with it?". I am not an expert on the subject, but I feel better when I have a consistent sleep schedule. Lucky for me I have a constant reminder to reinforce this importance. All I have to do is observe what happens to my two-year old when he does not have his bedtime and morning routine. Straight-up chaos.
Never in a million years would I have thought that one day I would call myself a "non-drinker". I do not regret my drinking days at all. I had some pretty incredible times with some equally incredible people. The time just came for me where the benefits of not drinking, heavily outweighed the positive, and the little eyes looking up at me have made it easy for it to stay that way.