Dairy takes center stage at restaurant Marc Forgione
"What's more farm-to-table than dairy?" Forgione asks rhetorically, seated on a stool at his restaurant, a space that seats 60 and is peppered with custom glass lanterns and various heirlooms and mementos.    
"My cooks make fun of me because after tasting something, I always say, 'This would be better with a little parmesan cheese.'"
Dairy plays a very important role in Forgione's cuisine. When you're as committed to seasonality as he is, the menu tends to change frequently. But a few staple dishes starring dairy remain on the menu year-round, including the barbecue oysters, chili lobster with toast, and chicken in a butter-based sauce. Plus, there's always "milk and cookies" (the milk is actually melted ice cream) for dessert at restaurant Marc Forgione.  
In creating a new dish, Forgione says that there needs to be an element that takes it to the next level—something that makes it that much more memorable to customers. Often, it's that special addition of cheese or a dollop of cream that makes all the difference. For instance, just the right amount of parmesan atop a creamy bowl of risotto.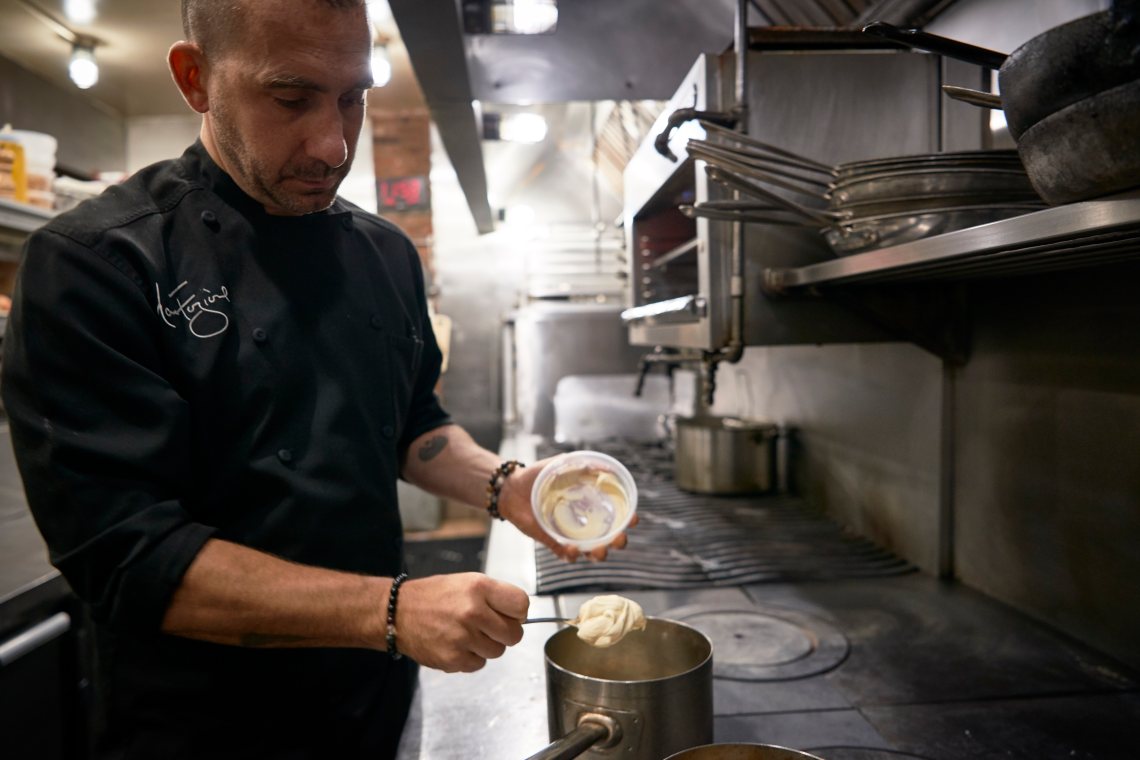 Building true friendships with farmers
Forgione refers to the farmers he relies on as "friends" rather than purveyors. Nate Chittenden, whom Forgione recently visited personally, is a dairy farmer he works with closely.
"There's something to be said about visiting the farms yourself," says Forgione. As the owner of a restaurant that relies on direct access to fresh, seasonal ingredients, he believes it's critical to get out to nearby farms and build relationships with the people who run them, like Nate. But he also knows that it's not possible for everyone to do this regularly.
Forgione sees it as his duty to convey to people who can't visit farms themselves just how well run places like Nate's dairy farm are. "Especially after visiting Nate on the farm, I was excited to see how organized the operation is, and how well the animals are cared for."
At the end of the day, if you take farming out of the equation, it's incredibly difficult to run a restaurant or to be a chef or to find food to eat, notes Forgione. "From the day that humans figured out how to cultivate products like dairy, there have been farmers. It's a time-honored trade for a reason."
Chef Forgione's history with farm-to-table dining
Before the days of farmers' markets, there were a handful of chefs intent on feeding their customers fresh food who had to figure out how to convince local farmers to sell them dairy and produce directly. One of these pioneers of farm-to-table dining, Larry Forgione, was Marc's father. So the importance of using responsibly produced, local ingredients was instilled in Marc early on, when he was just a teenager learning a trade firsthand in his dad's kitchen.   
Cut to present day, when serving farm-to-table dishes remains a high priority for Marc Forgione. The process is just made somewhat easier, thanks to the prevalence of farmers' markets throughout New York City. But the message at the core of the farm-to-table movement is the same: There's value in forging relationships with farmers, and in serving locally driven cuisine.
"I still get excited by the whole process," says Marc as he discusses what farm-to-table dining means to him. Visiting a farm to select ingredients and then crafting something new and watching people react to it continues to give him a thrill. "My motivation for innovation is that natural feeling of wanting to make people happy by serving them delicious, nutrient rich food."
To see more inspiring stories from the people who are connecting you with the dairy on your plate, head to undeniably dairy.org/devoted.