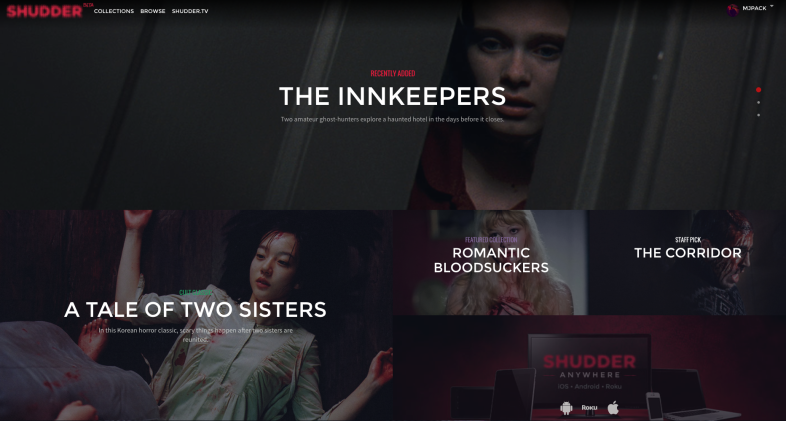 Today is a wonderful day. Why? Is it my birthday? Is it Halloween? Is it that time I found a purse that looked exactly like the Kate Spade bag I'd been coveting for only $20?
No. Today is a wonderful day because I finally got my beta invitation to Shudder, the all-horror streaming service. I can't even tell you the noise that came out of me when I heard the little "ping" of a new email and opened it to find this: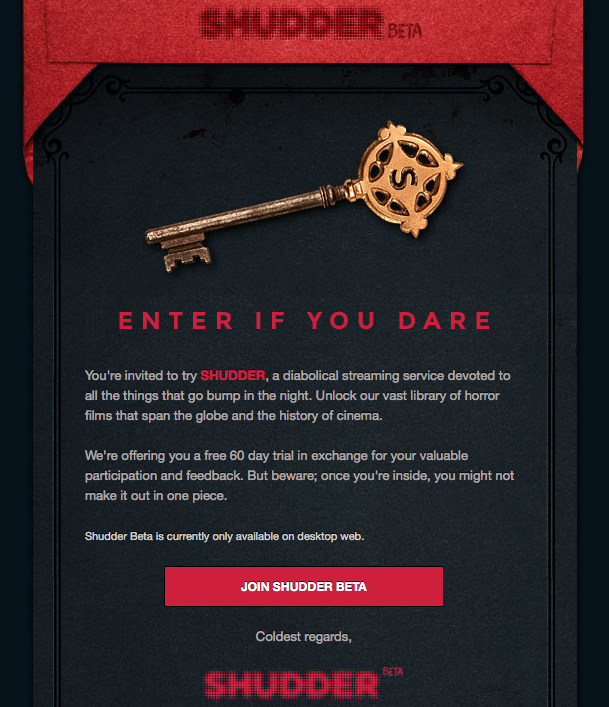 So, dear horror fanatic friends, I decided that once I stopped hyperventilating I'd check out the service and let you know what I think. Here we go!
It's Beautifully Designed And Coded
As a former graphic designer/web developer, I've got a special place in my heart for well-designed websites. Shudder is definitely one of them. Everything flows nicely, it's responsive, it's visually interesting. I love the iconography used for the categories and there's pleasant (but not distracting) movement on each page. Also, when you hover over a film, you get a nice synopsis of its plot and how members have rated it: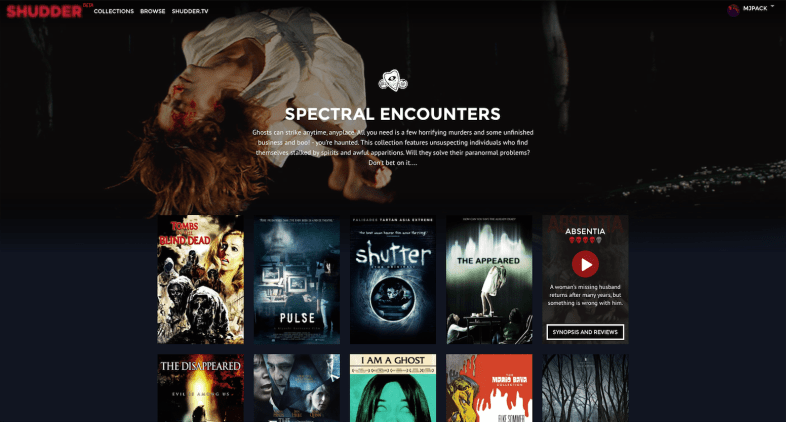 Once you dive into a particular film's reviews, you find a very well-functioning review system: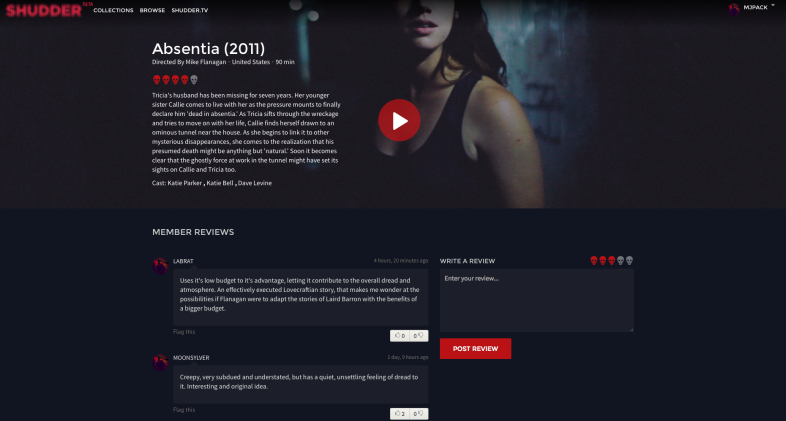 I particularly like that you can upvote or downvote the reviews. Sometimes (especially in horror) a film can go over someone's head and all they have to say about it is "SUCKS". This function allows you to weed out the bad reviews and find more popular opinions.
Also, there are bonus designs in the footer, complete with spooky photography and horror movie quotes:

I love it. It's like they just "get" me. I'm there because I love horror and they're serving it up in platefuls.
There Are Tons Of Categories
On Netflix, you get genres that range from "Horror" to "Suspenseful Thriller Starring Independent Women With Brown Hair And Daddy Issues". Okay, so they don't get that specific, but a lot of times I find the options offered to me to either be far too narrow or far too broad. Shudder just happens to NAIL IT.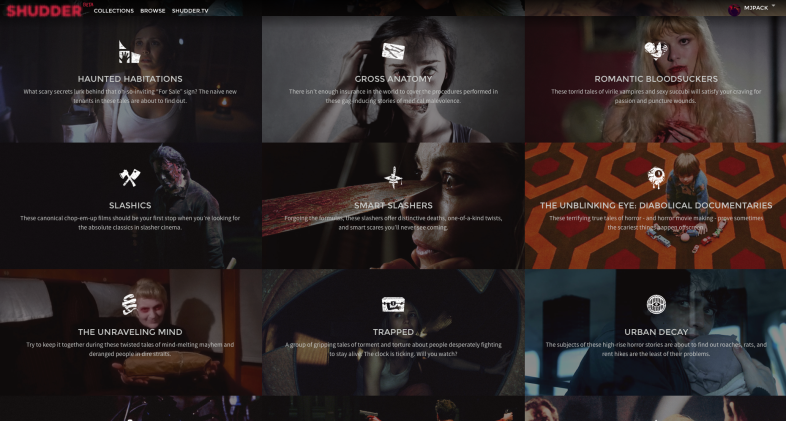 Like I said, they just "get" the average horror fan. I usually set out with a general idea of what I want to watch and rather than focusing on the gritty details, Shudder offers me genre-specific categories. Here's what they're currently featuring:
A-Horror (Asian Horror)
Psychos and Madmen
Identity Crises
Socko Spoofs
Into The Wild
Comedy of Terrors
Haunted Habitations
Gross Anatomy
Romantic Bloodsuckers
Slashics (Slasher Classics)
Smart Slashers
The Unblinking Eye: Diabolical Documentaries
The Unraveling Mind
Trapped
Urban Decay
Weird Science
Zombie Jamboree
Cult Masters: Eurohorror
Foundations of Horror
Hexes and Ooohs!
Human Monsters & Serial Killers
Monster Mash
Possessions: The Devil Made Me Do It!
Bad Genes & Killer Kids
Not Your Ordinary Bloodsucker
School's Out… Forever
Spectral Encounters
I mean, seriously, there has been some effort put into these categories and I love it. (Also, I totally want to start a band called "Zombie Jamboree".) Even if you DON'T know what you want to watch at first, just looking through these will give you an idea of what kind of spook you should see. So now that we know the lay of the land, let's dive in and get to the real experience.
It Functions Like Any Other Streaming Service
I'm feeling like a good old haunted house movie so I'm choosing Haunted Habitations. Based on the reviews of the five movies in this category, I'm going with "Apartment 143". Let's check out the synopsis and reviews first:

Cool. It's got a thorough overview of the plot and I can watch the trailer if I want to but I don't because it sounds like it might be paranormal found footage and I'm SOLD! I click that big red play button and in the same window a movie player opens. It takes a moment to load but no worse than Netflix or Hulu. It's a little stuttery at first (or "shuddery" AHAHAHAHA I'm hilarious) so I pause it to let the buffering catch up.
From there on, it's just like a typical streaming service. I watched the movie from the comfort of my office chair (as it's not currently offered on anything but the web). However, according to the FAQ there are "apps for iOS, Android, and Roku launching in the coming weeks".
It Features Something Called Shudder.TV
At the top left, you'll notice the link for Shudder.TV. I gave it a shot and not gonna lie, I'm a cocktail of confused and intrigued: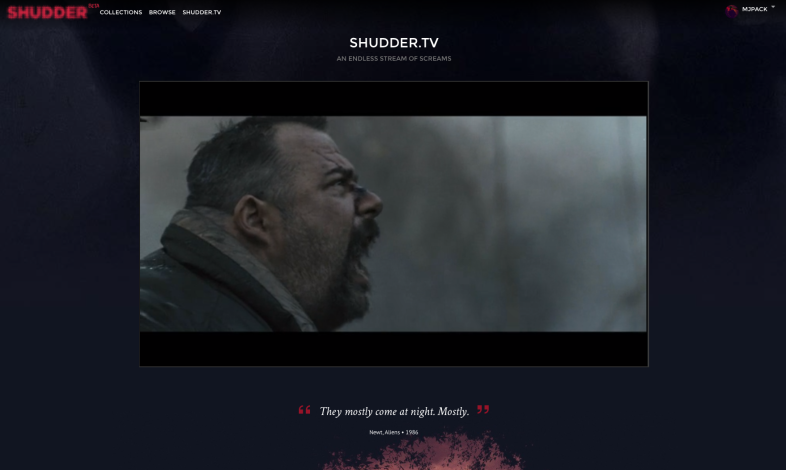 Advertised as "an endless stream of screams", I'm not quite sure what this is. Could it be an original series? Back-to-back movies of films not currently offered elsewhere on the site? I really have no clue but I like the idea of tuning in to the middle of something scary and not having all the information. What I watched for a few minutes was a mountain biker in the spooky woods looking for his missing partner and some big bloody dude calling for his dog, but the dog started crying somewhere and I noped out because I don't do hurt puppies. Perhaps the true reason behind this service will be revealed after beta but honestly I don't mind the mystery for now.
So there you have it. In this humble horror fan's opinion, Shudder totally rules and I'd definitely pay $4.99 a month for it. My only criticism would be that the buffering was kind of an issue but that could also be due to my internet connection. If you haven't done so already, you can go to shudder.com and request a beta invitation. I can't wait for it to be available on my other devices — this will be a definite must-have for the Halloween season.