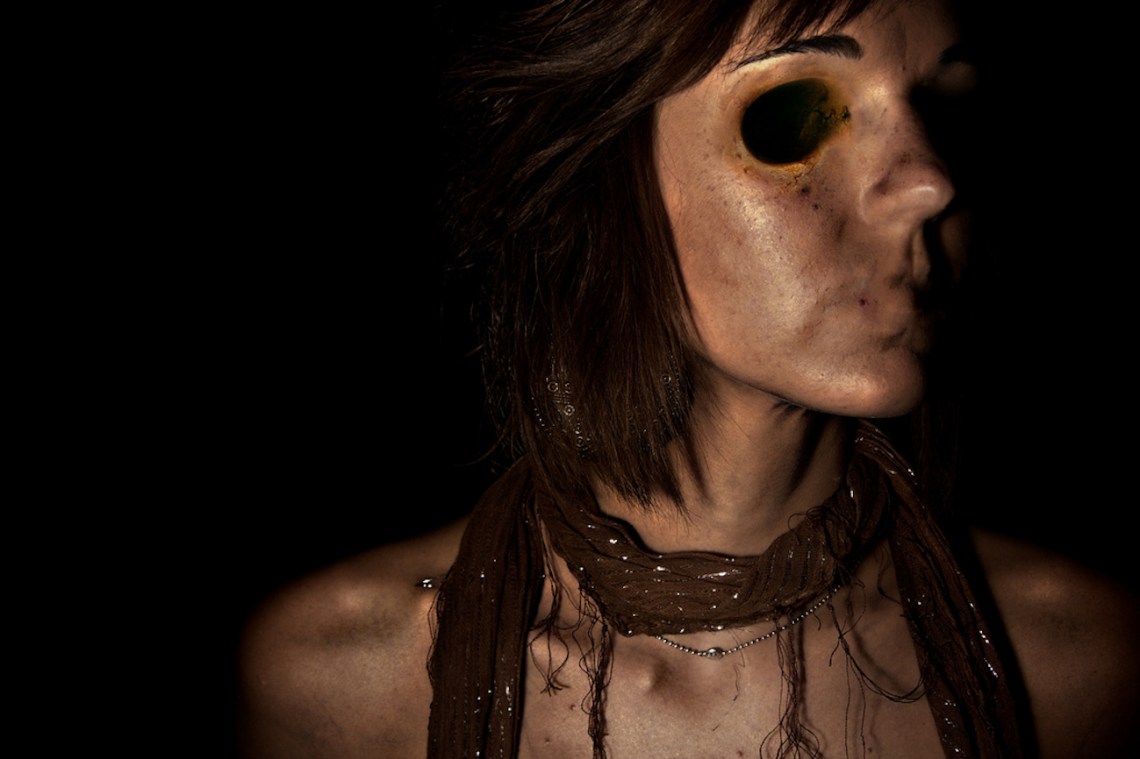 ---
1. EVERYONE'S EYES WERE BECOMING BURNT AND BLACK
"This was fucking terrifying. I was looking at photo albums with my dad, stepmom, and stepsister. I noticed the eyes of all the people were becoming burnt and black. I screamed and threw the photo album down out of fear. Then I walked over to the sink to get a glass of water, to refresh myself, and when I turned on the sink tiny fetuses started flowing out. They looked like abortions. They were getting caught in the drain and I was screaming even louder than before, they were swirling around in blood and the lost limbs of the fetuses. I turned around to ask what the fuck was up and I then just like the pictures, my family's eyes were all burnt out, like this."
---
2. I KEPT SWIMMING TO THE SURFACE…AND IT KEPT RISING
 "I had a nightmare that I was drowning, and as fast as I swam to the surface it kept rising just out of my grasp.
Happened when I was young but it has stuck with me since."
---
3. THE WOLF WHO REMOVED MY FACE
"I keep thinking back to a nightmare I had when I was about five years old. It's the most vivid dream of my life.
It came in two quick segments, each lasting about fifteen seconds. In the first, my sister and I were crossing a Vermont wheat field on our way to a little red schoolhouse when we were stopped by a life-sized cartoon-character wolf. Grinning, the wolf applied a sheet of sticky flypaper to my face and peeled it away. My face was now smooth and featureless, like a fencer's mask. When I looked down at the flypaper in the wolf's hand, it contained my face's image. The wolf had stolen my face.
Fade-out.
As the dream resumed, I saw myself sleep- ing in the living room of my grandmother's Pappy Yokum-style Vermont shack. It was very dark. The sparse moonlight which filtered in through the unlocked screen door cast some milky rays on other relatives in the room, all of them wearing earplugs and snoring loudly. Suddenly, the cartoon wolf, his eyes big and white, appeared at the door. I screamed at the top of my kindergartener's lungs. But since all my relatives had chosen to wear earplugs, they couldn't hear me."
---
4. THE CREEPY PALE GIRL WHO WALKED INTO MY ROOM
"When the movie The Ring (creepy pale white girl with hair covering face) had just came out I was always scared sh*tless at the thought of her! Couple of weeks later I had a nightmare of her walking into my room, it was like one of those lucid dreams however I had no control over this and she walked into my room which had a white curtain instead of a door blocking me from the dark descending hallway, I heard the footsteps her odd voice and I was shaking and woke up all sweaty and went back to sleep instead of crying for my mother because that's what thug 10-year-olds do."
---
5. THE FURRY CREATURE CHASING ME DOWN THE STREET
"I was probably 8 or 9 years old and I was having a typical nightmare about some furry yeti-like creature chasing me down the street. Just as it got to me I tripped, then I woke up and was relieved it was a dream, then a furry hand grabbed my ankle. Turns out my cat had jumped on my leg immediately after I woke up and her legs slid over each side of my ankle."
---
6. THE GHOST WHO ZOOMED IN AND OUT OF MY HEAD
"I had just woken up from a nightmare. My eyes were completely open and able to move, but I couldn't move any other part of my body. For all intents and purposes, I was awake. All of a sudden as I am paralyzed, I see a large, black, ghostly figure through my closed closet doors. He passes through the closed doors and quickly approaches my bedside. At this point I am terrified, wishing for it to be over and having absolutely no control over the situation. For fifteen seconds, the vision of the ghost zooms in and out as my head and heart are pounding in sync with the movement of the apparition. Finally, just as quickly as it began, the shadowy figure fades out of existence and I regain control of my body.
I realize that I was essentially awake through this whole episode as I didn't have to open my eyes after it was all done. This was truly one of the most terrifying moments of my life."
---
7. THE SHADOWY MAN WHO WAS LYING ON TOP OF ME
"About ten months ago, I was invited by my family to meet them in Gulf Shores for a short beach vacation. I didn't have a car at the time, and so took the Megabus from New Orleans to Mobile, AL, where they met me so we could drive back to the condo/hotel together.
We spent our first night there at a bonfire/cookout type deal with some old friends from the area, whom we knew from living there over a decade ago. We had a good time and returned to where we were staying around midnight or one. I went to bed near immediately, only to wake up around 3am, unable to move. As a stomach sleeper, I awoke face down in my pillows, sort of lying on my cheek. I was panicked, close to hyperventilating, as my first thought was that someone was trying to smother me in my sleep. It felt as though a large person, a full-grown man I imagined, was laying on top of me, smushing my body down into the bed and my face sideways into the pillows.
I could still partially see the bedroom around me and saw a figure, sort of shadowy looking, hard to explain, standing in the corner of the room near the door. At this point, I panicked even more, trying to scream for any one of my family members to come and help me, but I was unable to speak or move. I heard a voice then coming from the corner then, distorted and whispery almost, sort of mumbling.
It sounded like when you can hear someone else talking through the walls, but also sounded very close at the same time, like someone was right behind my head speaking into my ear, but I couldn't understand what they were saying. After what felt like hours, though it probably was no more than a minute or two, I began regaining feeling in my arms and was able to pull myself over onto my back to look around the room, at which point the figure was gone. It took several hours to fall asleep after that. I did research on the situation the next morning and ended up reading up on sleep paralysis a lot. According to the articles I read, it was an extremely rare occurrence except in those with chronic sleep paralysis disorders. It stated that in those without a disorder, sleep paralysis episodes occurred only once in a blue moon.
After a day of more beach fun, I fell asleep that night, reassured that I had been hallucinating and it would not happen again. Boy, was I wrong. I woke up again that night in the same position but facing the other direction with my face toward the side table and alarm clock at 3:14 am. Same story pretty much, same shadow guy, same voice, but this time I was able to make out a few of the words, specifically things like no, never, not, all negative words like that. I tried not to panic this time, knowing what I now knew about sleep paralysis, but it seemed to go on twice as long as the last time. I suddenly am able to move again, shadow man is gone, and after a snack and some TV, I'm able to fall back asleep. Day three: fun in the sun with the fam, a nice dinner at The Hangout, then back to the condo and off to bed, followed by another creepyasallfuck 3:14 wake up call. Blah, blah, blah, same story as the last two nights, but now with what appeared to be a second figure in the room. The next morning I decide that I simply cannot deal with shadow people waking me up every night and bullshit to my family about needing to get back home because my SO is very ill. I apologize profusely, pack my things, and have them drive me back to Mobile to take the bus back home. Had never had a sleep paralysis episode before, and have never had one since.
TL;DR- Went on family vacation. Awoke to near identical sleep paralysis episodes three nights in a row. Dipped out on family vacation two nights early. Have not had even a remotely similar experience since. Not sure if actually sleep paralysis."
---
8. THE WOMAN AND HER SON WHO KEPT FOLLOWING ME
"I read a book about the Chinese Revolution, then had a nightmare about this Chinese woman and her son following me throughout my hometown and popping up in the most random ways, similar to in The Grudge."
---
9. BLACK, DEAD HANDS WOULD COME OUT OF THE WALLS
"This one has haunted me throughout my life. I just can't seem to forget about it, and it was a recurring one as well. I would be sleeping in my bed when I would wake up (in my dream) and crawl out and walk to the middle of my room. Black, dead hands would come out of the walls. I would fall in the middle of my room, curl up in the fetal position on my side and try screaming, but no sound would come out. I would wake up in the fetal position with my blankets tossed off my bed. This dream fucking haunted my throughout my childhood because it was recurring. Thankfully I don't have it anymore."
---
10. THE DARK SHADOW AT MY BEDSIDE
"I had a dream where I was in a dimly lit tunnel; the light was golden. The tunnel was underground, it seemed . I could physically feel something behind me and hear footsteps behind me as I was running. I went over to the edge of the tunnel and turned off the lights. I felt and heard something pass me. Then I heard footsteps getting closer.
You know when you're walking at night somewhere then you feel a creeping feeling behind you and that you shouldn't turn around? That's what I felt and as soon as I feel and hear it behind me, I wake up and see a dark shadow on the side of my bed.
I for some reason wasn't scared so I wave my arm through it and turn my lamp on and off again. It was gone."
---
11. THE TIME THAT E.T. STRANGLED ME
"I had many recurring nightmare about E.T. in my youth, but this was one of the scariest.
I was walking from the kitchen through the living room when E.T. suddenly appears, just staring at me. My Mother is seated on the couch, reading like everything's fine.
'Mom…' I manage to whimper.
'He's not going to hurt you.' My mom doesn't even look up.
E.T. LAUNCHES through the air at me, screaming, and grabs me. I run into my bedroom, screaming and hitting him, but he just won't let go. He strangled me, and just before I died, I woke up.
I have a lot of issues with my mom. Looking back on it, I think that nightmare was more about her than E.T."