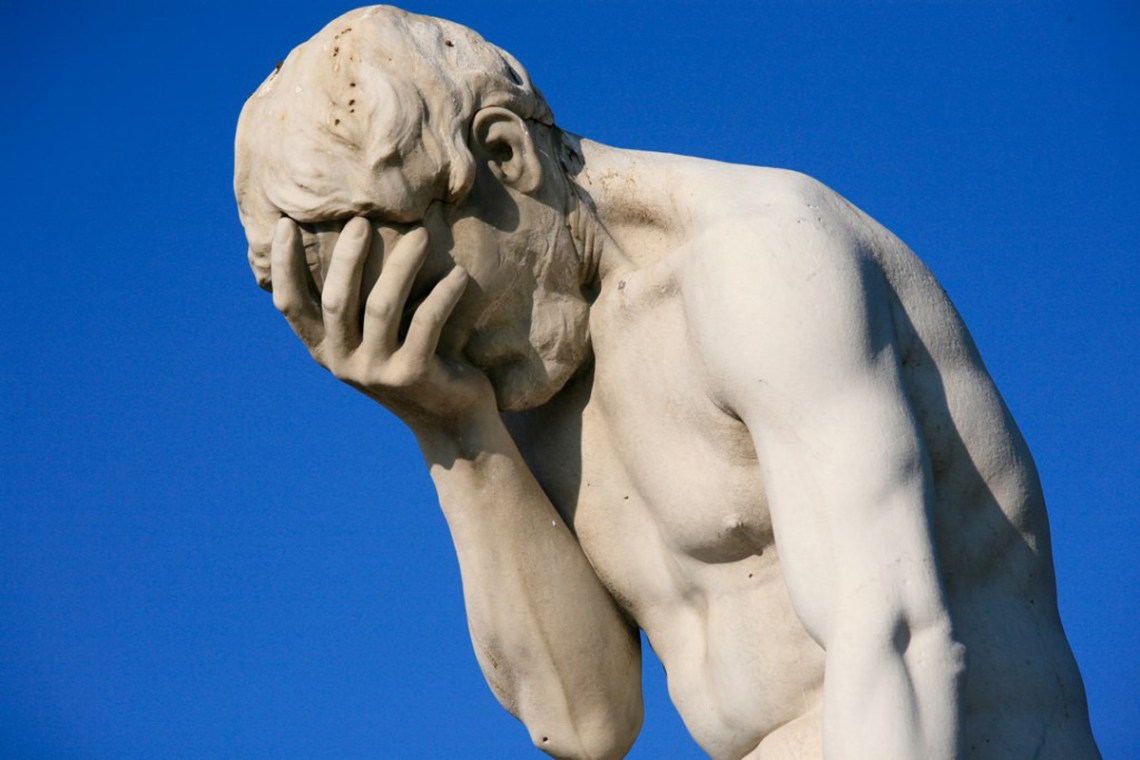 ---
1.
"My girlfriend is always yelling at me because I get my directions mixed up.
So I packed my bags and right left away!"
---
2.
"What do Winnie the Pooh and Alexander the great have in common?
Same middle name!"
---
3.
"What's the difference between a bird and a fly? A bird can fly but a fly can't bird."
---
4.
"1) I know a good knock knock joke but you need to start it
2) ok, knock knock
1) who's there?"
---
5.
"What did the buffalo say to his son when he left for college?
Bison."
---
6.
"'Guess what?'
'What?'
'Good guess.'"
---
7.
"Fish swimming upriver and bumps his head.
'Dam.'"
---
8.
"A polar bear walks into a bar and says…………………. 'I'll have a beer.'
Bartender says, 'What's with the big pause?'
Polar bear replies, 'I don't know, I was born with them.'"
---
9.
"What do you call a fish with no eyes?
Fsh."
---
10.
"This is my step ladder. I never knew my real ladder…"
---
11.
"Why is 6 afraid of 7?
Because 7 is a registered 6 offender."
---
12.
"My wife walked in on me masturbating to an optical illusion.
I said, 'Honey, it's not what it looks like!'"
---
13.
"You want to hear a clean joke? A man took a bath with bubbles.
Want to hear the dirty joke? Bubbles is a man."
---
14.
"What's red and smells like blue paint?
Red paint."
---
15.
"Why don't ants get sick?
Because they have little anty-bodies."
---
16.
"The other day, my wife asked me to pass her lipstick but I accidentally passed her a glue stick. She still isn't talking to me."
---
17.
"What's orange and sounds like a parrot?
A carrot."
---
18.
"A plateau is the highest form of flattery."
---
19.
"I went to a zoo but there was only one dog in it. It was a Shitzu."
---
20.
"A guy was throwing money into an outhouse. Another guy comes up and asks, 'What the hell are you doing?' The first guy says, 'I dropped a dollar down there, and I ain't goin down there for just a dollar.'"
---
21.
"Why did the old lady fall in the well?
Because she didn't see that well."
---
22.
"Two cannibals sit around a campfire. One says 'Man, I hate my mother-in-law.'
The other one says, 'Well, then, try the potatoes.'"
---
23.
"I tried to work in an orange juice factory but I couldn't concentrate."
---
24.
"A blind man walks into a bar…then a table, a chair, and a woman."
---
25.
"What did the baby computer say to the father computer…?
Data."
---
26.
"There are two muffins baking in an oven. The first muffin says, 'Man, it sure is hot in here.' The second muffin says, 'Holy shit, a talking muffin!'"
---
27.
"A Mexican magician tells his audience he will disappear on three. So he says, 'Uno…dos…' POOF! He disappeared without a tres…"
---
28.
"I like my women like I like my coffee—without a penis"
---
29.
"How do you find Will Smith in the snow?
Follow the Fresh Prints."
---
30.
"What would Abraham Lincoln be doing if he were alive today?
Screaming and scratching at the top of his coffin."
---
31.
"Last night I had a dream that I was a muffler, but when I woke up I was still exhausted."
---
32.
"How do you spot Ronald McDonald at a nudist colony?
Look for the sesame seed buns."
---
33.
"Where did Billy go when the building exploded? Everywhere."
---
34.
"Why does a Chicken Coupe have two doors?
Because if it had four doors it would be a Chicken Sedan."
---
35.
"What do get if you mix a dyslexic, an agnostic, and an insomniac?
Someone who stays up all night, wondering whether or not there is a dog."
---
36.
"The ultimate insult is 'Who is this clown?'
Not only are you calling them a clown, but you are also saying they are one of the lesser-known clowns."
---
37.
"Why did the duck cross the road?
It was stapled to the chicken."
---
38.
"What do Batman say to Robin when they are getting into the Batmobile?
'C'mon, Robin, get into the Batmobile!'"
---
39.
"What do you call a black astronaut? An astronaut, you racist!"
---
40.
"What do you call cheese that isn't yours?
Nacho cheese."
---
41.
"What's the difference between a boner and a Ferrari?
I don't have a Ferrari."
---
42.
"Yo mama's so fat that when she hauls ass she has to take 2 trips."
---
43.
"'Ask me if I'm a rock.'
'Are you a rock?'
'Yes. Now, ask me if I'm a tree.'
'Are you a tree?'
'No, I'm a rock, dumbass.'"
---
44.
"What's red and bad for your teeth? A brick."
---
45.
"A man walks into a bar.
Ouch! It was a metal bar."
---
46.
"What's the difference between a refrigerator and a monkey? Refrigerators can't climb trees."
---
47.
"Why do firemen wear red suspenders? To hold their pants up."
---
48.
"Q: Have you ever hear of Murphy's Law?
A: It's the law that if it can go wrong, it will.
Q: Have you ever heard of Cole's Law?
A: It's chopped cabbage."
---
49.
"Why can't dinosaurs clap their hands?
Because they're dead."
---
50.
"How do you keep an idiot in suspense?"