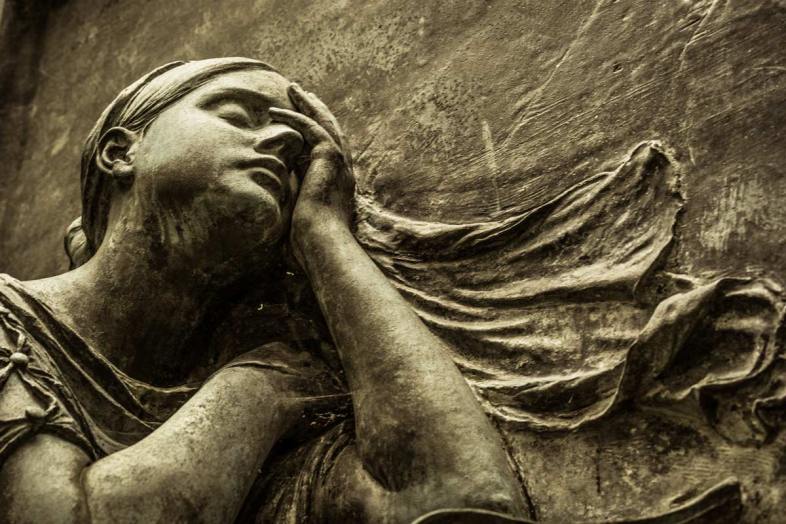 1.
Come back. Even as a shadow, even as a dream.
—Euripides
---
2.
The death of a beloved is an amputation.
—C. S. Lewis
---
3.
The whole world can become the enemy when you lose what you love.
—Kristina McMorris
---
4.
Without you in my arms, I feel an emptiness in my soul. I find myself searching the crowds for your face—I know it's an impossibility, but I cannot help myself.
—Nicholas Sparks
---
5.
You cannot stop the birds of sorrow from flying over your head, but you can stop them nesting in your hair.
—Eva Ibbotson
---
6.
For as long as the world spins and the earth is green with new wood, she will lie in this box and not in my arms.
—Lurlene McDaniel
---
7.
If the people we love are stolen from us, the way to have them live on is to never stop loving them.
—James O'Barr
---
8.
Sometimes, when one person is absent,
the whole world seems depopulated.
—Allphonse de Lamartine
---
9.
When he died, all things soft and beautiful and bright would be buried with him.
—Madeline Miller
---
10.
It takes a minute to find a special person, an hour to appreciate them, and a day to love them, but it takes an entire lifetime to forget them.
—Anonymous
---
11.
Do not stand at my grave and cry
I am not there.
I did not die.
—Anonymous
---
12.
The song is ended but the melody lingers on…
–Irving Berlin
---
13.
Those we love and lose are always connected by heartstrings into infinity.
—Terri Guillemets
---
14.
If you're going through hell, keep going.
—Winston Churchill
---
15.
If tears could build a stairway,
And memories a lane,
I'd walk right up to Heaven
And bring you home again.
—Unknown
---
16.
It's easier to miss her at a cemetery, where she's never been anything but dead, than to miss her at all the places where she was alive.
—John Scalzi
---
17.
But she wasn't around, and that's the thing when your parents die, you feel like instead of going in to every fight with backup, you are going into every fight alone.
—Mitch Albom
---
18.
Losing people you love affects you. It is buried inside of you and becomes this big, deep hole of ache. It doesn't magically go away, even when you stop officially mourning.
—Carrie Jones
---
19.
Don't grieve. Anything you lose comes round in another form.
—Rumi
---
20.
The weird, weird thing about devastating loss is that life actually goes on. When you're faced with a tragedy, a loss so huge that you have no idea how you can live through it, somehow, the world keeps turning, the seconds keep ticking.
—James Patterson
---
21.
We bereaved are not alone. We belong to the largest company in all the world—the company of those who have known suffering.
—Helen Keller
---
22.
Grief can be a burden, but also an anchor. You get used to the weight, how it holds you in place.
—Sarah Dessen
---
23.
When a friend of Abigail and John Adams was killed at Bunker Hill, Abigail's response was to write a letter to her husband and include these words, My bursting heart must find vent at my pen.
—David McCullough
---
24.
It is the capacity to feel consuming grief and pain and despair that also allows me to embrace love and joy and beauty with my whole heart. I must let it all in.
—Anna White
---
25.
Tears are God's gift to us. Our holy water. They heal us as they flow.
—Rita Schiano
---