From performers on Saturday Night Live, to groundbreaking stand-up comedians, to television and film actresses paving the way for others, female comedians have been sharing truthful and heartening pieces of wisdom for the last several decades. Here are 57 of their most inspiring quotes.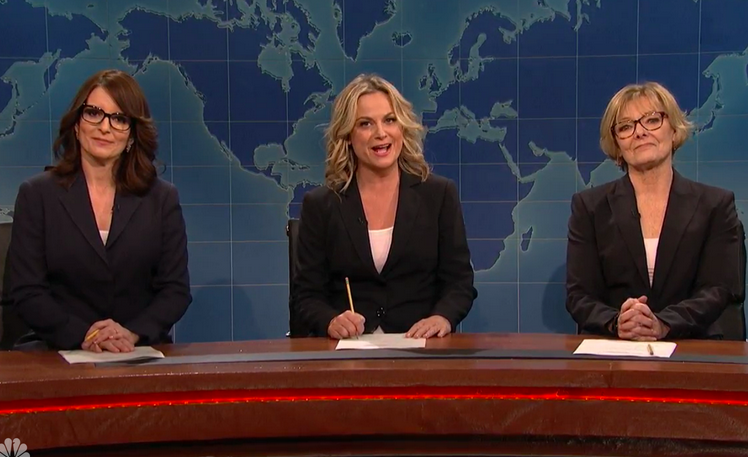 Betty White
It's your outlook on life that counts. If you take yourself lightly and don't take yourself too seriously, pretty soon you can find the humor in our everyday lives. And sometimes it can be a lifesaver.
Don't try to be young. Just open your mind. Stay interested in stuff. There are so many things I won't live long enough to find out about, but I'm still curious about them. You know people who are already saying, 'I'm going to be 30 – oh, what am I going to do?' Well, use that decade! Use them all!
---
Lily Tomlin
The trouble with the rat race is that even if you win, you're still a rat.
I grew up in a time when women didn't really do comedy. You had to be homely, overweight, an old maid, all that. You had to play a stereotype, because very attractive women were not supposed to be funny – because it's powerful; it's a threat.
---
Carol Burnett
You have to go through the falling down in order to learn to walk. It helps to know that you can survive it. That's an education in itself.
---
Whoopi Goldberg
Normal is nothing more than a cycle on a washing machine.
We're born with success. It is only others who point out our failures, and what they attribute to us as failure. I think the idea that you know who your inner self is on a daily basis, because you know. What's good for you 25 years ago may not be good for you now. So, to keep in touch with that, I think that's the first ingredient for success. Because if you're a successful human being, everything else is gravy, I think.
---
Gilda Radner
While we have the gift of life, it seems to me the only tragedy is to allow part of us to die – whether it is our spirit, our creativity or our glorious uniqueness.
There is no real security except for whatever you build inside yourself.
---
Julia Louis-Dreyfus
If you feel rooted in your home and family, if you're active in your community, there's nothing more empowering. The best way to make a difference in the world is to start by making a difference in your own life.
---
Mindy Kaling
I never want to be called the funniest Indian female comedian that exists. I feel like I can go head-to-head with the best white, male comedy writers that are out there. Why would I want to self-categorize myself into a smaller group than I'm able to compete in?
---
Melissa McCarthy
Even when someone gets to looking like she should be so proud of herself, instead she's like, 'I could be another three pounds less; I could be a little taller and have bigger lips.' Where does it end? You just have to say, 'It's pretty damn good. I am right here at the moment and I'm OK with it. I've got other things to think about.'
---
Bette Midler
I didn't belong as a kid, and that always bothered me. If only I'd known that one day my differentness would be an asset, then my early life would have been much easier.
---
Kristen Wiig
If you're creating anything at all, it's really dangerous to care about what people think.
There are so many funny women in the world, and there has been for so many years, so I'll be happy when people can just move on from that, and things can just be 'comedies' and not 'female' or 'male,' and everyone gets an equal opportunity.
---
Roseanne Barr
The thing women have yet to learn is nobody gives you power. You just take it.
---
Margaret Cho
Ugly. Is irrelevant. It is an immeasurable insult to a woman, and then supposedly the worst crime you can commit as a woman. But ugly, as beautiful, is an illusion.
Being called ugly and fat and disgusting to look at from the time I could barely understand what the words meant has scarred me so deep inside that I have learned to hunt, stalk, claim, own and defend my own loveliness.
Try to love someone who you want to hate, because they are just like you, somewhere inside, in a way you may never expect, in a way that resounds so deeply within you that you cannot believe it.
---
Amy Schumer
The moments that make life worth living are when things are at their worst and you find a way to laugh.
I will speak and share and f*ck and love and I will never apologize to the frightened millions who resent that they never had it in them to do it. I stand here and I am amazing, for you. Not because of you. I am not who I sleep with. I am not my weight. I am not my mother. I am myself. And I am all of you, and I thank you.
---
Mary Tyler Moore
You can't be brave if you've only had wonderful things happen to you.
Take chances, make mistakes. That's how you grow. Pain nourishes your courage. You have to fail in order to practice being brave.
---
Wanda Sykes
If you feel like there's something out there that you're supposed to be doing, if you have a passion for it, then stop wishing and just do it.
I'm here today because I refused to be unhappy. I took a chance.
---
Tig Notaro
Not many people have had as much bad luck as I have, but not many people have had as much good luck, either.Reminding myself that I have a tailbone keeps me in check.
---
Phyllis Diller
I wanted to become me, totally me. The more me, the better. I instinctively knew this and I was right.
---
Ellen DeGeneres
Here are the values that I stand for: honesty, equality, kindness, compassion, treating people the way you want to be treated and helping those in need. To me, those are traditional values.
Find out who you are and be that person. That's what your soul was put on this Earth to be. Find that truth, live that truth and everything else will come.
---
Janeane Garofalo
To me, there is no greater act of courage than being the one who kisses first.
As I've gotten older and more mature, I've become much more comfortable in my own skin. After 25 years of doing stand-up, that's reflected onstage.
---
Maya Rudolph
I learned the enormous power of writing for yourself, especially now that people seem to be receptive to the fact that women can write.
I don't look my best when I wake up. But, I do feel beautiful when I'm tired and happy and I've had a good laugh and a glass of champagne.
---
Amy Poehler
There's power in looking silly and not caring that you do.
As you navigate through the rest of your life, be open to collaboration. Other people and other people's ideas are often better than your own. Find a group of people who challenge and inspire you, spend a lot of time with them, and it will change your life.

---
Tina Fey
Confidence is 10 percent hard work and 90 percent delusion, just thinking foolishly that you will be able to do what you want to do.
Say yes, and you'll figure it out afterwards.
When faced with sexism or ageism or lookism or even really aggressive Buddhism, ask yourself the following question: 'Is this person in between me and what I want to do?' If the answer is no, ignore it and move on. Your energy is better used doing your work and outpacing people that way.
---
Danitra Vance
Survival is not so much about the body, but rather it is about the triumph of the human spirit.
---
Jane Lynch
Making people laugh is a really fabulous thing because it means you're getting deep inside somebody, into their psyche, and their ability to look at themselves.
Now that I've matured, I've realized that – at the end of the day – what's really important is the work, not what people think of me.
---
Lucille Ball
Love yourself first and everything else falls into line. You really have to love yourself to get anything done in this world.
One of the things I learned the hard way was that it doesn't pay to get discouraged. Keeping busy and making optimism a way of life can restore your faith in yourself.
---
Mo'Nique
I'm gonna play this game the way I want to. It might be serious, it might be a comedy, it might be a dramedy, it might be variety, it might be a talk show, whatever. There's no box.
How did the Oscar change my life? What it did was that it gave me a new reality. And it let me know that an award wasn't going to change my life – that I had to be in control of changing my life.
---
Chelsea Handler
People ask me why I'm so hard on men. It's because they've gotten a really easy ride. And it's not that I think women should take over the world. But I do think it should be 50/50.
---
Kathy Griffin
I have no limits, no filter, no class, no poise. No decorum. Just fun.
---
Sarah Silverman
Mother Teresa didn't walk around complaining about her thighs – she had shit to do.
Stop telling girls they can be anything they want when they grow up. I think it's a mistake. Not because they can't, but because it would have never occurred to them that they couldn't.
---
Jane Curtin
You know, the genders are different in how they approach things, and so I really think that women put a lot more guilt on themselves than need be.
---
Rebel Wilson
There are so many glamorous actresses, but you know what? In the real world, nobody looks like that.
Even when I'm playing someone named 'Fat Amy.' I'm all about confidence and attitude.
---
Aubrey Plaza
I'm not super comfortable in my skin. I have to make it work for me, and that usually amounts to making it uncomfortable for everyone else.
---
Amy Sedaris
We're all used to seeing pretty people. I want to see real people.
---
Joan Rivers
Part of my act is meant to shake you up. It looks like I'm being funny, but I'm reminding you of other things. Life is tough, darling. Life is hard. And we better laugh at everything; otherwise, we're going down the tube.
I enjoy life when things are happening. I don't care if it's good things or bad things. That means you're alive.