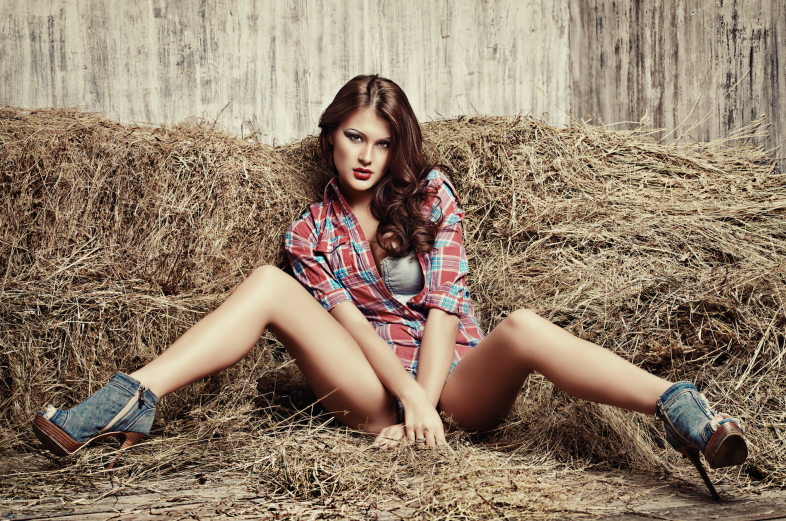 A few summers ago, I decided I needed more fresh air and a whopping dose of small town values and ethics. I was spending my time at college drinking too much shitty vodka and having truly mediocre sex with a bunch of craphead boys with posters on their walls. I was burnt the fuck out. So I called up my aunt, who lives on an idyllic little farm out in North Dakota, and I asked if I could spend a few weeks of my summer vacation in her spare room. I envisioned quiet nights curled up on her three-season porch with a book and long days spent meandering down gravel roads.
I got all of that, but I also found some unexpected fun amidst those golden fields.
I hopped off the bus and jumped into my uncle's pickup, ready to hang out, relax and help my aunt in her garden. "We have a new hired man," my uncle said. "He's around your age, I think. Good kid. Works hard. His name's Tyler. Maybe you'll make a friend."
The previous hired man had been in his 50s and smelled like snus and B.O. We were not friends. I was hopeful that his replacement would smell better, if anything.
"I turned my head to kiss him and then it was on; his mouth was on mine, tasting faintly of cold black coffee – the elixir of the gods for farm workers. He swirled his tongue in my mouth, sucking mine into his, licking and biting at my lower lip. How did a kid from a small town learn to kiss like this?"

My uncle pulled the pickup into the yard and I immediately made myself at home. In the next few days, I mostly hung out with my aunt and ate every baked good she whipped up. I read a lot, took the dogs for walks and sat out in the yard watching the tractors work the fields. It was great, but I was getting kind of bored and getting really horny. There was no quiet spot in which to relieve myself of said tension, if you know what I mean. I wasn't gonna go get myself off in the barn!
I was sitting outside one day, thumbing through a novel and patting the dog absentmindedly, when he walked up to me. "Hey," he said, kind of shy the way country boys often are. I looked up into a darkly tanned face with bright blue eyes and sandy, sun-bleached hair and tried not to look shocked. "I'm Tyler, the new hired man. Your uncle around?"
"I … I don't … I haven't seen him today," I said, staring at the obvious muscles under his t-shirt. His jeans were dirty and worn and his hands, though well-shaped and sexy, had spent more than a few years doing hard work. "Did you call his phone?"
"Must've gone into town. You wanna come see the new tractor? We just got it yesterday and it's a beauty." His eyes were sparkling and I was into it. "Plus, I've been watching you just hangin' around. They gotta start making you work for your keep." Tyler smiled and I was pleased to see that there was no evidence of snus in his teeth.
"Sure, if I can drive …" So what, I was flirting. It was summer. He was hot.
We walked across the yard to the shop, where my uncle keeps machinery and tools and all that crap, and there it was, a shiny new John Deere, almost obnoxiously green and proud. "Wow," I said. "It is pretty nice, and I don't care about farm machinery at all."
Tyler was already climbing the steps and motioning for me to follow. I did, and when we were seated together at the wheel Tyler put his hand on my knee. It was a friendly gesture, but it made me jump. His intense maleness, and the intoxicating smell of fresh air, dirt and soap made me dizzy with lust. "What do you think?" He asked.
"You really wanna know what I think?" He was looking at me intently and all I could think about was how his skin would taste. The tractor was getting hot. "I think you should take me for a ride out somewhere quiet."
Tyler gulped and put the tractor in drive. We rode down to a quiet field that had been plowed up; nobody was there. The whirr of the engine made me vibrate even more than I already was. I slid my hand over his jeans and felt him get hard under my touch. His breathing got heavy almost right away; a virile, hard-working young man is just the sexiest thing ever. I leaned over and began to tease him by licking so slowly from his neck up to his earlobes, watching as his eyes closed and his head tilted back, enjoying the sensation. His fingers crept up one of my thighs and under my dress, pressing against my white cotton farmgirl panties just as slow and sweet as I knew it would be. Pretty soon I was wet, and wanting.
I turned my head to kiss him and then it was on; his mouth was on mine, tasting faintly of cold black coffee – the elixir of the gods for farm workers. He swirled his tongue in my mouth, sucking mine into his, licking and biting at my lower lip. How did a kid from a small town learn to kiss like this?
All I remember now is the feeling of his warm, suntanned skin under my hands, the slope and curve of every hardworking muscle. I slipped my panties off and yanked up my sundress skirt so I could straddle him in the driver's seat and rode him, tossing his baseball cap to the floor so I could gently pull his hair. We fucked inside the tractor for a little while just like that, me on top, until he pulled me outside and lifted me up in those strong arms so he could thrust into me, my back touching the hot metal of the tractor.
He bent me over near the wheel, shoving into me and working my clit with those calloused fingers til I whimpered that I was gonna come. "You better wait for me," he whispered. "Let's do it together." I took a deep breath and clenched my muscles hard so he could feel how tight my pussy can get, and that sent him right over the edge. With one hard, final thrust, he came all over my ass and pulled me to lay next to him on the ground with those big strong arms. Ahhh, that's why I liked the farm so much.
I spent the rest of my three weeks on my aunt and uncle's farm sneaking out at night to go for "rides" with Tyler, and even though we never went for the literal roll in the hay (too itchy), I think it was exactly the farm experience I had been craving. I went back to school despising those pasty-ass emo boys and remembering the taste of his sweaty, salty farmboy skin on my tongue. Sometimes I'll walk past a construction site and the smell of fresh dirt will get me so horny I have to run home and get off. And they say North Dakota is a waste of a state.